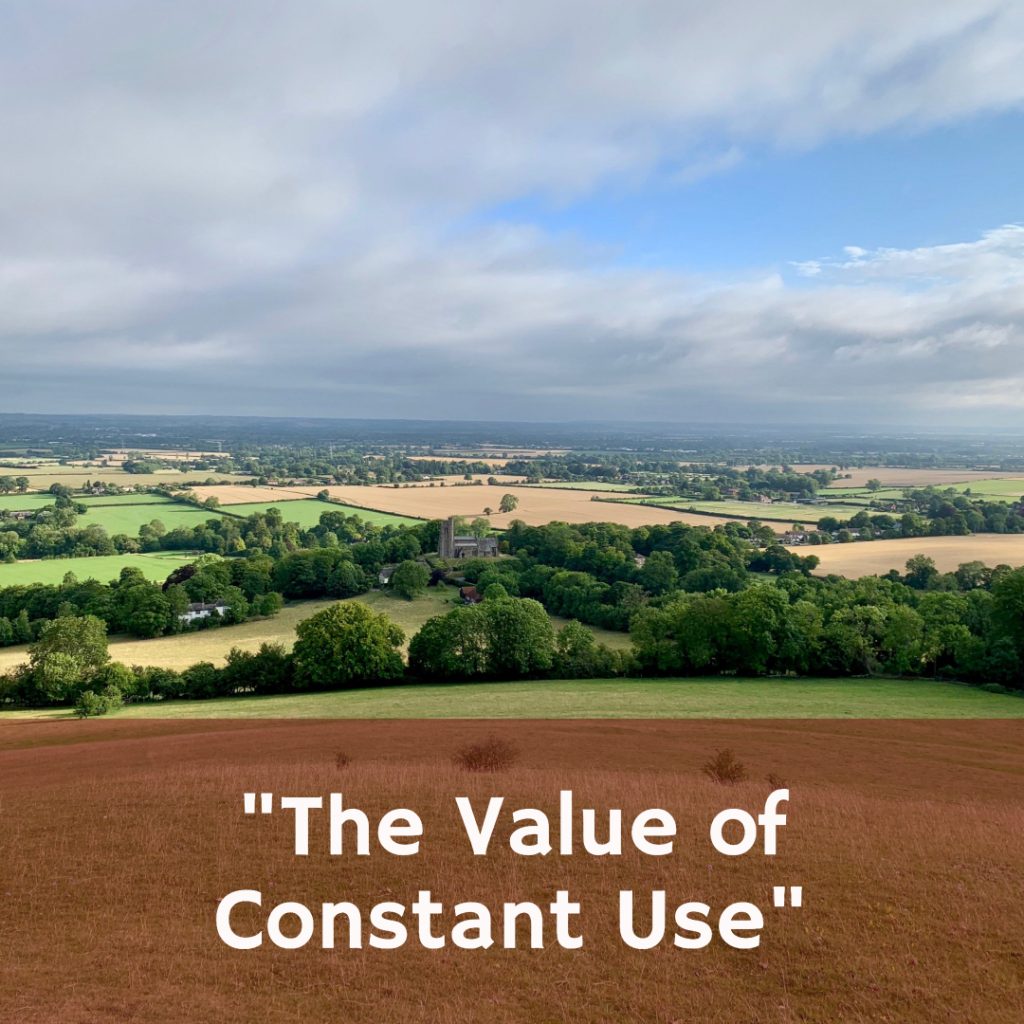 Today I am out and about on the first Monday of August.
I spend a bit more time on the first Monday of each month praying and planning and thinking about last month's lessons. I ask myself what God has taught me, and do some planning for the month ahead – looking at what's coming up and what God might want me to be focusing on in my personal life, my relationship with him and my ministry responsibilities. 
So I'm walking around Butler Hill near Aylesbury and reflecting on something I heard yesterday from my good old friend Tony Heath. He preached in Lower Early on Sunday on the topic of spiritual maturity. One verse in particular stood out to me –  it's Hebrews 5.14, 
"Solid food is for the mature who by constant use have trained themselves to distinguish good from evil". 
The key phrase there is "constant use". 
Spiritual disciplines is at least part of what he is talking about here. This is how we gain spiritual maturity. Implementing God's commands in our daily life, and in our times of quiet with God. The phrase in the Greek translated "constant use" can also be translated 'constitution', 'skill', 'outward appearance'. 
In other words it's about who we are becoming. Not only on the outside, but something deeper as well. 
We grow as we become a person of trained habits which then affect the outward appearance, our whole constitution. Not only that, but we master skills that glorify God and benefit people. 
---
Our question today is, "Which is your favourite spiritual discipline? One you have practised regularly." 
---
Maybe 'favourite' isn't quite the right word. But which discipline have you found to be effective through constant use? Why has it worked for you, and why would you recommend its use to others?
It might be a discipline like fasting or something like a prayer phrase. One I've been praying over the past five weeks is, "We cry, " abba, Father"", from Romans 8.15. It helps me tremendously to remember that I am not praying in isolation, that I can be honest with God, that I have a 'dadda' whose face I crave, and a father I can trust. 
This week's quiet time coaching episode is a short one because I have two relatives in hospital and my daughter is getting married soon. There is quite a lot going on, but I would really like to know your thoughts on spiritual disciples you have employed regularly because perhaps I could use that discipline myself more effectively.
Scriptures referred to or you might find useful: Hebrews 5.14, Romans 8.15
Please add your comments on this week's topic. We learn best when we learn in community. 
Do you have a question about teaching the Bible? Is it theological, technical, practical? Send me your questions or suggestions. Here's the email: malcolm@malcolmcox.org.
If you'd like a copy of my free eBook on spiritual disciplines, "How God grows His people", sign up at my website: http://www.malcolmcox.org.
Please pass the link on, subscribe, leave a review.
God bless, Malcolm
PS: You might also be interested in my book: "An elephant's swimming pool", a devotional look at the Gospel of John