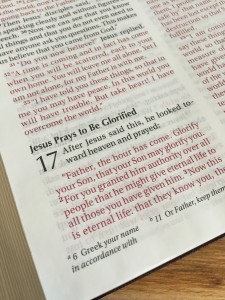 When you pray to the "Father", what's in your mind? There are riches that we may not recognise. In John 17 Jesus prays to the Father using three different descriptors.
First we have the plain vanilla address: "

Father

, the hour has come. Glorify your Son, that your Son may glorify you." (v1) And again, "

Father

, glorify me in your presence," (v5), as well as, "that all of them may be one,

Father

." (v21), and, "

Father

, I want those you have given me to be with me where I am." (v24)
Secondly: "

Holy Father

, protect them by the power of your name, the name you gave me, so that they may be one as we are one." (John 17:11 NIV11)
Finally: "

Righteous Father

, though the world does not know you, I know you, and they know that you have sent me." (John 17:25 NIV11)
Why these different forms of address?
Plain "Father", reminds us that our God is also our 'pater', daddy. Then, he is 'hagios' – separate from common condition and use; dedicated. Our Father is loving, and also pure, uncorrupted, sinless, perfect. Finally, he is 'dikaios' – just, equitable, fair. The Father to whom we pray will treat us with absolute integrity. He is righteous and just (e.g., Ps. 116:5; 119:137; Jer. 12:1).
How about praying to your Father using one of these ideas for your next three prayer times, focusing on one attribute at a time? Dwell on God as 'pater', 'hagios' and 'dikaios'. If it was meaningful to Jesus it can be meaningful to us.
A suggested prayer-starter for each one could look like this….
Father, you are the father of all fathers. You are loving, kind and discipline me for my best interests. I am so grateful you have taken me as your son/daughter …
Holy Father, you are pure, uncorrupted, sinless and perfect. I am in awe of your holiness. Thank you for not considering my sinfulness a barrier to showing me your love …
Righteous Father, you are fair, just, unswayed by human opinion and always act with integrity. It is a privilege to know you. Thank you that I can trust your promise to be equitable and honourable in all your dealings with me….
Have a wonderful time praying to our wonderful Father.
God bless, Malcolm
PS – do you have prayer questions? Would you like more direct coaching in your prayer life? Why not consider taking me up on some prayer coaching. Click here for details.