"The Heart of Communication: How to really connect with an audience" – Part 3
Tuesday Teaching Tip 226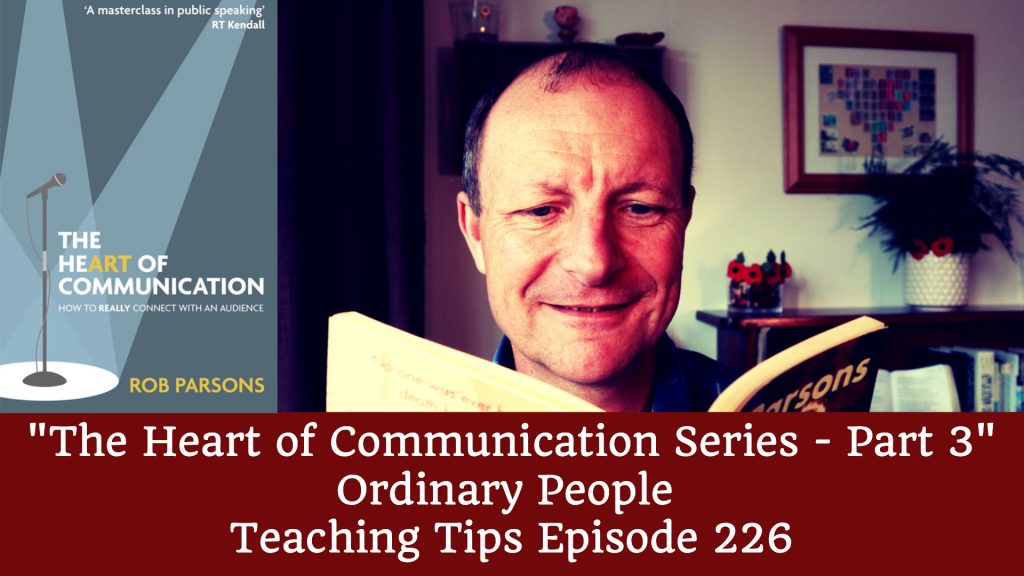 Tuesday Teaching Tip 226
---
Introduction
Designing a presentation without an audience in mind is like writing a love letter and addressing it: To Whom It May Concern. Ken Haemer Parsons, Rob. The Heart of Communication: How to really connect with an audience . John Murray Press. Kindle Edition.
Today we continue our series based on the book "The heart of communication: How to really connect with an audience" by Rob Parsons.
In my "What we're reading" series I reviewed the full book (look for episode 49). In this series of "Tuesday Teaching Tips" we're going to take a bite-size look at each of his chapters to see what might be relevant for us.
Today we look at the significance of remembering that we are talking to ordinary people
---
Ordinary people
Who are you speaking to? Do you know who they are? Do you know how ordinary they are? That's not to say they are not important. You are ordinary too!
Most peoples challenges, most of the time, are not wrestling with the nuances of the atonement. They are, "How do I get through the rest of this week?" "How do I save my marriage?" "How do I help my child not to go off the rails?" "How can I pay the mortgage?"
That's not to say theology is unimportant, I'd be the last person to advocate that position. It's just that all those hours spent studying can remove us from the realities of the lives of our listeners.
How did Jesus speak to the crowds? He,
"Jesus spoke the word to them, as much as they could understand. He did not say anything to them without using a parable." (Mark 4:33–34)
Rob relates that these words changed the way he spoke forevermore:
'Remember that when you preach, you will be speaking to ordinary people.'
What does this mean in practice? Two things to bear in mind:
Don't "dumb down" your talk. That would be patronising.
Examine your talk to see if people with a low level of education at a high level of education can get at least something from what you are going to say. They may not get everything, but will everybody get something?
Bear in mind that not everybody needs significant academic or intellectual stimulation to be able to grow in Christ.
---
Conclusion
Theology is vital to our talks. However, if our approach to that theology is preventing us from connecting with our listeners, then adjustments need to be made.
Questions: "Do you know your tendency? Is it to be too intellectual, or not intellectual enough? If there was a group in your congregation who might tend to miss out because of your approach, who might they be? What could you do to correct this?"
---
Please add your comments on this week's topic. We learn best when we learn in community.
Do you have a question about teaching the Bible? Is it theological, technical, practical? Send me your questions or suggestions. Here's the email: malcolm@malcolmcox.org.
If you'd like a copy of my free eBook on spiritual disciplines, "How God grows His people", sign up at my website: http://www.malcolmcox.org.
Please pass the link on, subscribe, leave a review.
"Worship the LORD with gladness; come before him with joyful songs." (Psalms 100:2 NIV11)
God bless, Malcolm
PS: You might also be interested in my book: "An elephant's swimming pool", a devotional look at the Gospel of John