Quiet Time Coaching Episode 274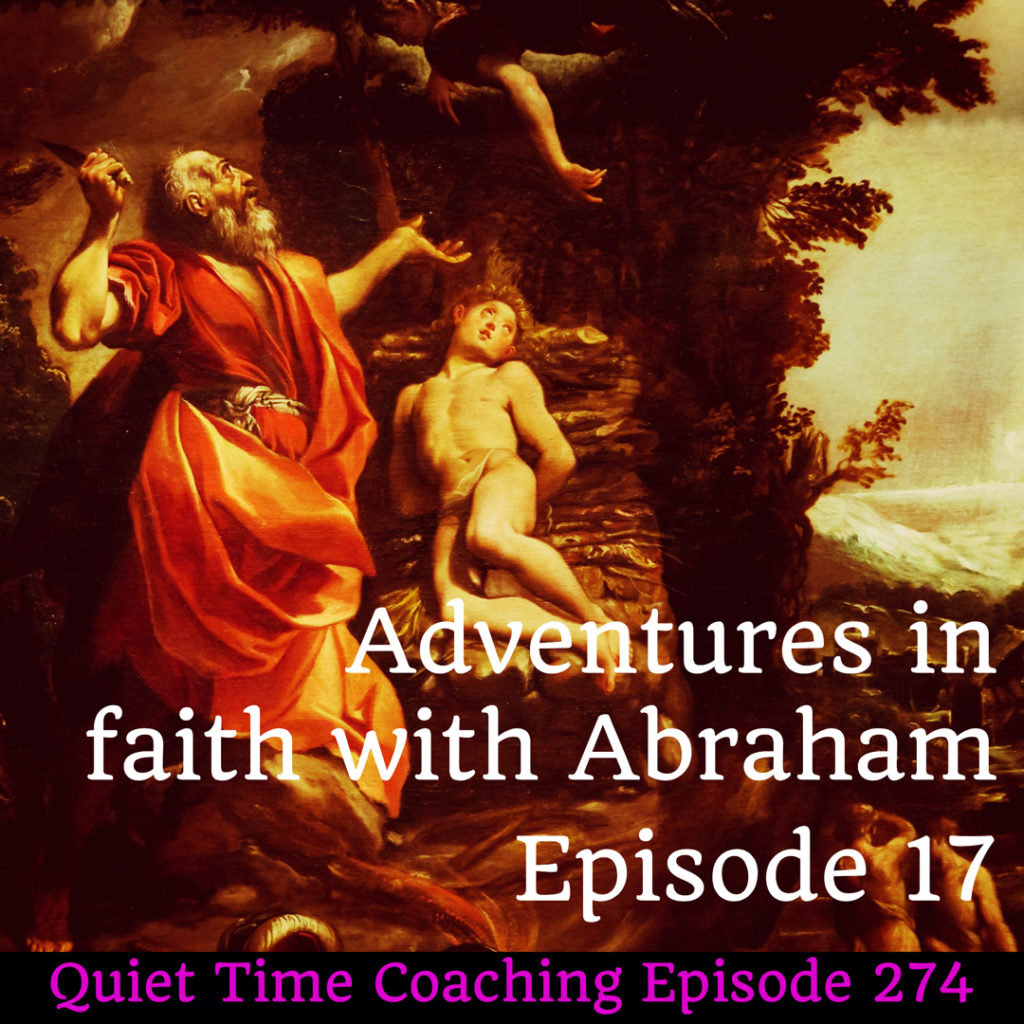 Would you like to learn more about faith? You've come to the right person. No, not me, Abraham. This is a daily devotional podcast supporting a teaching series for the Watford church of Christ and the Thames Valley churches of Christ called "Adventures in faith with Abraham". It is also part of my quiet time coaching series.
What is it about Abraham which is so admirable? Many things. But perhaps above all else his adventurous faith, "By faith Abraham, when called to go to a place he would later receive as his inheritance, obeyed and went, even though he did not know where he was going." (Hebrews 11:8 NIV11)
Join me as we step out on a faith adventure with Abraham.
---
Episode 17
---
Today we move further into chapter 14
"The king of Sodom said to Abram, "Give the people to me and take the goods for yourself." Abram said to the king of Sodom, "I have sworn to the LORD God Most High, possessor of heaven and earth, that I will not take a thread or a sandal thong or anything that is yours, for fear you would say, 'I have made Abram rich.' "I will take nothing except what the young men have eaten, and the share of the men who went with me, Aner, Eshcol, and Mamre; let them take their share."" (Genesis 14:21–24 NAS95)
What are we seeing here? Integrity inspired by security. Abram is generous because he knows God has his back.
Abram allowed Lot the pick of the land, and takes the same approach here. The king of Sodom is rude and ungrateful, but Abram does not take it personally. He allows him to go away with more than he deserves. As their rescuer, Abram presumably had a right to both the people and the property that he had recovered.
The contrast with Melchizedek is stark. The king of Salem offers, while the king of Sodom demands.
---
Devotional thought for today
Abram demonstrates what it means to be content with whatever the Lord supplies. He trusts that God will look after him. He does not have to take from others, nor demand for himself. We gain great peace of spirit when we give up our 'right' to demand what we deserve.
John the Baptiser was asked what a Kingdom perspective would be. He replied,
""Don't extort money and don't accuse people falsely—be content with your pay."" (Luke 3:14 NIV11)
Paul let it be known that being content is something we can learn,
"I am not saying this because I am in need, for I have learned to be content whatever the circumstances. I know what it is to be in need, and I know what it is to have plenty. I have learned the secret of being content in any and every situation, whether well fed or hungry, whether living in plenty or in want." (Philippians 4:11–12 NIV11)
And the writer to the Hebrews tells us the grounds of our contentment:
"Keep your lives free from the love of money and be content with what you have, because God has said, "Never will I leave you; never will I forsake you."" (Hebrews 13:5 NIV11)
You and I might never be perfectly content whilst in this life, we are human after all, but we can grow in contentment. Do you feel content? Would your friends characterise you as a person who is, generally speaking, content?
---
Prayer point for today
Ask God to help you trust him for the strength to be content.
---
If you have any questions or feedback please contact me: malcolm@malcolmcox.org.
The apostle Paul said of Abraham, "He is the father of us all." (Romans 4:16 NIV11) Let's allow him to be the father of Faith to you and me in January and February 2021.
Many thanks for listening today. See you tomorrow as we continue our adventure of faith with Abraham.
Take care and God bless, Malcolm