A sermon for the Watford church of Christ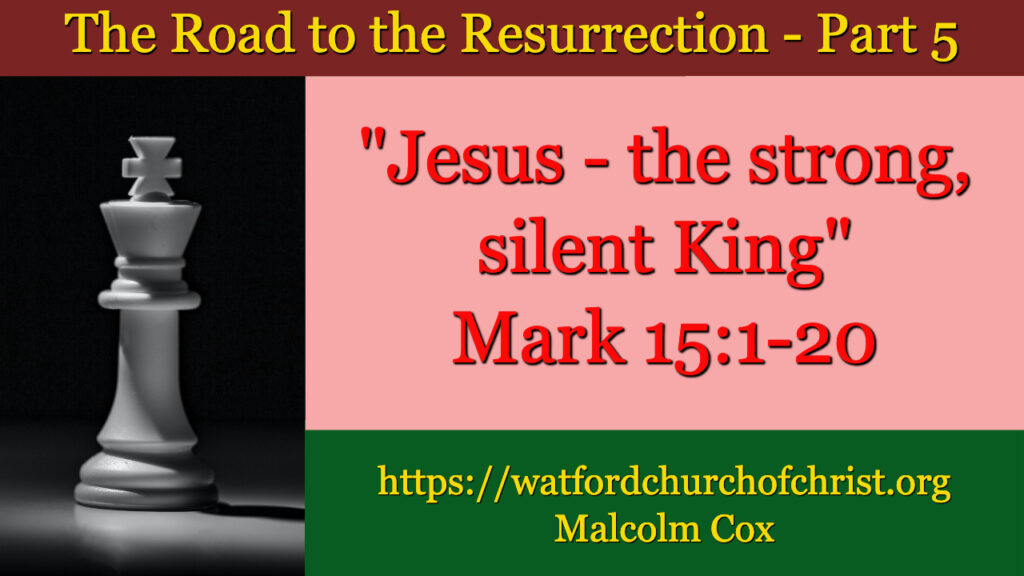 We continue on the road to the Resurrection.
The Silence of Jesus Amazes Pilate, vv2-5
A. v2
King?
"You? You must be kidding!"
The key question for High Priests
The key question for Pilate
The key question for humankind
The key question for you and me
QUESTION: What kind of king is Jesus?
B. v3
Many accusations
C. vv4-5
QUESTION: Why didn't he answer?
Calm, dignified, courageous. In contrast with the religious leaders, and even Peter.
Silence not admission of guilt, but settled surrender
Amazed
Roman law presumed the guilt of those who refused to defend themselves
No faith
The Shouts of the Crowd Manipulate Pilate, vv6-15a
A. v8-11
self-interest
Jealousy/Envy 'phthonos', 'the heart burns', 'the stomach is hot.'
QUESTION: What are they jealous of?
B. v12-15a
"what crime?" – knows innocent
call to crucify – "he is a robber; Caesar is our king"
Are you following the crowd? 1 Peter 4:1-5
The Strength of Jesus Defies the Soldiers' Mockery, vv15b-20a
A. v17-19
"Ancient images of crowns frequently show the kings wearing crowns with radiating points, symbolising the glory flowing from the head of the monarch. The thorny or spiked branches mock this type of crown, using materials ready at hand from the acanthus shrub or from palms."
One day – every knee shall bow – including ours!
Phil 2:8-11.
B. v20a
led – v1, 16 – to crucify
Conclusion, v20b
Chief priests, elders, teachers of law, whole Sanhedrin, Pilate, Crowd, Soldiers, whole company
Who is the focus?
The who amazes, who surrenders, who is kind – Jesus
Will you let him be your king?
Please add your comments on this week's topic. We learn best when we learn in community.
Do you have a question about teaching the Bible? Is it theological, technical, practical? Send me your questions or suggestions. Here's the email: malcolm@malcolmcox.org.
If you'd like a copy of my free eBook on spiritual disciplines, "How God grows His people", sign up at my website: http://www.malcolmcox.org.
Please pass the link on, subscribe, leave a review.
"Worship the LORD with gladness; come before him with joyful songs." (Psalms 100:2 NIV11)
God bless, Malcolm