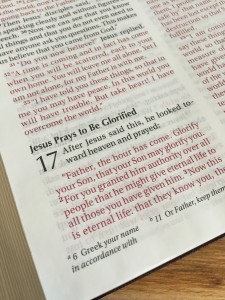 Have you ever sat down to pray, or stepped out for a prayer walk and not known how to start? I'd guess you're not alone. Let's take a look at a prayer-starter, inspired by Jesus.
After the last supper he says, "Father, the hour has come. Glorify your Son, that your Son may glorify you." (John 17:1 NIV11) Note he begins with, "Father", just as he told us in Luke 11: "When you pray, say: " 'Father, hallowed be your name," (Luke 11:2 NIV11) It seems to be his common practice. The agonised prayer in Gethsemane begins with, "My Father, if it is possible, may this cup be taken from me." (Matthew 26:39 NIV11)  Earlier in Matthew he prayed, ""I praise you, Father, Lord of heaven and earth, because you have hidden these things from the wise and learned" (Matthew 11:25 NIV)
What do we learn from this? Jesus took his thoughts, needs and hopes to his Father in all circumstances. Whether he was rejoicing, teaching, reflecting or mourning in prayer, the focus remained on the Father. Why is this important? Because it was the Father who spoke of love to him, "a voice came from heaven: "You are my Son, whom I love; with you I am well pleased."" (Mark 1:11 NIV11)
We have that same voice speaking to us conveying the same devotion, "See what great love the Father has lavished on us, that we should be called children of God! And that is what we are!" (1 John 3:1 NIV11)  We are as loved by the Father as Jesus was and is. Thus, we can call on him, connect with Him and find strength from him any time we want to or need to. No matter if we are happy, sad, confused, tired or grumpy! We have a loving Father and he is interested – all we have to do is open our mouths.
The next time you're stumped for a prayer-opener, why not try praying one of Jesus' prayer-starters? Address the Father and go from there.
In the next post we'll take a deeper look at John 17 and the way Jesus sees his Father.
Until then, happy praying, and God bless.
Malcolm
PS – do you have prayer questions? Would you like more direct coaching in your prayer life? Why not consider taking me up on some prayer coaching. Click here for details.