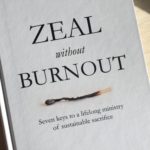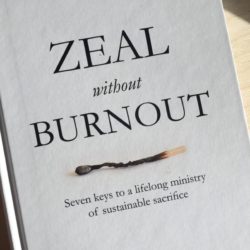 A review of "Zeal without Burnout" (seven keys to a lifelong ministry of sustainable sacrifice) by Christopher Ash.¹
Preamble
Burnout is prevalent in church leadership.² How do we avoid it? Not by becoming lazy, but keeping ourselves, "fuelled and aflame." (Rom 12:11 MESSAGE) Christopher provides us with seven simple but profound practical truths to maintain spiritual fervour instead of experiencing spiritual failure. These apply to those serving in Christian ministry, whether on staff of a church or not. Anyone practicing the seven keys with diligence will undoubtable find refreshment and renewed faith.
Summary
The most important aspect of maintaining spiritual health while under strain is soberness, "So if you think you are standing, watch out that you do not fall." (1 Cor 10:12 NRSV) A buyer of the book is, presumably, aware enough of their challenges to recognise the symptoms of burnout either in full view or coming over the horizon. However, we are not the best judges of our fitness and need books like this to conduct a periodic review. I recommend this as a readable and succinct book that could be best used by pulling it off the shelf at least once a year for a checkup.
Body of the Book
Christopher reminds us that sacrifice (good) is not the same as burnout (bad). Statements such as, "I would rather wear out than rust out" (George Whitfield) may be well intended, but smack too much of machismo. The problem with burnout is not simply the effect it has on us, but also on colleagues, friends and especially family. In essence, burnout is avoidable and thus is akin to selfishness. We are called to present our "bodies as a living sacrifice," (Rom 12:1 CENT) – not a dead one! It helps to remember that we are creatures of dust (Gen 2:7; Psalm 90:3; 103:14).
Having reminded us of our limitations Christopher gives us his "Seven Keys" to sustainable sacrifice:
We need sleep
We need sabbath rests
We need friends
We need inward renewal
A warning: beware celebrity!
An encouragement: it's worth it!
A delight: rejoice in grace, not gifts
Rather than go into detail, I'll simply add a couple of points not covered in my vlogs.
Each short chapter reviews differences between us and God. We have needs that He does not, and thus we do well to take advantage of the resources He has provided to continue to do the work He has in mind for us. Christopher carefully treads the line between self-care and selfishness.  Christian work does make you tired! Paul and others had "sleepless nights and hunger" (2 Cor 6:5 NIV11). Our writer is not advocating a comfortable cross, but a sustainable life of discipleship.
The example of a firefighter is a helpful thread throughout the book. It is not selfish to guard our devotional times any more than it is selfish for a firefighter to take a break before heading back into the fire. Remaining in the burning building beyond his or her capacity for strength or air would be folly, not faith. "To neglect sleep, sabbaths, friendships and inward renewal is not heroism but hubris."
In essence the book is concerned with self-awareness. Once we are aware, we then must be humble enough to surrender any fears or selfish ambition to God. Hard to do unless we also share our predicament with at least one trusted friend. Perhaps, if I have a criticism of this book, it would be that it lacks detail on what to do when you find yourself in a place without 'safe' people around. It's a situation I have faced in the past as do many in Christian service. I'd like to have heard Christopher's thoughts on this topic.
Conclusion
The book's brevity does not indicate a superficial treatment of this vital topic. There is enough between the pages to bless your burnout – or even prevent it in the first place. A more detailed exploration of many of the themes can be found in the works of Gordon MacDonald ("Ordering your private world", "Restoring your spiritual passion", "A resilient life" and others).
Let's hope and pray that we can live out the instruction that Paul gave the Romans, and that he himself lived, "Never be lacking in zeal, but keep your spiritual fervor, serving the Lord" (Romans 12:11 NIV11).
His concluding poem/prayer is a helpful meditation:
"I am – and will never, this side of the resurrection, be more than – a creature of dust. I will rest content in my creaturely weakness; I will use the means God has given me to keep going in this life while I can; I will allow myself time to sleep; I will trust him enough to take a day off each week; I will invest in friendships and not be a proud loner; I will take with gladness the inward refreshment he offers me. I will serve the Lord Jesus with a glad and restful zeal with all the energy that he works within me; but not with anxious toil, selfish ambition, the desire for the praise of people, and all the other ugly motivations that will destroy my soul. So help me God."
Malcolm Cox
3 October 2016
¹ thegoodbook company, hardback, 123 pages, 2016
² In the USA it is estimated that some 1500 people leave pastoral ministry each month due to burnout, conflict or moral failure. A third of pastors say they feel burned out within just five years of starting ministry, and almost a half of pastors and their wives say they have experienced depression or burnout to the extent that they needed to take a leave of absence from ministry.