The Sunday Sample, Episode 106
What's one of the tell-tale signs a worship leader has understood their role?
It's revealed by which of these two questions they ask themselves at the end of church service:
Question one: "How did I sing today?"
Question two: "How did the congregation sing today?"
While the first question has its place (especially if you saw people wincing!), the second question is more relevant and, in fact, more scripturally informed.  Consider what Paul tells the Ephesians:
"…be filled with the Spirit, speaking to one another with psalms, hymns, and songs from the Spirit. Sing and make music from your heart to the Lord, always giving thanks to God the Father for everything, in the name of our Lord Jesus Christ."

(Ephesians 5:18–20 NIV11)
His instruction is not to worship leaders. His instruction is to the congregation. We don't know exactly how they organised their singing and whether they had what we would recognise as a leader of worship.
However, whatever their methods, the priority was the spirituality of their congregational singing.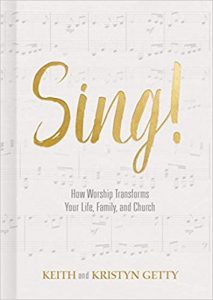 I'm reading the book "Sing!" By Keith Getty at the moment. Here's what he has to say about this question at location 250 of the Kindle edition:
"How did the congregation sing? Each of us is part of the answer to that in our own church, whether we are on stage or standing by our seat on the main floor. It's a harder and in some ways less comfortable question than all the other ones people tend to ask about the music in church. Yet Paul does not tell us to perform for one another, but to sing to one another. We need to ask, "How did the congregation sing?"" 

Getty, Keith. Sing! . B&H Publishing Group. Kindle Edition.
There are two ways to interpret the answer to the question, "How did the congregation sing?".
The first is to pass judgement on the congregation. The second is to pass judgement on our effectiveness as worship leaders. 
I suggest that when the congregation is not singing wholeheartedly we consider carefully our response.
Before we express our frustration ("How can they be like that after all the work I put in preparing this worship service?"), we would do better to reflect on our personal 'performance'.
What is it about the way I led the worship today, and what is it about my Spirit, or the methods we used that could have been healthier? In what way could I have helped the congregation to sing in a way more like that envisaged by Paul in his epistle to the Ephesians?
Here's an idea for you. The next time you finish a gathering which includes worship, before you do anything else, before you' fellowship', pack away the equipment or jump in your car to go home, read Ephesians 5:18-20, and then ask these two questions:
Did the congregation, generally speaking, make music from their hearts to the Lord today?
What could I do next time to help deepen the congregation's devotion to expressing thanks to God through song?
What do you think about this perspective? How do you evaluate your congregation's singing? How do you avoid being negatively judgmental, whilst retaining objectivity?
Please add your comments on this week's topic. We learn best when we learn in community. 
Do you have a question about teaching the Bible? Is it theological, technical, practical? Send me your questions or suggestions. Here's the email: malcolm@malcolmcox.org.
If you'd like a copy of my free eBook on spiritual disciplines, "How God grows His people", sign up at my website: http://www.malcolmcox.org.
Please pass the link on, subscribe, leave a review.
"Worship the LORD with gladness; come before him with joyful songs." (Psalms 100:2 NIV11)
God bless, Malcolm
PS: You might also be interested in my book: "An elephant's swimming pool", a devotional look at the Gospel of John