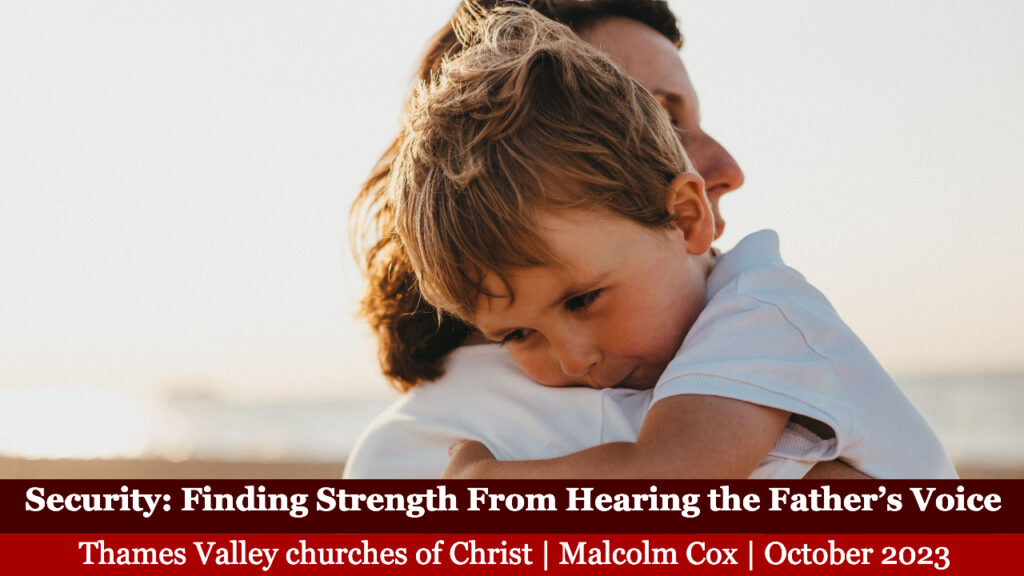 A teaching class for the Thames Valley churches of Christ.
Class 1 – Security: Finding Strength From Hearing the Father's Voice
In this short series we will explore how our security in the Father enables our willing submission to him. The critical issue before us today is the way in which we hear Father's voice. We may intellectually understand many things with our mind, but it is the voice in our head which so often controls our feelings and our behaviour. Which voice dominates in your head at the moment? Do you find it easy or hard to hear the Father's voice? Perhaps you even think it's rather weird to expect such a thing. However, let us consider the example of Jesus.
Can you imagine how he felt when he heard this on the occasion of his baptism,
"This is my Son, whom I love; with him I am well pleased." (Matthew 3:17 NIV11).
That incident was not the only time. Consider what happened on the mountain,
"Then a cloud appeared and covered them, and a voice came from the cloud: "This is my Son, whom I love. Listen to him!"" (Mark 9:7 NIV11)
It is true that Jesus was unique, and that Scripture does not mandate that we hear the voice of the Father audibly. However, we do have the same kind of relationship with the Father that Jesus had.
We are authorised — nay — encouraged to trust in an identical quality of relationship with the Father that Jesus enjoyed, "The Spirit you received does not make you slaves, so that you live in fear again; rather, the Spirit you received brought about your adoption to sonship. And by him we cry, "Abba, Father."" (Romans 8:15 NIV11) And again, "Because you are his sons, God sent the Spirit of his Son into our hearts, the Spirit who calls out, "Abba , Father."" (Galatians 4:6 NIV11)
By the way, this should not be seen as an exclusively male issue. The word 'son' is important because in that culture it conveyed the idea of inheritance. In that day it was the male son who inherited from the father. It is this which we are meant to see in the father-son relationship between our heavenly Father and Jesus, not anything else.
The strength of his connection with the father enabled him to endure one of his darkest moments. Even then, he was able to use the more intimate form of address — 'abba'. ""Abba , Father," he said, "everything is possible for you. Take this cup from me. Yet not what I will, but what you will."" (Mark 14:36 NIV11)
Jesus lived a life of submission to the Father because he experienced the loving acceptance of his Father. We will live healthier lives of discipleship when we connect with that same love in our times of quiet with God.
Michael Lewis and his voice impact on my ability to pass a crucial piano exam.
Questions for reflection
How do you honestly feel about the idea of listening for the Father's voice?
What is it about example of Jesus which is relevant and attractive to you?
If you want to hear more of the Father's voice, how will that happen?
Next time we will go on to look at how Jesus' security in the Father's love enabled his willing submission to the Father's will.
Please add your comments on this week's topic. We learn best when we learn in community.
Do you have a question about teaching the Bible? Is it theological, technical, practical? Send me your questions or suggestions. Here's the email: malcolm@malcolmcox.org.
If you'd like a copy of my free eBook on spiritual disciplines, "How God grows His people", sign up at my website: http://www.malcolmcox.org.
Please pass the link on, subscribe, leave a review.
"Worship the LORD with gladness; come before him with joyful songs." (Psalms 100:2 NIV11)
God bless, Malcolm