Quiet Time Coaching: Episode 241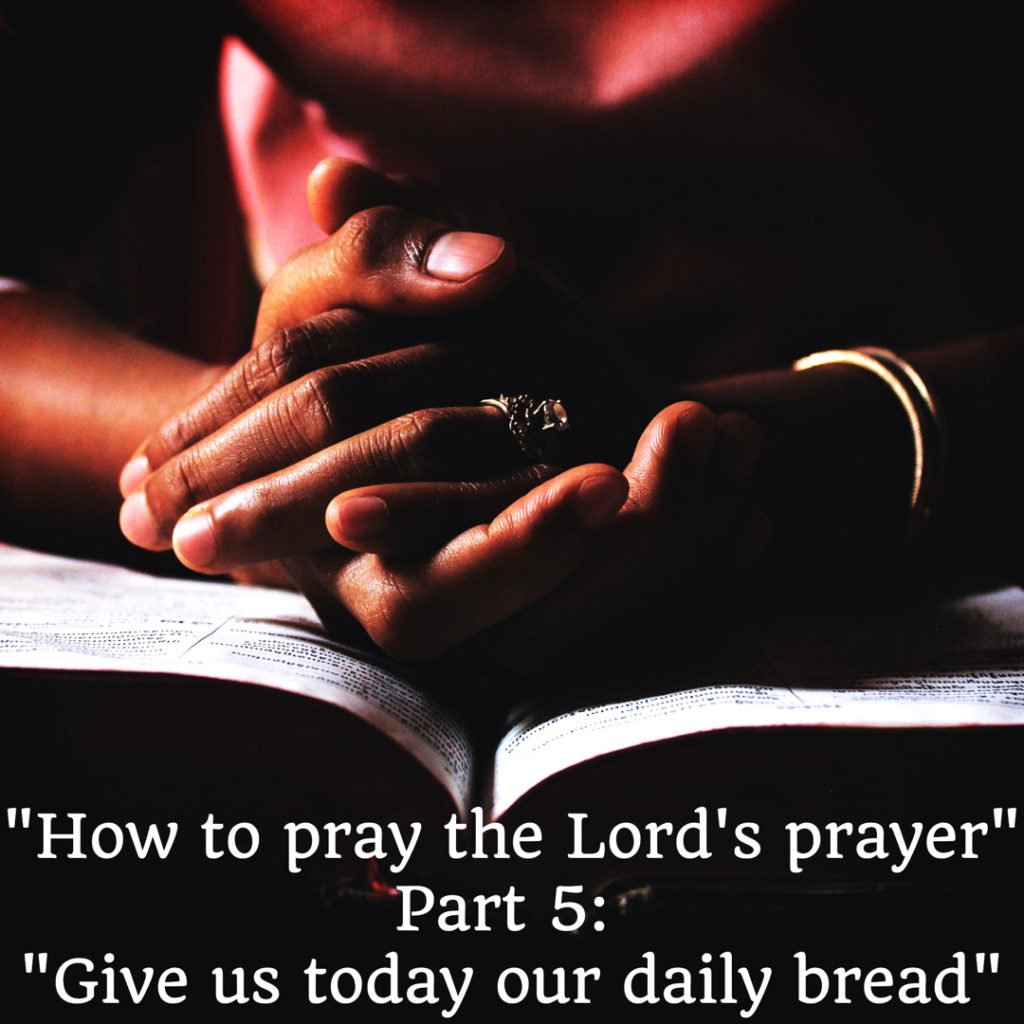 Part 5 of the series on the Lord's Prayer
First half of prayer all about God and his priorities
Second half about us and our needs
Give
What are we praying for, when we pray asking for our daily bread?
Looking to God for provision without anxiety

""Therefore I tell you, do not worry about your life, what you will eat or drink; or about your body, what you will wear. Is not life more than food, and the body more than clothes?" (Matthew 6:25 NIV11)

Trust that he wants and delights to give
Ask with relaxed posture, not anxious demand
---
2. Us Our
Not only my bread. Concern for needs of others.
Social dimension

Praying for friends; family; local congregation; anyone we are connected to with known needs
---
3. Daily
espousios: today, tomorrow, coming day, the day at hand.
Praying for what I need today. No fears about tomorrow, Matthew 6.33-34.
Just today – manna in the wilderness.
Necessary for survival – need, not want. Contentment.
---
4. Bread
Making a point about necessities rather than luxuries?
Contentment.
"Keep falsehood and lies far from me; give me neither poverty nor riches, but give me only my daily bread. Otherwise, I may have too much and disown you and say, 'Who is the LORD?' Or I may become poor and steal, and so dishonour the name of my God." (Proverbs 30:8–9 NIV11)
The prayer is for our needs, not our greeds
God's Word in view here too:
When Jesus taught us to pray for 'our daily bread', he was referring to physical provision, but also to the daily spiritual nourishment of God's word. For example, when Jesus was fasting in the wilderness and the devil tempted him to make bread (the physical variety), Jesus replied by quoting the book of Deuteronomy and pointing to another kind of bread and another kind of hunger (the spiritual variety): 'It is written: Man shall not live on bread alone, but on every word that comes from the mouth of God.'

Greig, Pete. How to Pray: A Simple Guide for Normal People (pp. 136-137). John Murray Press. Kindle Edition.
---
Conclusion
Don't forget everything you have is from God.

"Every good and perfect gift is from above, coming down from the Father of the heavenly lights, who does not change like shifting shadows." James 1:17 NIV11

He owes us nothing. Apparent security in our society tends to engender entitlement and/or ingratitude, there must be countered by active recognition of dependence on God's generosity.
Questions for discussion:

What stands out to you from this verse?
How might your prayer life grow because of what this verse teaches you about God, yourself and prayer?
---
Please add your comments on this week's topic. We learn best when we learn in community.
Do you have a question about teaching the Bible? Is it theological, technical, practical? Send me your questions or suggestions. Here's the email: malcolm@malcolmcox.org.
If you'd like a copy of my free eBook on spiritual disciplines, "How God grows His people", sign up at my website: http://www.malcolmcox.org.
Please pass the link on, subscribe, leave a review.
"Worship the LORD with gladness; come before him with joyful songs." (Psalms 100:2 NIV11)
God bless, Malcolm
PS: You might also be interested in my book: "An elephant's swimming pool", a devotional look at the Gospel of John