I'm very privileged to bring you a post on prayer by my friend Dr Steve Kinnard. We've known each other a few decades now, and I have benefitted significantly from his lessons, conversations and reading his books.
This blog post originally appeared on Steve's site, November 7, 2016.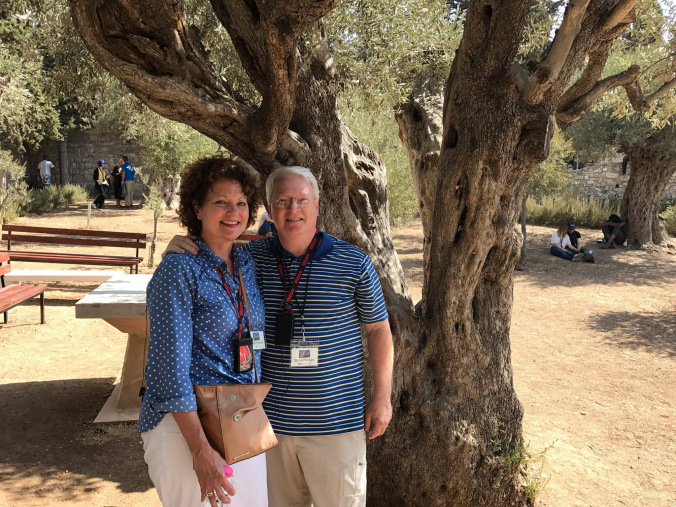 The Garden of Gethsemane is a special place for my family. When we lived in Jerusalem, we often had family devotionals in Gethsemane. Our daughter Chelsea adopted an olive tree that she would climb.  Chelsea would lay upon one of its branches and pray. We called that olive tree–The Chelsea Tree.  We visited the tree on our recent trip to Gethsemane. It is still a strong, healthy tree. And our daughter Chelsea has grown into an amazing woman of God. We are blessed.
Let's meditate on the story of Jesus in Gethsemane.
Matthew 26:36-ff.
 Then Jesus went with his disciples to a place called Gethsemane, and he said to them, "Sit here while I go over there and pray." He took Peter and the two sons of Zebedee along with him, and he began to be sorrowful and troubled. Then he said to them, "My soul is overwhelmed with sorrow to the point of death. Stay here and keep watch with me."
 Going a little farther, he fell with his face to the ground and prayed, "My Father, if it is possible, may this cup be taken from me. Yet not as I will, but as you will."
 Then he returned to his disciples and found them sleeping. "Couldn't you men keep watch with me for one hour?" he asked Peter. "Watch and pray so that you will not fall into temptation. The spirit is willing, but the flesh is weak."
 He went away a second time and prayed, "My Father, if it is not possible for this cup to be taken away unless I drink it, may your will be done."
 When he came back, he again found them sleeping, because their eyes were heavy. So he left them and went away once more and prayed the third time, saying the same thing.
 Then he returned to the disciples and said to them, "Are you still sleeping and resting? Look, the hour has come, and the Son of Man is delivered into the hands of sinners. Rise! Let us go! Here comes my betrayer!"
Luke 22:39-46
 Jesus went out as usual to the Mount of Olives, and his disciples followed him. On reaching the place, he said to them, "Pray that you will not fall into temptation." He withdrew about a stone's throw beyond them, knelt down and prayed, "Father, if you are willing, take this cup from me; yet not my will, but yours be done." An angel from heaven appeared to him and strengthened him. And being in anguish, he prayed more earnestly, and his sweat was like drops of blood falling to the ground.
 When he rose from prayer and went back to the disciples, he found them asleep, exhausted from sorrow. "Why are you sleeping?" he asked them. "Get up and pray so that you will not fall into temptation."
Jesus asked his disciples to perform one task–Keep watch with him. Stay awake with Him.
Stated in the negative this is–don't fall asleep on Jesus.
Stay awake. Stay awake and pray. Stay awake and pray so that you don't fall into temptation. Stay awake and pray so that you don't fall into temptation because the spirit is willing, but the flesh is weak.
One task. KEEP watch. Stay awake.
I don't want to be too hard on the disciples. Luke, who was not one of the original disciples, informs us that the disciples were exhausted with sorrow. I get that. When I'm sad, full of sorrow, I want to sleep. Sometimes when I see a really depressing movie, I say, "I need a nap after that." I sleep hoping that while I'm sleeping the situation will change, and I won't have to be sad anymore. But so far, sleep has never caused the situation to go away. So I don't want to be too hard on the disciples because I understand what it means to be exhausted with sorrow. And they had had a long, difficult week with Jesus.
At the same time, I also realize that if a really good friend asked me to stay awake while he prayed, I'd find a way to stay awake. Especially if there were three of us who were fighting to stay awake. We could help each other stay awake.
Let's say my good friend Troy Baker asked me to pray with him. I'd be honored to pray with Troy. Troy says, "Steve, just keep watch for me while I pray." That's risky leaving me alone to keep watch. But then Troy invites another friend Mike Santorio to join me. Ain't no way Mike Santorio is going to allow me to fall asleep. He would have me doing push ups if I began to look sleepy. Then Troy invites another friend Lance Sarincino to join us. Lance is an amazing guy. But, at times, Lance can be a little scary. And I'm pretty sure Lance likes it that way. So I wouldn't fall asleep because Lance might tie me up and dangle me from a cliff. I'm sure pictures of me dangling from that cliff would be posted on Facebook the next day. My point it this–it only takes one person who is invested to make sure the others stay awake. Be that person.
I think Peter, James, and John could have kept each other awake. If one of the three had been intentional about keeping watch, then he could have kept the others awake.
But that's not where there minds were.
They failed to Keep Watch. They failed to stay awake with Jesus.
If you are going to keep watch with Jesus, you have to be intentional about it. Staying awake with Jesus doesn't happen by accident.
And here's the thing:
If we aren't careful, we can easily sleepwalk through our spiritual lives. We get up in the morning, have our routine quiet time, rush off to work or to school, rush back home after work, have a quick dinner with the family, perhaps run out to a regular midweek Bible study, come back home, go to bed, and wake up the next day for the same routine. We aren't intentional about growing to be more and more like Jesus, so we don't grow spiritually. We maintain the status quo, but we don't grow.
We might think about growing with Jesus, but we don't do the things that Jesus did to be the person he was. Like getting up early, while it was still dark, to connect with the Father in prayer. Or, memorize large portions of scriptures so that when we are tempted we have scriptures on our hearts to use against Satan. Or, develop the compassion of Jesus for the sick, the needy, and the hurting. Or, be willing to go person to person and village to village to preach the good news of God's kingdom to those who are lost. Or, pray the Gethsemane prayer, "Not my will, but your will be done."
So we must decide to Keep Watch with Jesus. We must decide to stay awake and not to sleep walk.
The older I get, all I want to know about, learn about, focus on, think about, meditate on is Jesus.
Because Jesus is THE difference maker in life. He gives me energy. He gives me purpose.
When I'm selfish, I think about the selflessness of Jesus.
When I'm lazy about pursuing God, I think about how Jesus would get up early to pray with God or stay up the whole night in prayer.
When I'm struggling with love for neighbor, I see the way Jesus touched lepers and spoke with outsiders like the Samaritan woman and cared for people with a selfless, agape love.
I know one of the most special aspects about being in the Holy Land is knowing that you are walking where Jesus walked. On our tours, we love to focus on the spots where we know Jesus walked there. You don't see signs in Aramaic that read "Jesus slept here," but you do have places where you know Jesus was.
Like the Sea of Galilee.
Or, Caesarea Philippi.
Capernaum
Nazareth
Bethesda
The Garden of Gathsemane.
The steps of the southern Temple Mount.
It's exciting to be in those places. I love those spots.
But I think the question we each need to ask is, "Am I going to walk in the steps of Jesus every day of my life wherever I might be in life?" Because the steps of Jesus lead to the needy, the lonely, the hurting, and the lost. The steps of Jesus lead to great relationships within his kingdom–helping, helpful, encouraging relationships. The steps of Jesus lead to keeping the unity of the Spirit and the bond of peace. The steps of Jesus lead to building up the kingdom.
So keep watch with Jesus. Keep watch by obeying his commands. Keep watch by getting into his word and letting the word change your heart. Keep watch and pray. Pray that you will not give into temptation for the spirit is willing but the flesh is weak.
Be intentional. Have great times in the word. Have inspiring pray times. Decide to be with positive people who build you up and don't drag you down. Flee temptation. James says that if you flee temptation, the devil will run from you. When is the last time you made the devil run?
Will you stay awake with Jesus? Will you stay awake and pray? Will you stay awake and pray so that you will not to fall into temptation?
Keep Watch With Jesus
Jesus on the Sea of Galilee
Jesus in Caperaum
Jesus in Bethsaida
Jesus in Chorazim
Jesus in Caesarea Philippi
Jesus in Nazareth
Jesus on the Temple Mount
Jesus on the Mount of Olives
Jesus in Gethsemane asking his disciple
Keep watch, stay awake, pray
Pray that you will not fall into temptation
The spirit is willing but the flesh is weak
Jesus on a cross at Golotha
Arms outstretched
Breathing his last breath
Jesus in a tomb
But not for very long
Jesus rose
Up from the grave-Jesus rose
Keep watch
Stay awake
Pray
Pray that you will not fall into temptation
Keep watch with Jesus.
Please add your comments on this week's topic. We learn best when we learn in community.
Please pass the link on, subscribe, leave a review.
God bless, Malcolm