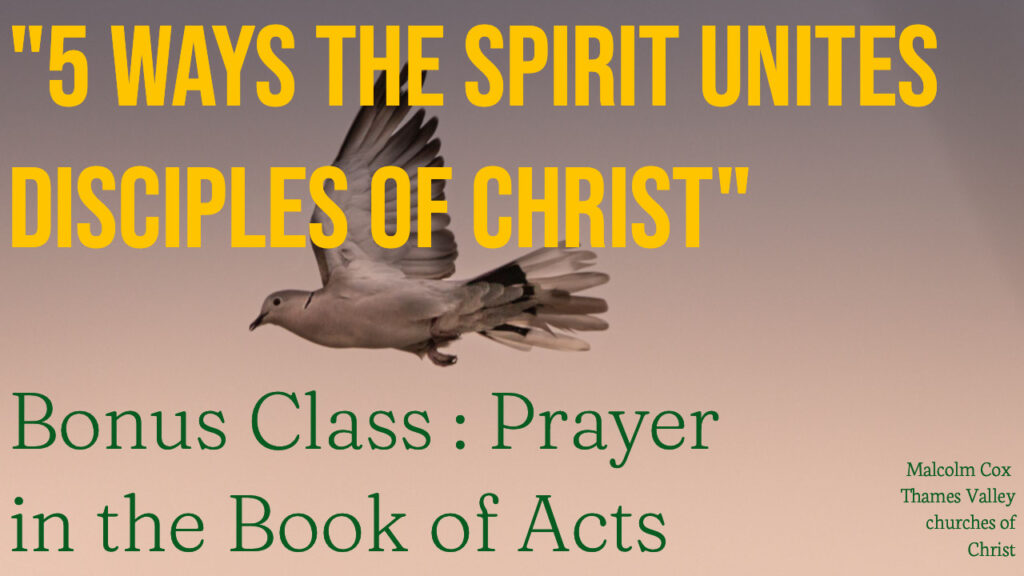 Bonus Class – The Spirit Unites Disciples Because We Pray Together
Main Point For Today: The Spirit unites us when we pray together
33vv in Acts on prayer
Let's look at some of the ways the early church prayed…
Praying for wisdom and guidance: Decisions & Comissioning

Acts 1:14 They all joined together constantly in prayer, along with the women and Mary the mother of Jesus, and with his brothers.
Acts 1:24 Then they prayed, "Lord, you know everyone's heart. Show us which of these two you have chosen
Acts 6:6 They presented these men to the apostles, who prayed and laid their hands on them.
Acts 13:3 So after they had fasted and prayed, they placed their hands on them and sent them off.
Acts 14:23 Paul and Barnabas appointed elders a for them in each church and, with prayer and fasting, committed them to the Lord, in whom they had put their trust.

Praying for help and strength: Crisis/Trouble

Acts 4:24 When they heard this, they raised their voices together in prayer to God. "Sovereign Lord," they said, "you made the heavens and the earth and the sea, and everything in them
Acts 4:31 After they prayed, the place where they were meeting was shaken. And they were all filled with the Holy Spirit and spoke the word of God boldly.
Acts 12:5 So Peter was kept in prison, but the church was earnestly praying to God for him.
Acts 12:12 When this had dawned on him, he went to the house of Mary the mother of John, also called Mark, where many people had gathered and were praying.
Acts 27:29 Fearing that we would be dashed against the rocks, they dropped four anchors from the stern and prayed for daylight.

Praying for healing/salvation: For Other People

Acts 8:15 When they arrived, they prayed for the new believers there that they might receive the Holy Spirit,
Acts 9:40 Peter sent them all out of the room; then he got down on his knees and prayed. Turning toward the dead woman, he said, "Tabitha, get up." She opened her eyes, and seeing Peter she sat up.
Acts 28:8 His father was sick in bed, suffering from fever and dysentery. Paul went in to see him and, after prayer, placed his hands on him and healed him.

Praying as a habit/priority

Acts 2:42 They devoted themselves to the apostles' teaching and to fellowship, to the breaking of bread and to prayer.
Acts 6:4 and will give our attention to prayer and the ministry of the word."
Acts 10:9 About noon the following day as they were on their journey and approaching the city, Peter went up on the roof to pray.
Acts 16:16 Once when we were going to the place of prayer, we were met by a female slave who had a spirit by which she predicted the future. She earned a great deal of money for her owners by fortune-telling.
Acts 16:25 About midnight Paul and Silas were praying and singing hymns to God, and the other prisoners were listening to them.

Praying as a sign of community and love

Acts 20:36 When Paul had finished speaking, he knelt down with all of them and prayed.
Acts 21:5 When it was time to leave, we left and continued on our way. All of them, including wives and children, accompanied us out of the city, and there on the beach we knelt to pray.

People praying to meet us

Acts 9:11 The Lord told him, "Go to the house of Judas on Straight Street and ask for a man from Tarsus named Saul, for he is praying.
Acts 10:2 He and all his family were devout and God-fearing; he gave generously to those in need and prayed to God regularly.
Acts 10:4 Cornelius stared at him in fear. "What is it, Lord?" he asked. The angel answered, "Your prayers and gifts to the poor have come up as a memorial offering before God.
Acts 10:30 Cornelius answered: "Three days ago I was in my house praying at this hour, at three in the afternoon. Suddenly a man in shining clothes stood before me 31 and said, 'Cornelius, God has heard your prayer and remembered your gifts to the poor.
What areas of prayer focus are going on in your group, and which ones are missing?
Please add your comments on this week's topic. We learn best when we learn in community.
Do you have a question about teaching the Bible? Is it theological, technical, practical? Send me your questions or suggestions. Here's the email: [malcolm@malcolmcox.org](mailto:malcolm@malcolmcox.org).
If you'd like a copy of my free eBook on spiritual disciplines, "How God grows His people", sign up at my website: http://[www.malcolmcox.org](http://www.malcolmcox.org/).
Please pass the link on, subscribe, leave a review.
"Worship the LORD with gladness; come before him with joyful songs." (Psalms 100:2 NIV11)
God bless, Malcolm