What we are reading episode 42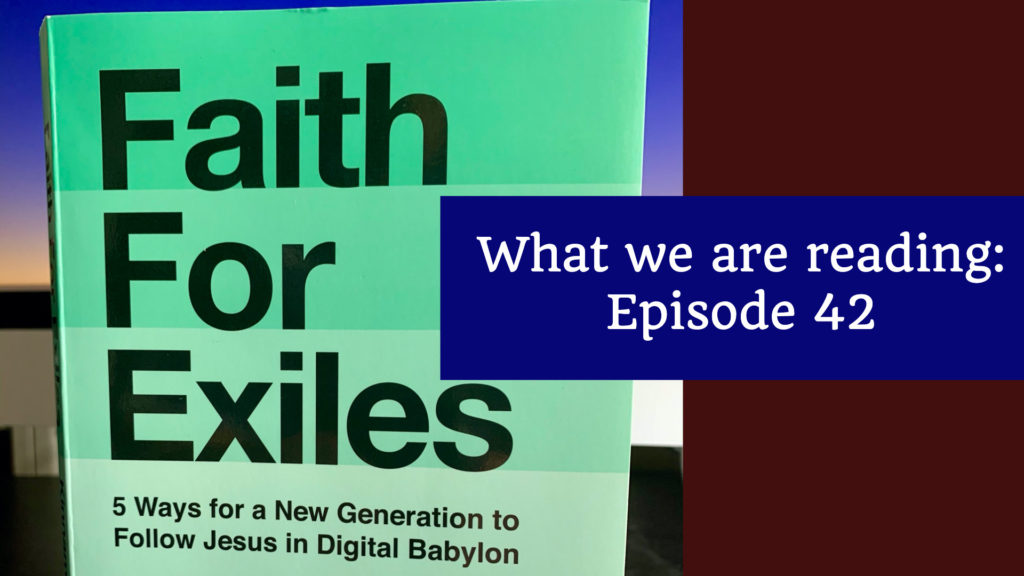 This week I bring you some thoughts from the fascinating book, "Faith for exiles" by the Barna organisation. David Kinnaman and Mark Matlock blend statistics, stories and theology with practical suggestions to help young men and women become resilient disciples.
They describe the four kinds of exiles: prodigals; nomads; habitual churchgoers; resilient disciples. Then give five practices which can help any young person develop resilient faith.These include:
1. Experiencing intimacy with Jesus.
2. Developing the muscles of cultural discernment.
3. Forging meaningful, intergenerational relationships.
4. Training for vocational discipleship.
5. Engaging in counter cultural mission.
I thoroughly recommend this book for anybody engaged with younger men and women. Parents, youth workers, and anybody connected to the next generation will benefit. As well as, hopefully, the young people themselves.
Please add your comments on this week's topic. We learn best when we learn in community.
Do you have a question about teaching the Bible? Is it theological, technical, practical? Send me your questions or suggestions. Here's the email: malcolm@malcolmcox.org.
If you'd like a copy of my free eBook on spiritual disciplines, "How God grows His people", sign up at my website: http://www.malcolmcox.org.
Please pass the link on, subscribe, leave a review.
"Worship the LORD with gladness; come before him with joyful songs." (Psalms 100:2 NIV11)
God bless, Malcolm