Tuesday Teaching Tips | Episode 263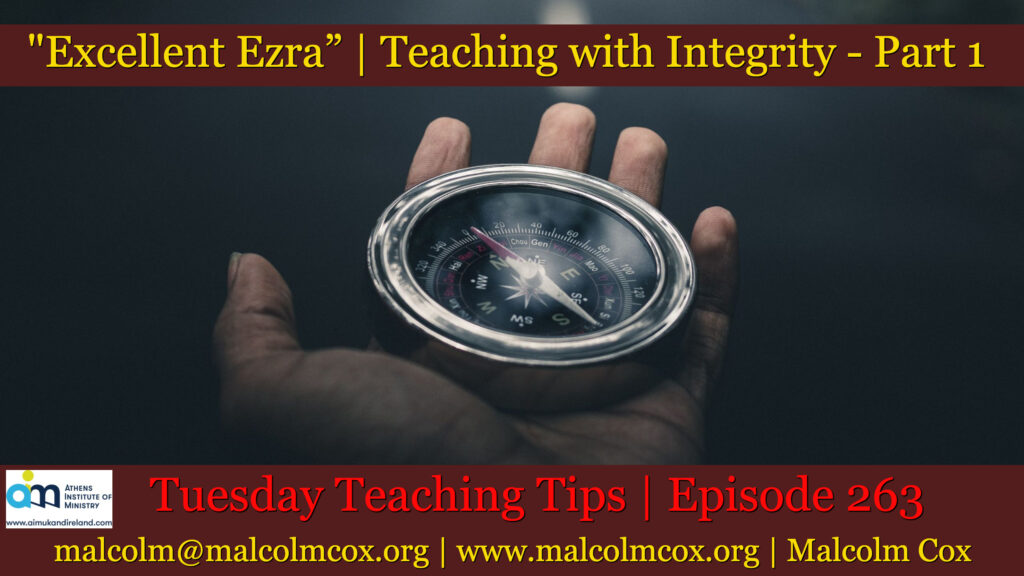 Introduction:
Attitude is more important than education. We need integrity.

Ezra
"For Ezra had devoted himself to the study and observance of the Law of the LORD, and to teaching its decrees and laws in Israel." (Ezra 7:10 NIV11)

Always learning
Time
Resources – how much money have you spent on commentaries and Bible dictionaries compared to your television package?
Devoted to observance
Study to practice, more than to teach
Monday sermon prep because need to live it between then and Sunday
Devoted to teaching
Not intellectual pursuit
Teach what your study of God's word has inspired you to practice
Conclusions
What will help you approach your study and teaching of God's word with the greatest integrity?
How can you be an 'Ezra'?
"For Ezra had devoted himself to the study and observance of the Law of the LORD, and to teaching its decrees and laws in Israel." (Ezra 7:10 NIV11)
Why not sign up for AIM……
https://www.aimukandireland.com/courses

Please add your comments on this week's topic. We learn best when we learn in community.

Do you have a question about teaching the Bible? Is it theological, technical, practical? Send me your questions or suggestions. Here's the email: [malcolm@malcolmcox.org](mailto:malcolm@malcolmcox.org).

If you'd like a copy of my free eBook on spiritual disciplines, "How God grows His people", sign up at my website: http://[www.malcolmcox.org](http://www.malcolmcox.org/).

Please pass the link on, subscribe, leave a review.

"Worship the LORD with gladness; come before him with joyful songs." (Psalms 100:2 NIV11)

God bless, Malcolm