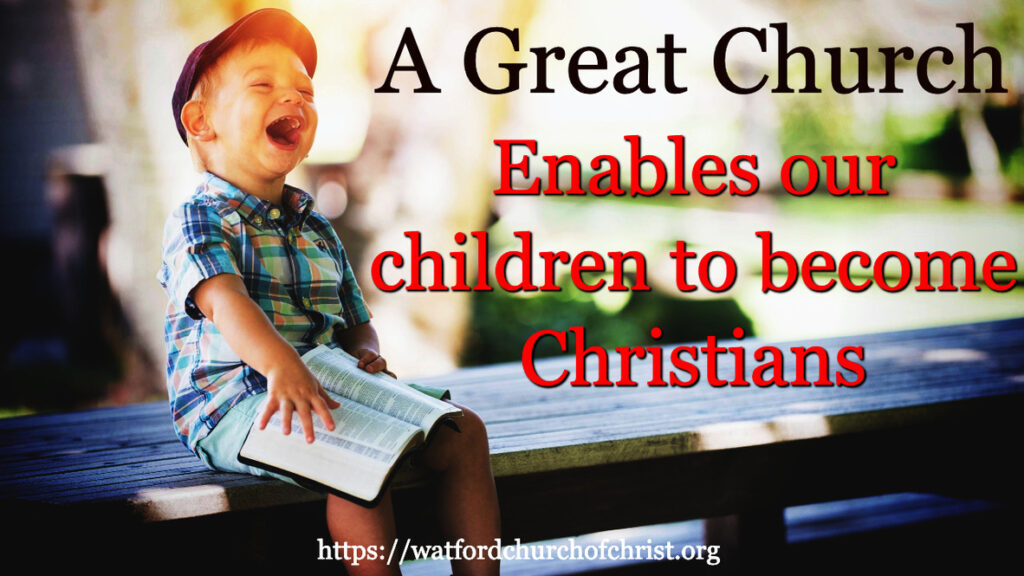 We are partway through our series on what it means to be a G.R.E.A.T. church. In other words, the kind of church that makes God look great and attracts people to him.
God-focussed
Relationship based
Enabling our children to become Christians
Always free, yet spiritual
Toiling to build the church well
So far, we surveyed the Antioch congregation as an example of a God-focused church (Acts 11, 13, 14, 15). In addition, we have looked at what it means to love one another like Jesus loved his disciples (John 13:34-35).
This week we move on to what it looks like to be a congregation that enables our children to become Christians. The lesson is not about parenting as such (although we will look at parenting principles), it's about how we, as a community, can best prepare the children in this church to embrace the Christian faith.
Our key texts are:
"These commandments that I give you today are to be on your hearts. Impress them on your children. Talk about them when you sit at home and when you walk along the road, when you lie down and when you get up." (Deuteronomy 6:6–7 NIV11)
"Fathers, do not exasperate your children; instead, bring them up in the training and instruction of the Lord." (Ephesians 6:4 NIV11)
"Fathers, do not embitter your children, or they will become discouraged." (Colossians 3:21 NIV11)
Other relevant passages include: Genesis 1:28; Deuteronomy 1:39; 31:13; Proverbs 15:5; 13:24; 22:6, 15; 23:13-14; 29:15; Luke 1:16-17 (see Malachi 4:6); Acts 21:9; 1 Timothy 3:4-5.
There's no way around it – bringing up children is hard! Yet, nuclear families and extended families in the church community are part of God's plan to help nurture young people to become Christians.
Indeed, God has a vision for young people:
"" 'In the last days, God says, I will pour out my Spirit on all people.Your sons and daughters will prophesy, your young men will see visions, your old men will dream dreams." (Acts 2:17 NIV11)
In today's lesson we will be exploring God's vision, compassion, provision, instruction and promises regarding children.
The Proverbs in particular contain a good deal of instruction under the heading of "discipline". My definition of 'discipline' as used in the lesson: "The application of training, correction and consequences that hurts, but bears fruit, and is done out of love, not frustration."
What does it mean to raise children without exasperating them or embittering them? We will not have enough time to investigate this fully, but I can recommend the resources below under the heading "Good enough parenting".
I believe that wherever we are at the moment regarding our own children, or children in the congregation, there is always hope. That hope resides in God, because God never gives up on people. We might be tempted to do so, but he will persevere because he is the God of everlasting compassion.
I invite all of us to consider our own part in helping the young people with whom God has blessed us, to come to love God, follow Jesus and be filled with his Spirit.
Questions to ponder
Do I need to repent and turn my hearts to the children? (Luke 1:16-17)
How can I grow in disciplining children effectively with love and without exasperating them?
What is my role in the broader "children's ministry" in this congregation?
Please add your comments on this week's topic. We learn best when we learn in community.
Do you have a question about teaching the Bible? Is it theological, technical, practical? Send me your questions or suggestions. Here's the email: malcolm@malcolmcox.org.
If you'd like a copy of my free eBook on spiritual disciplines, "How God grows His people", sign up at my website: http://www.malcolmcox.org.
Please pass the link on, subscribe, leave a review.
"Worship the LORD with gladness; come before him with joyful songs." (Psalms 100:2 NIV11)
God bless, Malcolm