Quiet Time Coaching Episode 314 | Malcolm Cox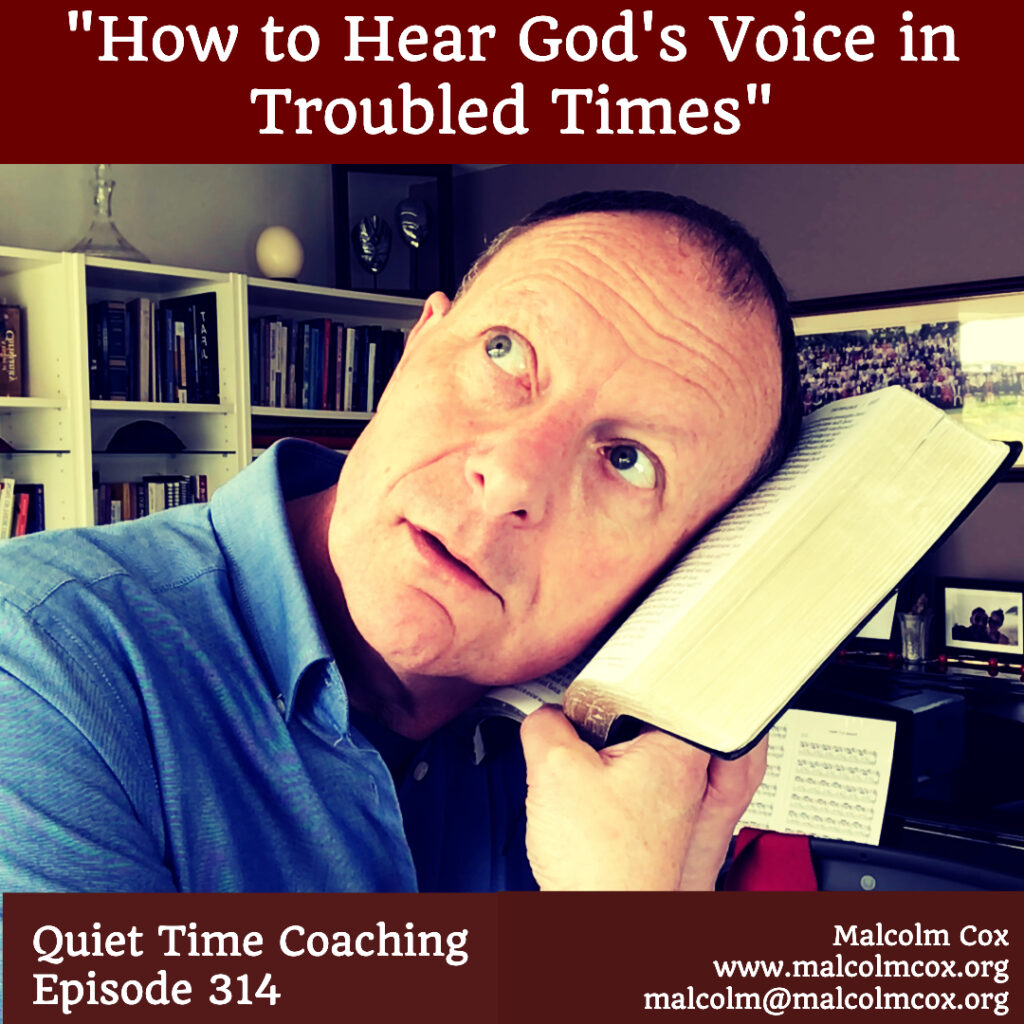 "How to hear God's voice in troubled times" Pete Greig, Premier Christianity magazine, April 2022

"Each one of us has been born with an extra ordinary superpower: an innate ability to hear the voice of God." 49

"…it's amazing that God who speaks in such powerful ways would listen to us, but generally he doesn't seem to speak in an audible voice. What does it mean?" 49

Jesus assumes that we will be able to hear him, John 10:27.

"My sheep listen to my voice; I know them, and they follow me. I give them eternal life, and they shall never perish; no one will snatch them out of my hand. My Father, who has given them to me, is greater than all; no one can snatch them out of my Father's hand. I and the Father are one."" John 10:27-30

"Learning to listen is one of the disciplines of the Christian life. It may be an innate ability, but that doesn't mean it doesn't need to be developed. Part of that is protecting ourselves from the things that get in the way of our ability to listen." 51
Barriers include
Unworthiness. Not feeling spiritual enough to be heard. Therefore we don't try.
Theological. Some Christian traditions mistakenly give us the impression that the Bible does not allow for us to expect to hear from God.
Experiential. If we have certain expectations of how we might experience the guidance of God, and our experiences don't fit into that, we may not notice when God is seeking to us. We must listening with an open mind as well as open "ears".
Busyness. When we allow too much noise and clutter into our lives we find it hard to hear the gentle voice of God
Talking too much. God is a patient listener, but we need the discipline to listen.
Five ways to hear God
The Bible
Prayer
Community
Creation
Most of the literature written about listening to God has been written by introverts who are only 35% of the population, and that they "understandably advocate their own preference for quietness, stillness and solitude." And this might cause extroverts to think that they're not very good at or don't need to listen to God because they don't fit in with the introverts' experiences.

We can all listen and hear. What can you do to develop your listening capacity?

Please add your comments on this week's topic. We learn best when we learn in community.

Do you have a question about teaching the Bible? Is it theological, technical, practical? Send me your questions or suggestions. Here's the email: [malcolm@malcolmcox.org](mailto:malcolm@malcolmcox.org).

If you'd like a copy of my free eBook on spiritual disciplines, "How God grows His people", sign up at my website: http://[www.malcolmcox.org](http://www.malcolmcox.org/).

Please pass the link on, subscribe, leave a review.

"Worship the LORD with gladness; come before him with joyful songs." (Psalms 100:2 NIV11)

God bless, Malcolm

#prayer