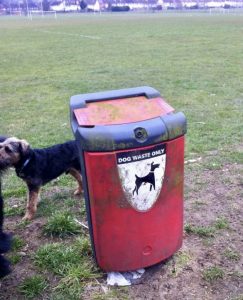 I take photographs of dog waste bins. A strange hobby? Actually it's a public service. Let me explain.
I like to take my dog for walks in new places now and again. But when that happens I do not know where the dog mess bins are. Of course, there's an App for that! It's called DoggyDooDar (www.facebook.com/Doggydoodar).
A map reveals your own location and that of the nearest bin. However, the map is far from complete, so the App asks users to take photographs of any bins they come across and send them in. Once uploaded they are added to the map, thus helping future users.
Owners are not left carrying around warm bags of their dog's 'presents' until they get home.
Every time I take and upload a photograph I feel good. Someone else will be able to locate a source of help.
As a Christian, we're in the same business. Not taking photos of dog mess bins, but providing people with access to something they need, or rather, someone they need – Jesus. John the Baptist understood this. He was a 'pointer', "John saw Jesus coming toward him and said, "Look,…" (John 1:29 NIV11).
And more than simply a 'pointer', but also a describer, the Lamb of God, who takes away the sin of the world!"
As well as a describer, John was a provider, "When he saw Jesus passing by, he said, "Look, the Lamb of God!" When the two disciples heard him say this, they followed Jesus." (John 1:35–37 NIV11). He provided disciples for Jesus.
John points to Jesus, describes his purpose and identity, and then provides followers for him. There is no indication he was jealous, but seemed happy for his own disciples to leave and become attached to Jesus. We can learn a lot from this example.
Christians are 'pointers'

– we are calling people to look at Jesus instead of us, or Christian history, traditions, or the church.

Christians are describers

– it is important we are able to tell others who Jesus is without using religious jargon.

Christians are providers

– we are here to provide disciples for Jesus, not ourselves. People we point to Jesus are to become his disciples, not ours.
Can you grow as a pointer, describer and provider?
Malcolm Cox