Quiet Time Coaching Episode 255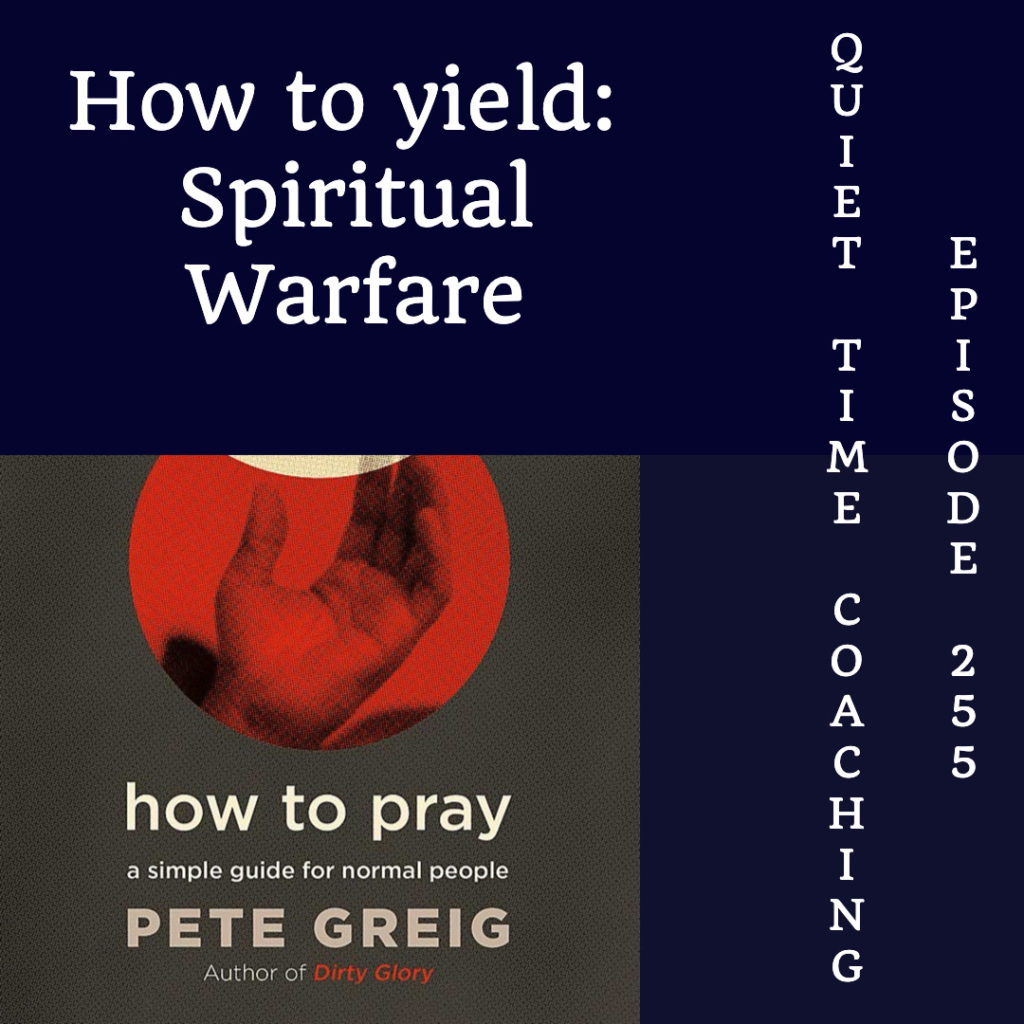 Quiet Time Coaching Episode 255
I am in my third year of participating in the Renovare book club. The first book in this season's set of four is "How to pray" by Pete Greig.
Quiet time coaching episodes will focus on his book for the next few weeks. You don't need to read it to benefit from these recordings, but you might like to get hold of a copy for yourself. I have finished the book and can thoroughly recommend it. A full review of the book will come at a later date in "What we are reading".
Last week we explored confessional and reconciliatory prayer
Today we will reflect on the eleventh chapter of the book, "Spiritual warfare: How to exercise spiritual authority".Theme scripture: "Lead us not into temptation, Deliver us from the evil one." (Matthew 6:13 NIV11)
First, let's consider what we're talking about when we discuss spiritual warfare.
"Enemy-occupied territory, that is what this world is. Christianity is the story of how the rightful king has landed, you might say landed in disguise, and is calling us to take part in a great campaign of sabotage." (C.S. Lewis – Mere Christianity) Greig, Pete. How to Pray: A Simple Guide for Normal People (p. 162). John Murray Press. Kindle Edition.
There is no question that we are at war. It is a question of whether we understand our enemy, and our power. What do we do when we sense the need to engage in some prayer for spiritual warfare? Martin Luther said this:
"We must all practise violence and remember that he who prays is fighting against the devil and the flesh. Satan is opposed to the church … the best thing we can do, therefore, is to put our fists together and pray."
What does this kind of praying look like? Pete Greg offers the following suggestions:
---
1. Know your enemy
Be alert and of sober mind. Your enemy the devil prowls around like a roaring lion looking for someone to devour. (1 Pet. 5:8)
Jesus knew he had an enemy, and he knew who he was. He was aware of his schemes. And those schemes were not just theoretical, but personal.
Jesus warned Peter that 'Satan has asked to sift all of you as wheat' (we can only guess how he knew). 'But I have prayed for you … that your faith may not fail.'
Jesus knew he would be victorious over the devil, but he wanted his followers to share in that victory. Therefore, he prayed for them.
Our struggle is not against flesh and blood, but against the rulers, against the authorities, against the powers of this dark world and against the spiritual forces of evil in the heavenly realms. (Eph. 6:12)
What tools do we have in this battle? Pete Greig suggests fasting.
Fasting can help to focus our prayers the way a magnifying glass focuses sunlight to start a fire. This might mean going without food, sex, social media or even, in Daniel's case, soap!
---
2. Know your authority
We are aware that Jesus has all authority, and that no powers or dominions can stand opposed to him can succeed. But what about our authority?
'God raised us up with Christ and seated us with him in the heavenly realms' (Eph 2:6).
If we are with Christ and in Christ (a term used 164 times in the New Testament), we share in his authority on some level. As Pete puts it:
In prayer we are learning to rule and reign with Christ.
How do you feel about praying "deliver us from evil"? What are we praying for when we make this request? We,
"…inhale the victory of the cross, and thereby .. hold the line for another moment, another hour, another day, against the forces of destruction within ourselves and the world.' Tom Wright
Our prayers to defeat evil are needed urgently. They are for this time, not for eternity. They must be uttered now (Rev 12:12),
Like a wounded and cornered animal, Satan thrashes around desperately with the aim of injuring as many of his enemy as possible, before his own destruction
---
3. Know how to fight
The correct weapons are necessary to fight affectively. The next time you engage in spiritual warfare read Ephesians 6:11-18. Meditate on how to wield of the sword of the Spirit, walk in the shoes of the gospel of grace, and stand your ground.
Remember that the sword you wield is, "alive and active. Sharper than any double-edged sword.' Heb 4.12. It will do the job for you if you use it. Pray through God's promises that pertain to the situations that he has put on your heart.
Resolve that the spiritual warfare will end in peace. Your goal is not to fight so much as to bring peace.
In Christ we are called to extend the Pax Christus as an army of peace-makers commissioned to convey 'the gospel of peace' to all the earth.
Wherever possible do not take this fight on alone. Remember the words of Jesus, 'Truly I tell you that if two of you on earth agree about anything they ask for, it will be done for them by my Father in heaven.' Matt 18:19
Praying in community will assist you in standing your ground and standing firm.
---
Conclusion
This is the chapter of the book that I find most extraordinary. The idea that I might have power in my prayer to thwart the designs of Satan is, frankly, a little weird! However, it does seem to fit with what Jesus taught, and is implied by being in Christ.
Questions for discussion:

What stands out to you about the prayer of spiritual warfare?
How might your prayer life grow if you could learn how to practice prayer in spiritual warfare?

Suggestion: Focus on prayer in spiritual warfare for the next seven days.
Resources mentioned in the book:

PRAYER COURSE SESSION: #8: Spiritual Warfare (prayercourse.org).
PRAYER TOOLS: 1. Warfare Prayer. 2. How to Fast. 3. How to Prayer Walk (prayercourse.org).
FURTHER READING: The Screwtape Letters, by C.S. Lewis.

Next week we will survey the final chapter in the book: "Amen"
---
Please add your comments on this week's topic. We learn best when we learn in community.
Do you have a question about teaching the Bible? Is it theological, technical, practical? Send me your questions or suggestions. Here's the email: malcolm@malcolmcox.org.
If you'd like a copy of my free eBook on spiritual disciplines, "How God grows His people", sign up at my website: http://www.malcolmcox.org.
Please pass the link on, subscribe, leave a review.
"Worship the LORD with gladness; come before him with joyful songs." (Psalms 100:2 NIV11)
God bless, Malcolm
PS: You might also be interested in my book: "An elephant's swimming pool", a devotional look at the Gospel of John
---