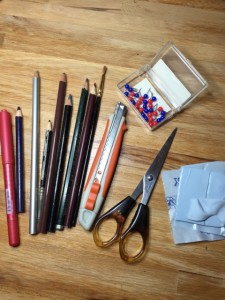 Ever heard of "Craftivism"? No? Neither had I. Craftiness, perhaps, but not craftivism. Not until I read an article in Premier Christianity (Jan 2016 edition). Betsy Greer coined the term to describe using craft to communicate a protest message.
How does this express itself? It means finding an alternative to throwing an egg at someone who represents a view with which you disagree. Such alternatives might be a message embroidered on a handkerchief popped into someone's pocket. Or it could be a fabric collage attached to a door.
To paraphrase one of the "craftivists", Jesus did not demonise his opponents nor did he condemn "sinners". He did not use force, hatred or shouting to communicate his message – yet, get his message across he did. Instead he combined quiet conversations with powerful object lessons.
And here is the relevance of "craftivism" for me. What is the equivalent of the coin (Mk 12.16), the fish (Lk 5.6), the small child (Lk 9.47) and the writing on the ground (Jn 8.6) in my preaching and teaching? Not just talking about them, but using similar physical materials to illustrate truth, challenge the heart and inspire the soul?
Granted, it takes longer to think about, plan and create the "craft" than simply talk about an idea, but might that be time well-spent if it communicates something important? The advantages of "props" in preaching include at least these three:
Surprise. i.e. "I wasn't expecting that. Now you've got my attention."
Stimulation. i.e., "I haven't thought about that in this way before."
Stickiness. i.e., "I'll remember that."
There is one more potential step in creating a crafty lesson, and that would be to involve the congregation in making something during the lesson as part of the sermon. Now, speaking as a person not blessed with the best coordination regarding cutting, taping, drawing or any other form of craft, I have my own insecurities here. However, I wonder if we could persuade people to give this their best effort – especially in a place where grace is meant to abound!
Have you ever seen something of this kind done as part of a lesson? I'd love to hear about it, and if I like it, I'll use it in one of my sermons for the new church we've just got going in Watford (www.thewatfordchurch.org).
I can do one better than that. Do you have a suggestion for a craft that a congregation could do (individually or in small groups) that takes 5 minutes or less, and that does not require advanced craft skills? If so, I'll use it, take pictures and post it one line.
You'll be famous, and a "craftivist"!
God bless,
Malcolm