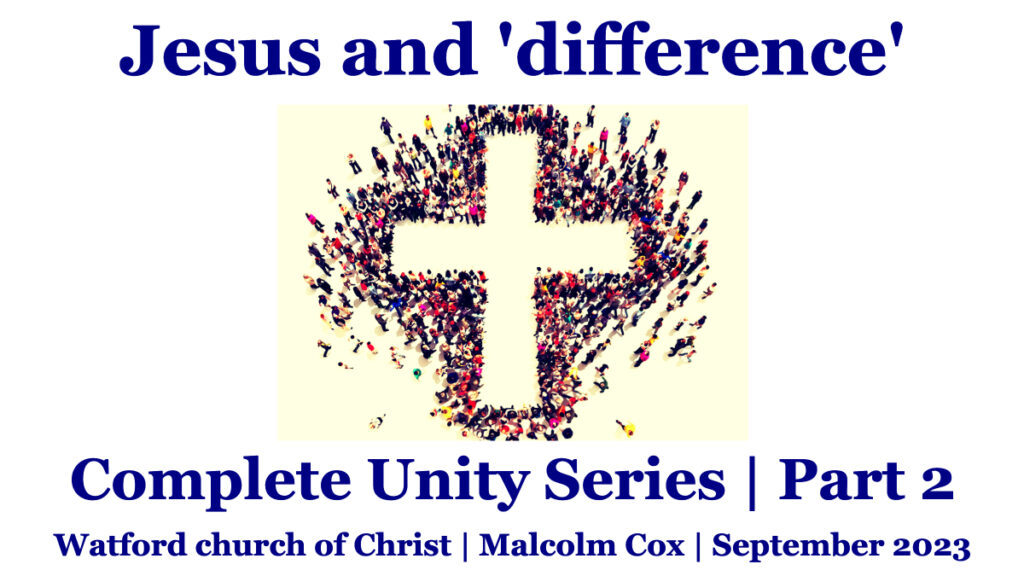 Introduction
QUESTION: Why is unity/connection/cooperation between churches important?
Why is it difficult?
How Jesus approach difference between his followers? What does that mean for us and other churches today?
"I have given them the glory that you gave me, that they may be one as we are one—I in them and you in me—so that they may be brought to complete unity. Then the world will know that you sent me and have loved them even as you have loved me." (John 17:22–23 NIV11)
---
Jesus
Question: Among people of faith, who did he condemn?
""Woe to you, teachers of the law and Pharisees, you hypocrites! You shut the door of the kingdom of heaven in people's faces. You yourselves do not enter, nor will you let those enter who are trying to. "Woe to you, teachers of the law and Pharisees, you hypocrites! You travel over land and sea to win a single convert, and when you have succeeded, you make them twice as much a child of hell as you are." (Matthew 23:13-15 NIV11)
Later examples: Judaisers
Question: Among people of faith, who did he correct?
Later examples: Apollos — Acts 18, Ephesian disciples — Acts 19
Example
""Teacher," said John, "we saw someone driving out demons in your name and we told him to stop, because he was not one of us." "Do not stop him," Jesus said. "For no one who does a miracle in my name can in the next moment say anything bad about me, for whoever is not against us is for us. Truly I tell you, anyone who gives you a cup of water in my name because you belong to the Messiah will certainly not lose their reward." Mark 9:38-41
Discussion: Why did the disciples want to stop them? What is Jesus seeing that they are missing?
Application
Notice their life, not just belief — means getting to know them well enough
Assume a good heart
Accept encouragement when it comes you way from believers
---
Our situation in Watford
Questions
What does this mean nationally and internationally?
What does this mean locally in Watford
What does this mean where we live?
Applications
Call a Christian you know. What is the Spirit teaching your church? Find something you/we can offer them.
Start a Bible group at work – in person or Zoom.
Host a Christian book club with Christian members of your family.
Have Christians who live in your neighbourhood over for dinner.
---
Conclusion
All about Jesus and his heart
Lord's Supper – Eat at same table as sinners!
We will never know what we have to learn and what we have to offer unless we connect with people of Christian faith from other congregations
"Once again Jesus went out beside the lake. A large crowd came to him, and he began to teach them. As he walked along, he saw Levi son of Alphaeus sitting at the tax collector's booth. "Follow me," Jesus told him, and Levi got up and followed him. While Jesus was having dinner at Levi's house, many tax collectors and sinners were eating with him and his disciples, for there were many who followed him. When the teachers of the law who were Pharisees saw him eating with the sinners and tax collectors, they asked his disciples: "Why does he eat with tax collectors and sinners?"On hearing this, Jesus said to them, "It is not the healthy who need a doctor, but the sick. I have not come to call the righteous, but sinners."" (Mark 2:13-17 NIV11)
Please add your comments on this week's topic. We learn best when we learn in community.
Do you have a question about teaching the Bible? Is it theological, technical, practical? Send me your questions or suggestions. Here's the email: malcolm@malcolmcox.org.
If you'd like a copy of my free eBook on spiritual disciplines, "How God grows His people", sign up at my website: http://www.malcolmcox.org.
Please pass the link on, subscribe, leave a review.
"Worship the LORD with gladness; come before him with joyful songs." (Psalms 100:2 NIV11)
God bless, Malcolm