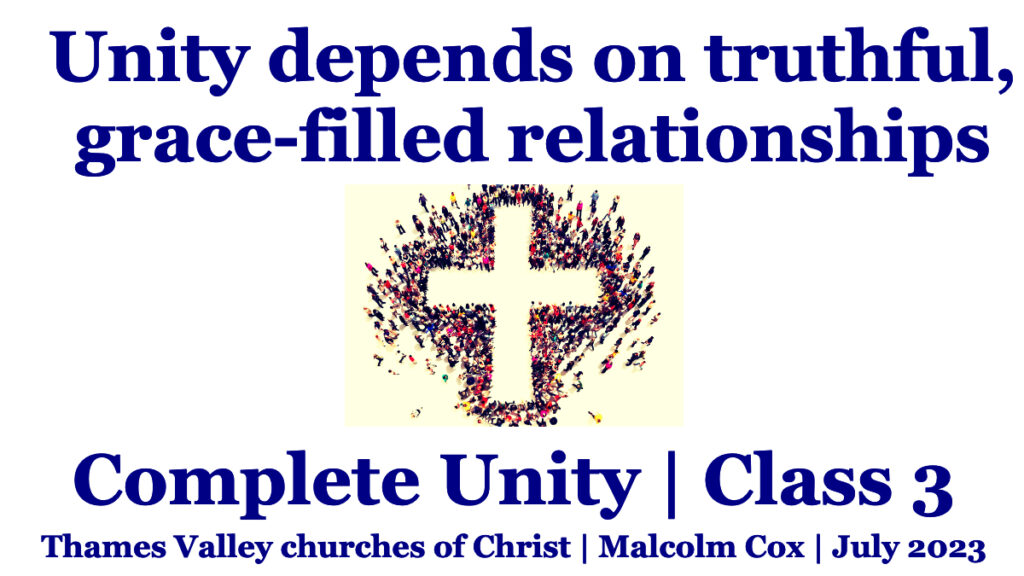 A teaching class for the Thames Valley churches of Christ
Introduction
Healthy unity depends on two things — truthfulness and grace in Christian relationships. An overemphasis on truth leads to a culture of judgment. An overemphasis on grace leads to a culture of sentimentalism.
Jesus came '…full of grace and truth.' John 1:14. Our congregations will be healthily unified if we imitate him and develop a culture of truth-speaking and grace-giving.
---
Truth-Speaking
"These are the things you are to do: Speak the truth to each other, and render true and sound judgment in your courts;" (Zechariah 8:16 NIV11)
A vision of a healthy future for God's people post-exile
"Instead, speaking the truth in love, we will grow to become in every respect the mature body of him who is the head, that is, Christ." (Ephesians 4:15 NIV11)
"Therefore each of you must put off falsehood and speak truthfully to your neighbour, for we are all members of one body." (Ephesians 4:25 NIV11)
Has truth-telling been a problem in the Ephesian church?
Matthew 18:15–20
What is the goal? Not truth-telling as such, but to 'win them over'.
What is the process? Not a formula, but personal, human, loving.
'Go' – take initiative
'Point out' – speaking what you see, feel, observe. Not passing judgment – e.g. "you are proud".
'One or two others' – not a trial, but adding the additional weight of multiple witnesses.
'Listen' is repeated three times. The aim is that they will see truth, not be condemned.
Treating them as a 'pagan' is not to pass judgment. How did Jesus treat pagans and tax collectors? It is to recognise a breakdown in Christian fellowship, but still to treat them with love and to hold on to hope for them and Hope for your relationship with them to be healed.
---
Grace-Giving
Matthew 18:21–35
Look for the maximum you can forgive, not the minimum. The Pharisees of the day said three times was adequate. God calls us to grant the same limitless grace he offers us.
Grace is sometimes easier to give to people in the world than in the church. The experience of being sinned against by Christians is often more painful, but all the more glorious when we forgive.
Jesus and the Disinherited by Howard Thurman, "In Jesus' insistence that we should forgive seventy times seven, there seems to be the assumption that forgiveness is mandatory for three reasons. First, God forgives us again and again for what we do intentionally and unintentionally. There is present an element that is contingent upon our attitude. Forgiveness beyond this is interpreted as the work of divine grace. Second, no evil deed represents the full intent of the doer. Third, the evildoer does not go unpunished. Life is its own restraint. In the wide sweep of the ebb and flow of moral law our deeds track us down, and doer and deed meet. "Vengeance is mine; I will repay, saith the Lord." At the moment of injury or in the slow burning fires of resentment this may be poor comfort. This is the ultimate ground in which finally a profound, unrelieved injury is absorbed. When all other means have been exhausted, each in his own tongue whispers, "There is forgiveness with God.""
---
Questions
How hard or easy do you find it to tell truth to a fellow-believer? Why is that?
How hard or easy do you find it to give grace to a fellow-believer? Why is that?
What questions arise regarding how to bring things up, when to do so and whether it really matters?
How do you know when you are being gracious and when you are being sentimental?
---
Conclusion
Jesus was a master at both truth-telling and grace-giving. Why not scan a gospel looking for what you can learn from him in the act of truth-telling and grace-giving?
Christian fellowships are far from perfect, but if we grow in truth-telling and grace-giving we will thrive, grow into greater Christ-likeness and display his love to a love-starved world.
You've found an upload from the Thames Valley churches of Christ. Thank you for watching this video. If you'd like to know more go to www.thamesvalley.church where you'll find news, information, resources and much more.
Please add your comments on this week's topic. We learn best when we learn in community. Do you have a question about teaching the Bible? Is it theological, technical, practical? Send me your questions or suggestions. Here's the email: [malcolm@malcolmcox.org](mailto:malcolm@malcolmcox.org). If you'd like a copy of my free eBook on spiritual disciplines, "How God grows His people", sign up at my website: http://[www.malcolmcox.org](http://www.malcolmcox.org/). Please pass the link on, subscribe, leave a review. "Worship the LORD with gladness; come before him with joyful songs." (Psalms 100:2 NIV11) God bless, Malcolm