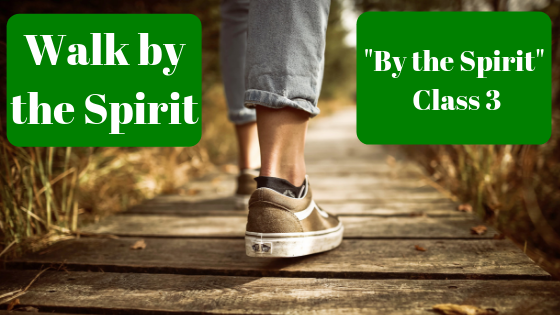 "By the Spirit" – Class 3
Walk by the Spirit
1. Walk Away, 5:16-21
Romans 7 – to which Romans 8 is the answer – a Spirit-guided response – 8:27
Rom 8:9 – we are in the realm of the Spirit, v12-13 we can put to death the old life
All I dislike about this world will be improved by a more Christ-like version of me.
One of our aspirations: "always free but spiritual", Galatians 5:13
Solution provided by God so that we can walk in the right direction, Rom 8.26-27:

Spirit is on our side
Spirit prays for us
Spirit moves us towards the will of God
Question: "What helps us to walk away?"
2. Walk Towards, 5:22-25
Matt 7:15, fruit makes us recognisable for who we are, 7:19-20.
Not 'normal' levels of human qualities – but Jesus-level!
That's why we need the Spirit's life in us (Spirit of Christ, Rom 8.9), 2 Cor 3:17-18
Direction, not arrival; Process, not product; Lifetime, not year
John Mark – from hindrance to helpful: Acts 15:37–38 / 2 Timothy 4:11
Question: "What helps us to walk towards?"
3. Walk With, 5:26; 6:1-2
Growing in the Spirit makes us ready for service
Treating one another right, 5.26
Helping one another when we stray, 6.1-2
Remembering we are human too, Gal 6.3
A peacemaker, Matthew 5:9
Question: "What helps us to walk with?"
Conclusion, 6.7-10
People of "The Way": Acts 9:2; 19.9, 23; 24.14, 22
Walking in a particular and different direction:

Walking away
Walking towards
Walking with

Gal 5.6b; 6:10
What does each of these points mean for you and your 'group'?
How will you adjust the way you pray & live as a result?
Do you have questions about the Spirit? Send them to malcolm@malcolmcox.org.
Please add your comments on this week's topic. We learn best when we learn in community.
Do you have a question about teaching the Bible? Is it theological, technical, practical? Send me your questions or suggestions. Here's the email: malcolm@malcolmcox.org.
If you'd like a copy of my free eBook on spiritual disciplines, "How God grows His people", sign up at my website: http://www.malcolmcox.org.
Please pass the link on, subscribe, leave a review.
"Worship the LORD with gladness; come before him with joyful songs." (Psalms 100:2 NIV11)
God bless, Malcolm
PS: You might also be interested in my book: "An elephant's swimming pool", a devotional look at the Gospel of John