Do your prayers fence God in, or release the power of his Spirit?  Consider these verses: "And I will do whatever you ask in my name……." (John 14:13) "…ask whatever you wish, and it will be given you." (John 15:7 NIV)
The rodeo bull is frustrated waiting for the gate to open but all explosive energy once let loose. I wonder sometimes whether my prayers are more fence than gate. Granted, the metaphor is limited. I'm not suggesting God is a bull, nor that you are his rodeo rider. But, can we consider the gate and fence images for a moment?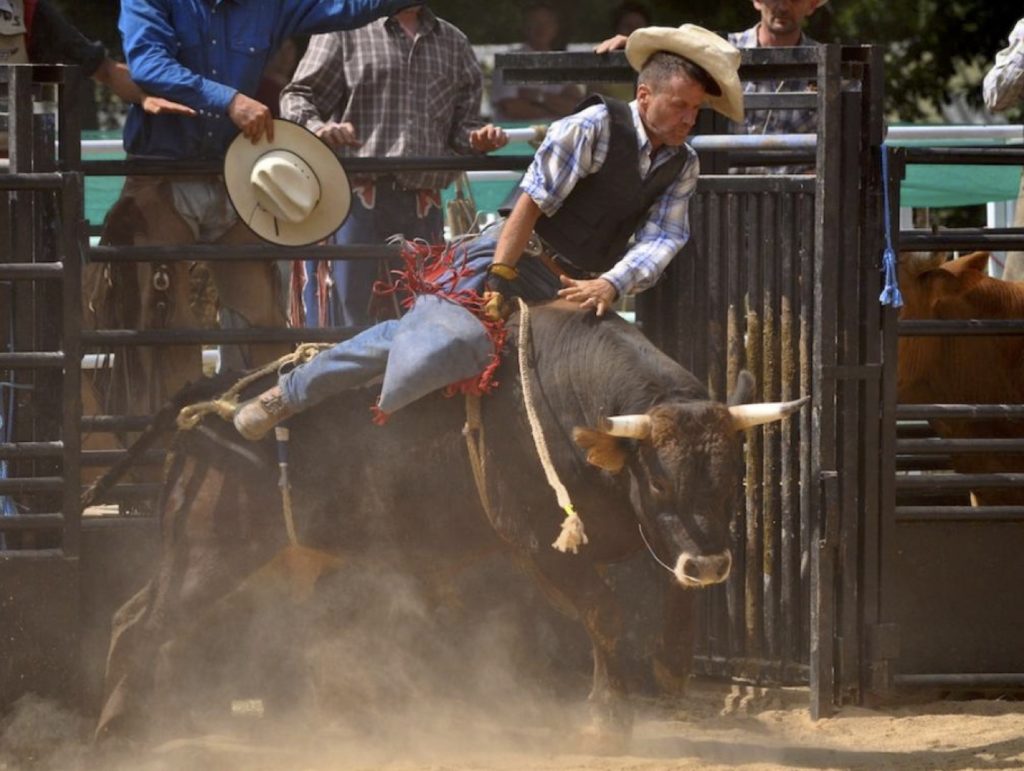 Prayer Gaps
I use a prayer app to record my prayers. They are categorised by topic. Recently I reviewed the list. The majority are for people I know to be converted. Some are for the healing of friends. Not many are about world events. None were for politicians. Where are your gaps? Are they the fences that keep God penned in?
God's Vision
Our vision is limited. But God's vision for answering our prayers is bigger than ours: "Call to me and I will answer you and tell you great and unsearchable things you do not know." (Jeremiah 33:3 NIV11)  If God can see further than us, it makes sense to pray for things that are beyond what we can see, "For we live by faith, not by sight." (2 Corinthians 5:7 NIV11)
Clearly, our prayers must line up with God's vision. He will not answer prayers that are contrary to His will. But, do we use that possibility as an excuse to avoid praying for the 'impossible'?
Everyone and Everything
Prayer is for everyone, and for everything that is in our hearts and minds. No matter how ridiculous or impossible an answer may appear to be. It's the only way to make sense of what Jesus said about prayer. Are we fencing God in by only praying for a few things in a few areas, instead of everything? God can do more that we think.
In this letter to the Ephesians, Paul finishes his thoughts with a sentence that sounds like a prayer to me:  "Now to him who is able to do immeasurably more than all we ask or imagine, according to his power that is at work within us, to him be glory in the church and in Christ Jesus throughout all generations, for ever and ever! Amen." (Ephesians 3:20–21 NIV11)
Our prayers open the gate to the action of God's Spirit when they are about him, his power, his glory. We fence him in when our prayers are about our weakness, our sins, our limitations, our fears. Of course, it is right and good to bring those to him, but we do not have to end there. Instead, could your prayers move on to focus on the abilities of God?
Relevance
The Apostle Paul saw everything as relevant: "Do not be anxious about anything, but in every situation, by prayer and petition, with thanksgiving, present your requests to God." (Philippians 4:6 NIV11) Nothing is off-limits where prayer is concerned.
Only if we lay everything before God in prayer will He be able to enact the promises of John 14:12 & 14.  The phrase, "If you ask … I will do", appears 6 times in John chapters 14-17.  Jesus is trying to get something fundamental but new across to his disciples. Have we 'got it'?
Divine Action
In his book, "Don't just stand there… Pray something!", Ronald Dunn writes this:
"…prayer is set forth as the primary human factor in the accomplishment of God's programme on earth .. Divine action .. is conditioned upon believing prayer. This prayer is set forth as the chief task of the believer.  It is his responsibility to ask.  It is God's responsibility to accomplish."  p29
Consider this saying of Jesus: "And I will do whatever you ask in my name, so that the Son may bring glory to the Father." (John 14:13 NIV).  Why do we not pray to God about everything?
Question
What do you pray about most and what do you leave out?  What helps you pray for the impossible?
Please leave a comment here and post your ideas. We'll all learn better when we share our thoughts.
If you have answered prayers, tell the story here. We'd be grateful for the inspiration.
God bless,
Malcolm
If you'd like some coaching for your prayer life or any of the spiritual disciplines, please contact me via the button below. I'd be honoured to assist your walk with God.