Quiet Time Coaching Episode 275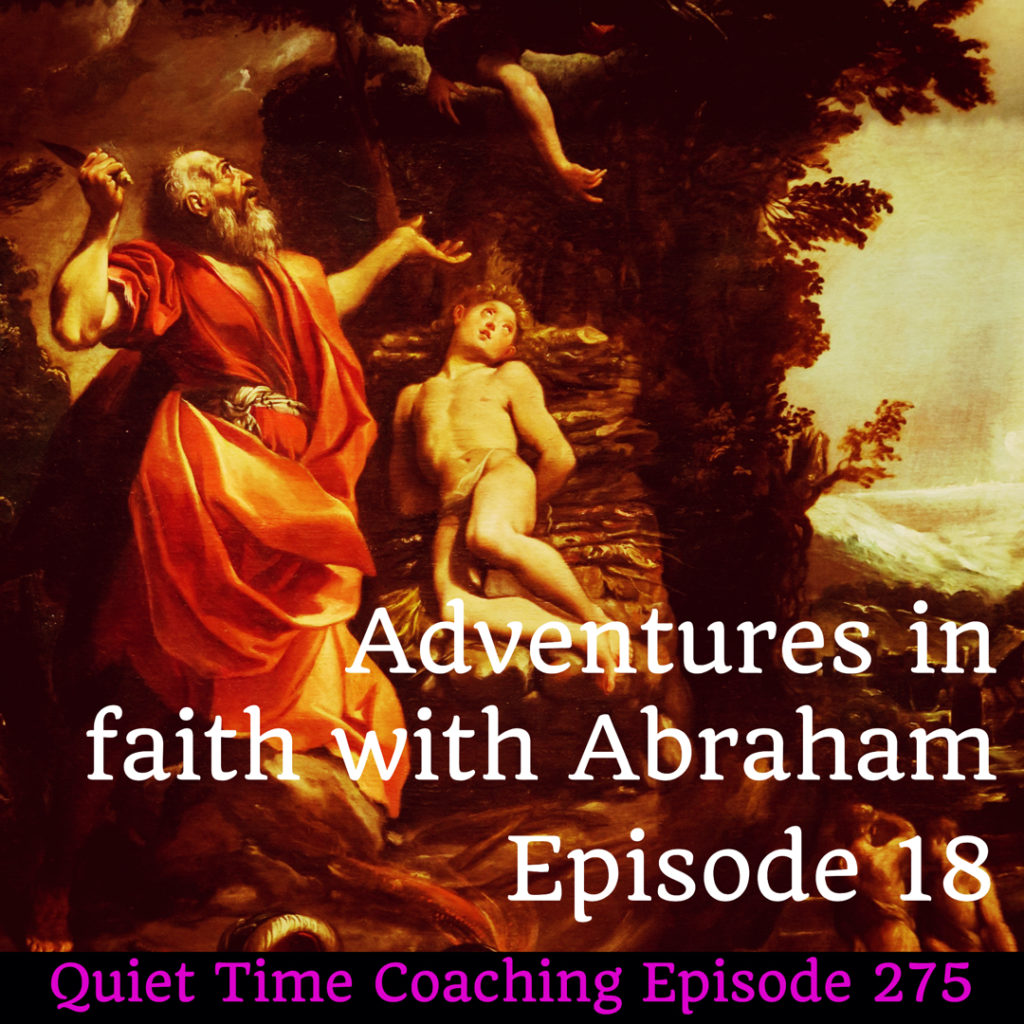 Would you like to learn more about faith? You've come to the right person. No, not me, Abraham. This is a daily devotional podcast supporting a teaching series for the Watford church of Christ and the Thames Valley churches of Christ called "Adventures in faith with Abraham". It is also part of my quiet time coaching series.
What is it about Abraham which is so admirable? Many things. But perhaps above all else his adventurous faith, "By faith Abraham, when called to go to a place he would later receive as his inheritance, obeyed and went, even though he did not know where he was going." (Hebrews 11:8 NIV11)
Join me as we step out on a faith adventure with Abraham.
Episode 18
Today we move on to chapter 15
""After these things the word of the LORD came to Abram in a vision, saying, "Do not fear, Abram, I am a shield to you; Your reward shall be very great." Abram said, "O Lord GOD, what will You give me, since I am childless, and the heir of my house is Eliezer of Damascus?" And Abram said, "Since You have given no offspring to me, one born in my house is my heir." Then behold, the word of the LORD came to him, saying, "This man will not be your heir; but one who will come forth from your own body, he shall be your heir." And He took him outside and said, "Now look toward the heavens, and count the stars, if you are able to count them." And He said to him, "So shall your descendants be." Then he believed in the LORD; and He reckoned it to him as righteousness." (Genesis 15:1–6 NAS95)
What are we seeing here? That there is no 'rightness' with God without wholehearted trust. But, when we make a decision to trust our heavenly father despite the challenges surrounding us, and the lack of tangibility to his promises, it delights the heart of God.
In this section of scripture Abraham is fearful, has questions and doubts. Yet God does not hold this against him since, once reassured, Abraham decides to confirm his allegiance to God, described here as faith. Such faith is "reckoned" as a righteousness. In other words, he does not earn it or qualify for it, but God recognises his trust and decides to grant him 'rightness' with himself.
Devotional thought for today
According to the Word Biblical Commentary,
"The verbal form Nmahw (waw + perfect) "he believed" probably indicates repeated or continuing action. Faith was Abram's normal response to the LORD's words."
This is not a one-time decision, but a further decision in line with his habitual way of responding to God. The more we trust God, the more we trust God. Deciding to go God's way becomes a habit over time. In a sense, faith is about character as much as it might be about actions.
We will never display perfect faith in this life, But we can grow to have a faithful character by decisively choosing God's way again and again.
Reflect on times when you made faith-filled decisions that were difficult but for which you are grateful now as you look back. Do you have a decision of face to make now?
Prayer point for today
Ask God to help you develop a habitual faith-filled life.
If you have any questions or feedback please contact me: malcolm@malcolmcox.org.
The apostle Paul said of Abraham, "He is the father of us all." (Romans 4:16 NIV11) Let's allow him to be the father of Faith to you and me in January and February 2021.
Many thanks for listening today. See you tomorrow as we continue our adventure of faith with Abraham.
Take care and God bless, Malcolm