Quiet Time Coaching Episode 273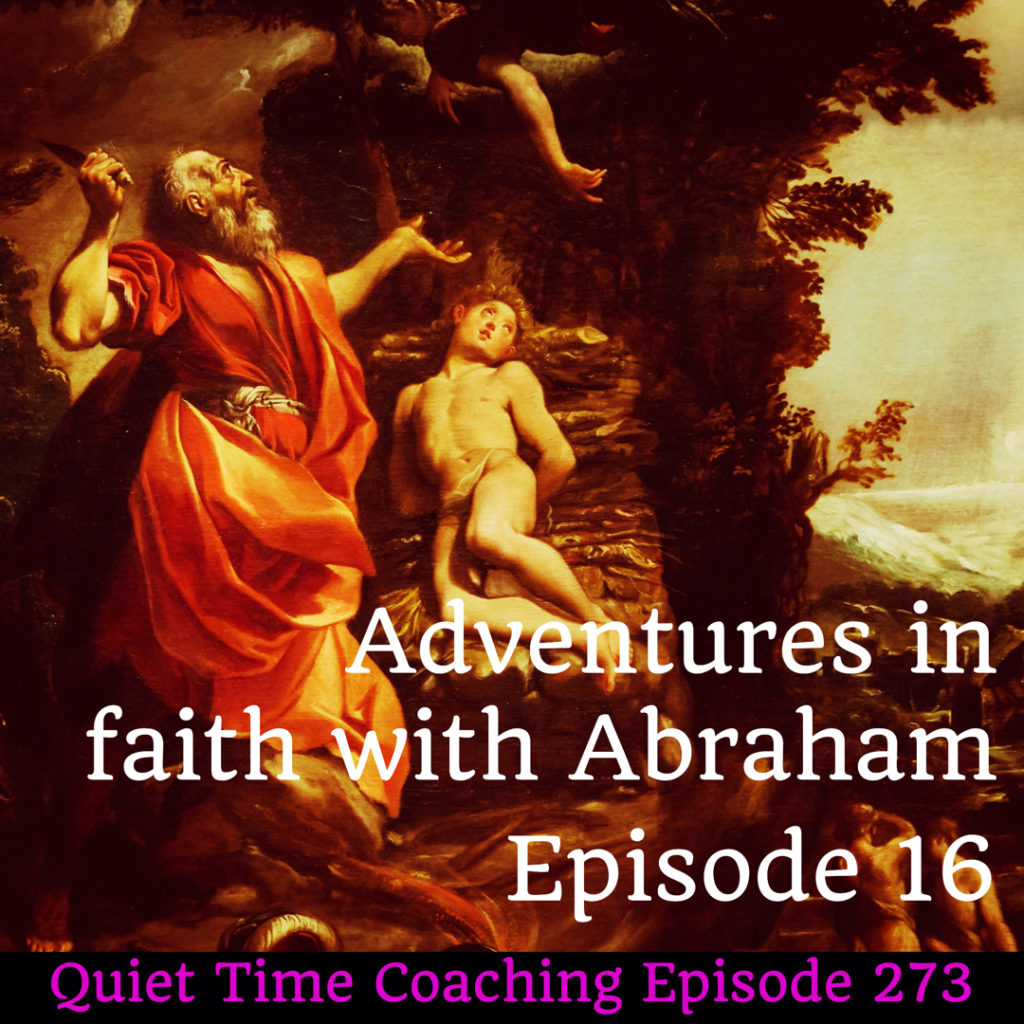 Would you like to learn more about faith? You've come to the right person. No, not me, Abraham. This is a daily devotional podcast supporting a teaching series for the Watford church of Christ and the Thames Valley churches of Christ called "Adventures in faith with Abraham". It is also part of my quiet time coaching series.
What is it about Abraham which is so admirable? Many things. But perhaps above all else his adventurous faith, "By faith Abraham, when called to go to a place he would later receive as his inheritance, obeyed and went, even though he did not know where he was going." (Hebrews 11:8 NIV11)
Join me as we step out on a faith adventure with Abraham.
---
Episode 16
---
Today we move further into chapter 14
"Then after his return from the defeat of Chedorlaomer and the kings who were with him, the king of Sodom went out to meet him at the valley of Shaveh (that is, the King's Valley). And Melchizedek king of Salem brought out bread and wine; now he was a priest of God Most High. He blessed him and said, "Blessed be Abram of God Most High, Possessor of heaven and earth; And blessed be God Most High, Who has delivered your enemies into your hand." He gave him a tenth of all." (Genesis 14:17–20 NAS95)
What are we seeing here? Spiritually minded people notice fellow spiritually minded people. They are aware of those with whom God is walking and through whom he is working.
We don't know much about Melchizedek. His name might mean, "My king is righteous". The key point is that he is a non-Jew noticing that God is with Abraham. He observes that God is with the one he has chosen. As such, he prefigures Abimelech (21:22), Rahab (Josh 2:11), Ruth (1:16) or Naaman (2 Kgs 5:15), the Magi (Matt 2:1–12), centurions (Matt 8:5–13; Mark 15:39; Acts 10), or the Syro-Phoenician woman (Mark 7:26–30).
---
Devotional thought for today
A question we often ask as Christians is how we can show that we have a relationship with God without being showy about it? How do I let my light shine without turning the spotlight on myself?
A key text in this regard is what Peter writes:
"Live such good lives among the pagans that, though they accuse you of doing wrong, they may see your good deeds and glorify God on the day he visits us." (1 Peter 2:12 NIV11)
I suspect he is remembering what Jesus told them on the mountainside:
"In the same way, let your light shine before others, that they may see your good deeds and glorify your Father in heaven." (Matthew 5:16 NIV11)
Paul expressed something similar when he wrote to the Romans:
"Do not be overcome by evil, but overcome evil with good." (Romans 12:21 NIV11)
If we live a life of integrity with the Lord, courageous in righting wrongs whilst generous in spirit, the world will notice. That is how Abraham lived in Genesis 13 and 14.
---
Prayer point for today
Ask God to help you live with compassion and courage, letting your good deeds speak for you.
---
If you have any questions or feedback please contact me: malcolm@malcolmcox.org.
The apostle Paul said of Abraham, "He is the father of us all." (Romans 4:16 NIV11) Let's allow him to be the father of Faith to you and me in January and February 2021.
Many thanks for listening today. See you tomorrow as we continue our adventure of faith with Abraham.
Take care and God bless, Malcolm