Quiet Time Coaching Episode 272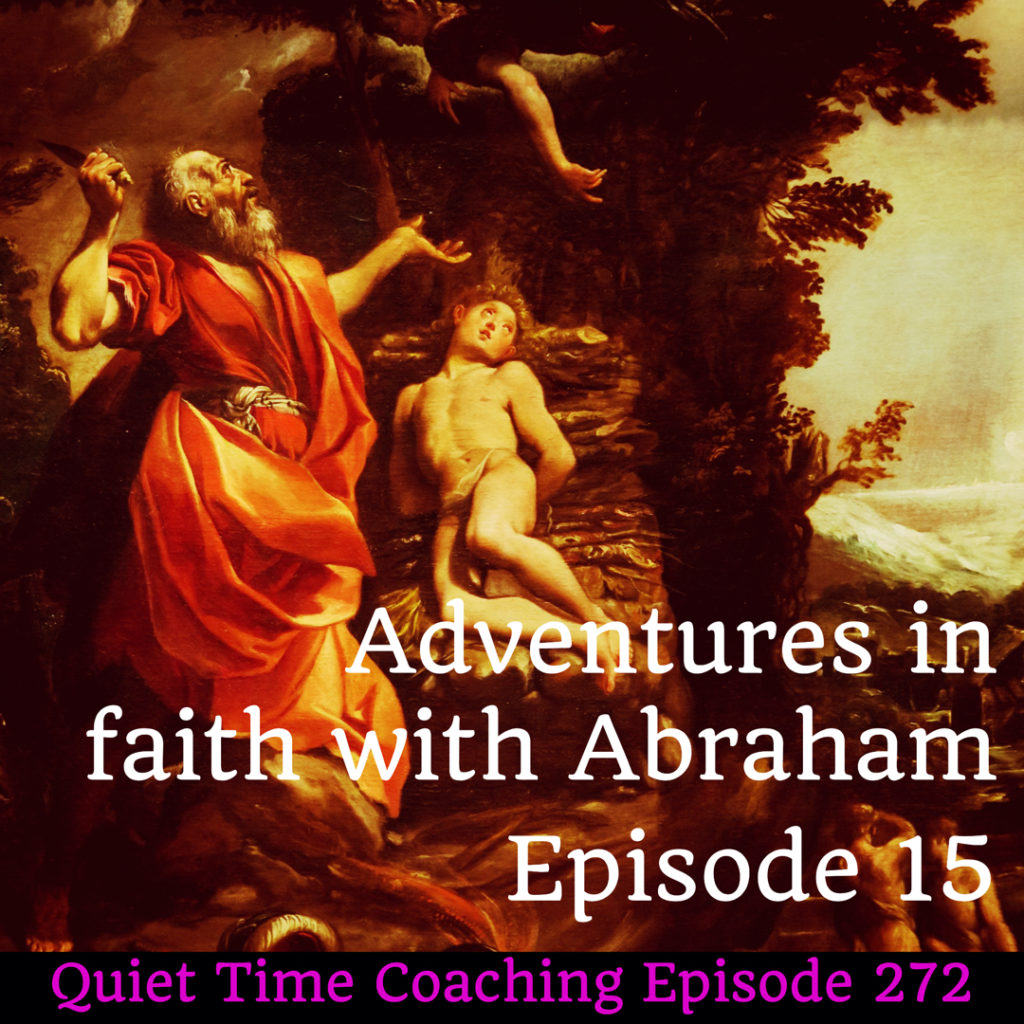 Would you like to learn more about faith? You've come to the right person. No, not me, Abraham. This is a daily devotional podcast supporting a teaching series for the Watford church of Christ and the Thames Valley churches of Christ called "Adventures in faith with Abraham". It is also part of my quiet time coaching series.
What is it about Abraham which is so admirable? Many things. But perhaps above all else his adventurous faith, "By faith Abraham, when called to go to a place he would later receive as his inheritance, obeyed and went, even though he did not know where he was going." (Hebrews 11:8 NIV11)
Join me as we step out on a faith adventure with Abraham.
---
Episode 15
---
Today we move further into chapter 14
"And the king of Sodom and the king of Gomorrah and the king of Admah and the king of Zeboiim and the king of Bela (that is, Zoar) came out; and they arrayed for battle against them in the valley of Siddim, against Chedorlaomer king of Elam and Tidal king of Goiim and Amraphel king of Shinar and Arioch king of Ellasar — four kings against five. Now the valley of Siddim was full of tar pits; and the kings of Sodom and Gomorrah fled, and they fell into them. But those who survived fled to the hill country. Then they took all the goods of Sodom and Gomorrah and all their food supply, and departed. They also took Lot, Abram's nephew, and his possessions and departed, for he was living in Sodom. Then a fugitive came and told Abram the Hebrew. Now he was living by the oaks of Mamre the Amorite, brother of Eshcol and brother of Aner, and these were allies with Abram. When Abram heard that his relative had been taken captive, he led out his trained men, born in his house, three hundred and eighteen, and went in pursuit as far as Dan. He divided his forces against them by night, he and his servants, and defeated them, and pursued them as far as Hobah, which is north of Damascus. He brought back all the goods, and also brought back his relative Lot with his possessions, and also the women, and the people." (Genesis 14:8–16 NAS95)
What are we seeing here? Compassion inspiring courageous action for the undeserving.
Abram is not responsible for his nephew. Lot is an adult. He has made his choices freely. He has moved from nearSodom (13:12) to in Sodom (14:12). No one can blame Abram for this. Anyone could forgive him for allowing Lot to reap the consequences of his choices.
But Abram is made of different stuff.
---
Devotional thought for today
Do you find it hard to have compassion for the undeserving? Even more pertinently, do you find it hard to take action, and make sacrifices on behalf of those who are undeserving and in trouble?
Abraham risked the lives of his fighting men. He risked the loss of their work in his fields and businesses. He risked the wrath of a victorious army and an alliance of conquering kings being visited upon himself.
And all for the sake of an ungrateful, foolish nephew.
How like Jesus! This is who Paul is thinking about when he tells us,
"in humility value others above yourselves, not looking to your own interests but each of you to the interests of the others." (Philippians 2:3–4 NIV11)
In our natural state, "we were by nature deserving of wrath." (Eph 2:3), But we have been "shown mercy" (1 Tim 1:16). Why?
"so that in me, the worst of sinners, Christ Jesus might display his immense patience as an example for those who would believe in him and receive eternal life." (1 Timothy 1:16 NIV11)
If this is how we have been treated, let us be inspired to treat others likewise.
---
Prayer point for today
Ask God to help you treat the undeserving with compassion and courage.
---
If you have any questions or feedback please contact me: malcolm@malcolmcox.org.
The apostle Paul said of Abraham, "He is the father of us all." (Romans 4:16 NIV11) Let's allow him to be the father of Faith to you and me in January and February 2021.
Many thanks for listening today. See you tomorrow as we continue our adventure of faith with Abraham.
Take care and God bless, Malcolm