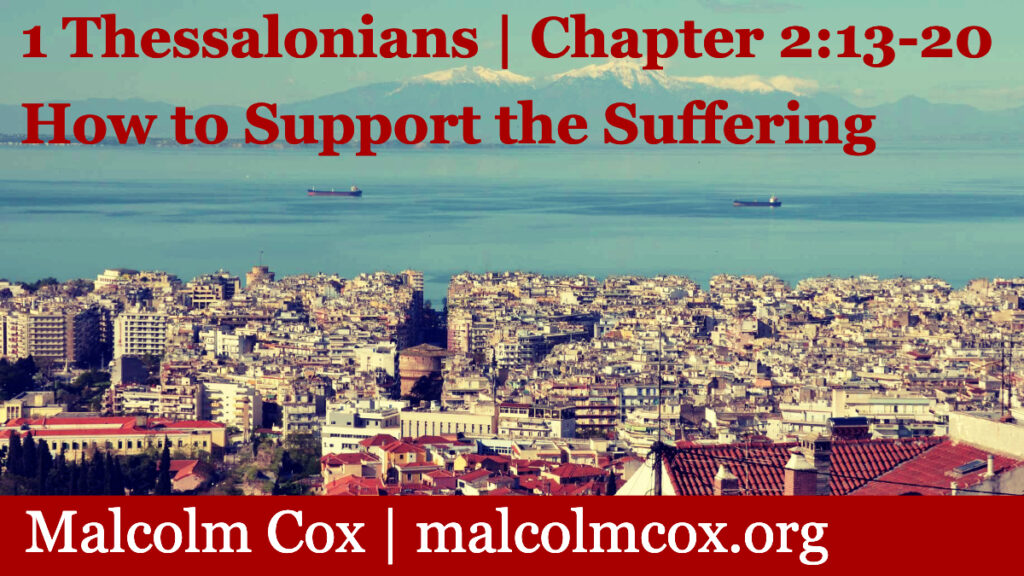 How to support people when they suffer, 1 Thess 2:13-20
Introduction, vv13
• Consequences of accepting
• Accepting opens the door for God's power to work
• What happens?
• Our world gets disturbed!
• What do we do when that happens?
How to handle suffering, vv13-16
• 'You suffered' Why?
• QUESTION: Why do we suffer? Teens, why do you suffer bullying, gossip, violence, injustice?
A. Fallen world
• Justice and what is right not always valued
• If Jesus suffered, so will his followers
• If justice matters to you, become a Christian
• Work for justice with the only one who truly understands what is just – with his strength and power, wisdom
• Work with the one who will see justice done – confidence is his commitment to justice since made greatest sacrifice for justice
B. Some prefer darkness
• "This is the verdict: Light has come into the world, but people loved darkness instead of light because their deeds were evil." (John 3:19 NIV11)
C. How we grow
• "Consider it pure joy, my brothers and sisters, whenever you face trials of many kinds, because you know that the testing of your faith produces perseverance. Let perseverance finish its work so that you may be mature and complete, not lacking anything." (James 1:2–4 NIV11)
• Theme: 1:6; 2:2, 9, 14; 3:3, 4, 7
• QUESTION: close eyes. Your area of greatest suffering. Surrender it to God. Trust you can cope and God will bring good out of it.
How to handle it when people we love suffer, vv17-20
• This example reveals how our community should respond to suffering
A. We feel their pain
• Empathy
• Because of love
• Not guilt, duty or desire to 'rescue' to make ourselves feel better
B. We make significant efforts
• Resourceful – sent Timothy
• Check they want help – they wanted to see Paul (3:6)
C. We trust God
• He is more powerful than Satan
• He will right the wrongs (v16 – God's wrath at the right time)
• QUESTION: close eyes. Someone suffering you love. One thing you can do this week to connect with them in their suffering.
Conclusion, vv19-20
• Relationships more important than anything.
• Motivated by the love of Jesus: "Therefore, since we are surrounded by such a great cloud of witnesses, let us throw off everything that hinders and the sin that so easily entangles. And let us run with perseverance the race marked out for us, fixing our eyes on Jesus, the pioneer and perfecter of faith. For the joy set before him he endured the cross, scorning its shame, and sat down at the right hand of the throne of God. Consider him who endured such opposition from sinners, so that you will not grow weary and lose heart." (Hebrews 12:1–3 NIV11)
Please add your comments on this week's topic. We learn best when we learn in community. Do you have a question about teaching the Bible? Is it theological, technical, practical? Send me your questions or suggestions. Here's the email: [malcolm@malcolmcox.org](mailto:malcolm@malcolmcox.org). If you'd like a copy of my free eBook on spiritual disciplines, "How God grows His people", sign up at my website: http://[www.malcolmcox.org](http://www.malcolmcox.org/). Please pass the link on, subscribe, leave a review. "Worship the LORD with gladness; come before him with joyful songs." (Psalms 100:2 NIV11) God bless, Malcolm