Magic Moments from the week, 12 October 2019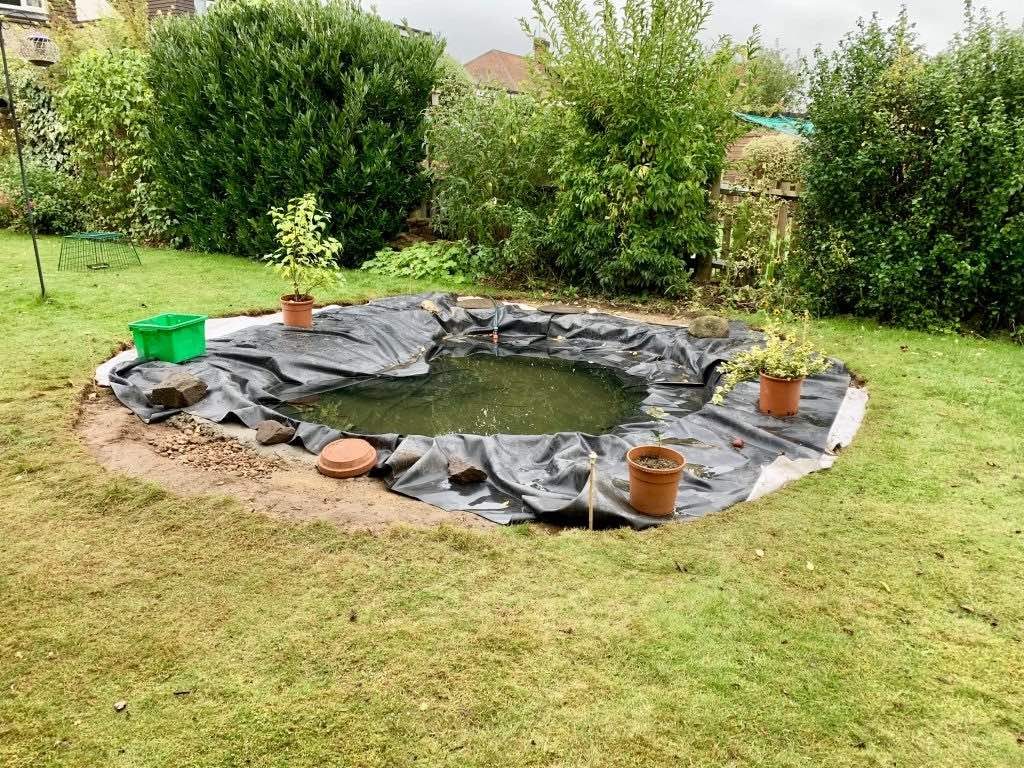 Many of you will know that we are building a wildlife pond in our garden. I had thought the hard part was over. The pond had been dug, lined with carpet and underline with the UPVC liner on top. It was three quarters filled with rainwater.
All seem to be going swimmingly well. Then, the next morning, we noticed the water level had dropped. Only one explanation. A leak.
On Wednesday we emptied all the water, took off the liner, folded it took it back to the shop and exchanged it for a replacement. When we returned to the garden we put even more carpeting and padding at the bottom and on the side of the pond before putting in the new liner. Backbreaking work and very frustrating!
It's just as well we noticed the leak now, not after finishing the edging and filling it with pond plants.
I think it was Dwight L Moody who said, when asked why he talked about being refilled with the Spirit since we received it when we were brought into Christ,
"Yes, I was filled with the spirit, but I leak."
That statement is not theologically sound, but it expresses a felt truth.
Bercot deals with this idea in the eighth chapter of His book, "Secrets of the kingdom life", when he describes what he calls the "victorious cycle" – as opposed to the vicious cycle. He likens the kingdom life to riding a bicycle. "To live an obedient life, we need power from God. To have power from God, we must pray. However, for our prayers to be effective, we must be living an obedient life.…Learning to walk with God is as easy as learning to ride a bike. We pray for power to live an obedient life in a particular area. Then we step out in faith, deny our flesh, and obey that particular commandment." (p38)
Whilst admitting that this is not easy at first, he reminds us that the more this becomes our habit, but more powerful our experience of the kingdom life becomes. And when that happens we become a salt and a light to this world which never loses its taste or brightness.
The question I've been asking myself this week is whether I'm becoming saltier and brighter, or tasteless and dull? I am preaching on Acts 16:1-5 on Sunday. There we observe Timothy's commitment to the mission expressed most surprisingly and painfully in his willingness to be circumcised. That's the commitment he was willing to display in order to be the most effective in being all things to all men, both Jews and Greeks, as he travelled with Paul carrying the good news to as many as possible.
You and I are going to leak. Our devotion, our commitment, our righteousness, our humility, our faith will leak. God knows this. He is not surprised, and he is not downhearted about it. His commitment to us never waivers. He will help you and I to plug the leak. To refill. Our part in this is to notice early on in the process. Whilst there is still water in the pond. Before it dries out.
I offer my recordings this week in the hope that they will help you to be as bright and tasty as possible in this dark and dull world.
The podcast summary contains a reminder of what's been posted on my site this week. I.e. the usual TTT, SS & QTC. To watch/listen to any posts, just head over the the website.
Prayer request
Thank you for your prayers about gaining clarity over my refined role in Thames Valley. Those prayers have been answered (see below the Thames Valley update). In addition, please keep me in your prayers as I continue to prepare the teaching series for January and February as well as the teaching day on the Sermon on the Mount.
Thank you for reading this far, and encouraging me in my endeavours to support our times of quiet with God, our corporate worship experiences, and the effectiveness of our preaching and teaching.
If you know anyone who might enjoy these materials, please send them a link to my website and encourage them to sign up for this newsletter.
God bless, Malcolm