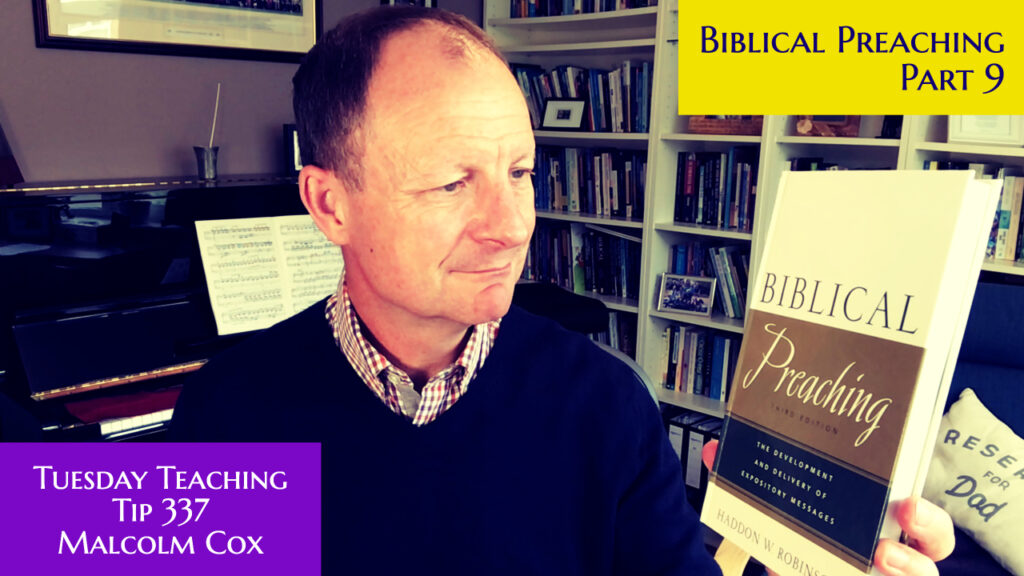 Today we look at the ninth chapter of Haddon Robinson's excellent book. How is our thinking 'dressed'? Have you ever dressed inappropriately for an event you went to? It sends the wrong signals, confuses the observers, and embarrasses the wearer. Lessons that are badly dressed draw attention to the confused thought that led to this error. What do we mean by dressing a lesson? Haddon Robinson gives us the following subtitles to the chapter:
Strong transitions
A clear style: a clear outline; short sentences; simple sentence structure; simple words
A direct and personal style
A vivid style
I won't comment on all of these because Haddon Robinson does it much better in his book, but I will highlight a couple of points.
Transitions
Why do clear transitions matter? The matter because a listener needs stronger clues about the direction of thinking than a reader. Someone reading a text can see the transition in front of them. They can re-read the document and observe the transition. In a lesson the listener needs clear audible prompting to notice the connection between your points. A strong transition makes a big difference. In the New Testament we often see words like "therefore". The placing of these words is significant, especially given that these letters were read out and most people would not read them on the scrolls, but hear them spoken.
A good example is found in the book of Romans. After discussing the theological foundation of salvation in the previous chapters, Paul transitions to a practical application of living a transformed life in Romans 12:1-2. He states, "Therefore, I urge you, brothers and sisters, in view of God's mercy, to offer your bodies as a living sacrifice, holy and pleasing to God—this is your true and proper worship." The use of "therefore" signals a shift from doctrinal exposition to the imperative of a transformed lifestyle, linking the theological understanding with practical implications for Christian living.
Your congregation will keep pace with you if you link your points with transitions. Otherwise, if you jump from one point to another without transition they will be trying to link your points in their own head — thus their attention will be taken away from what you are saying.
Let's take an example from Jesus. After teaching on the impossibility of serving two masters in Matthew 6:24, he gives his audience a "therefore", and goes on to explain more about his point. See Matthew 6:25 and following.
Style
Style should be personal, but also vary according to context. While all my sermons are 'Malcolm' sermons, they vary in style. For example, my sermons in Thames Valley have less interactivity than my sermons in Watford. The reason is the size of the group as well as the shape of the rooms in which we meet. Do you have a style? When you're starting, it's not so important. But as time goes by, there should be something distinctive about your style. Not for the sake of it, but because it reflects your personality and your context. Consider the difference between the majestic style of Isaiah and the more emotionally charged style of Jeremiah — appropriate to who they were, but also to their circumstances.
Clarity
Whatever your style, it is important that it enhances clarity in your message. Does your message flow in a clear direction? Do your sub-points make your overall point clearer? Do your transitions link your points to create clarity? What about your illustrations?
How do we develop clarity? The first step is to write out your outline. The next step is to pray through that outline. In the week before a sermon I go for a walk in the woods and speak the outline out loud. It soon becomes clear whether it makes sense or not. I also rehearse the illustrations. This is not so that I speak them the same way word for word when I deliver the lesson, but to reveal whether the illustration itself creates clarity, and whether the way I am sharing it will be clear or not. These exercises show me how to refine the points and the illustrations for more vivid impact.
Conclusion
Test your transitions. Are they helping your audience think along with you?
Develop your style. Make the lesson your own, allow your context and personality to influence your style.
Check for clarity. Dress and re-dress your sermon until clarity is achieved
Why not consider joining AIM UK&Ireland to develop your understanding of Scripture: https://aimukandireland.com/. Our current module is Homiletics (the preparation and delivery of lessons).
Contact us here with enquiries: courses@aimukandireland.com
The website can be found here: https://aimukandireland.com
Please add your comments on this week's topic. We learn best when we learn in community.
Do you have a question about teaching the Bible? Is it theological, technical, or practical? Send me your questions or suggestions. Here's the email: malcolm@malcolmcox.org.
If you'd like a copy of my free eBook on spiritual disciplines, "How God grows His people", sign up at my website: http://www.malcolmcox.org.
Please pass the link on, subscribe, and leave a review.
Remember to keep calm, and carry on teaching.
God bless, Malcolm