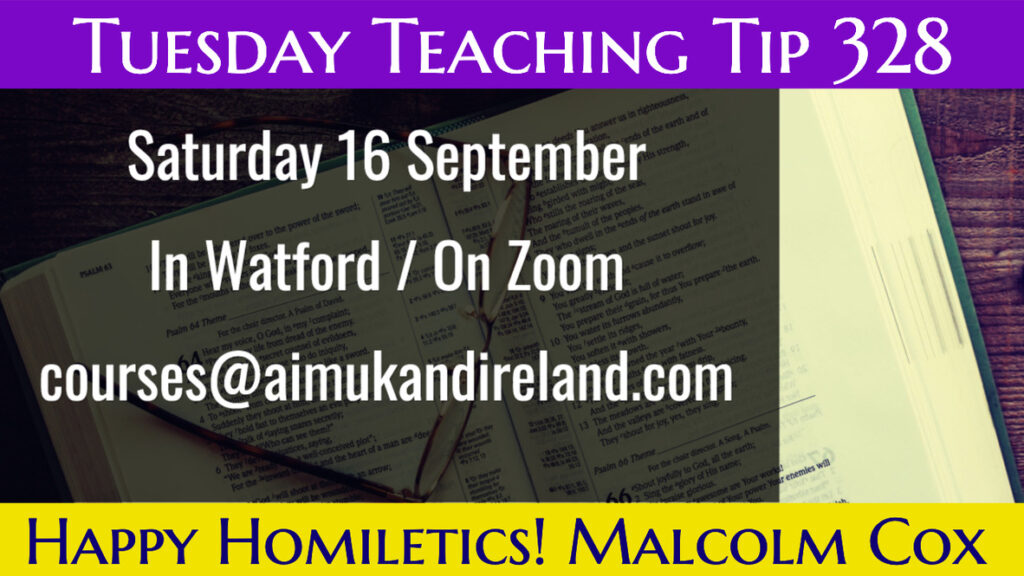 Today's Teaching Tip is a shameless plug to join me and my friends for a day of happy homiletics.
On Saturday, the 16th of September, I will be having fun learning how to move from text through context into content and application. Our format will include teaching, discussion, Q&A and small-group work. The event will be in person and online simultaneously.
We start at 10 am and finish at 3 pm with lunch provided. Our venue is the West Watford Free Church, Tolpits Lane, Watford WD18 6NU.
We are offering this module half price and will work with anybody with financial challenges to make sure that they can participate.
Please join us if you can. Whether you are a staff church member, a leader of a small group, or someone who might share a talk about the Lord's supper or conduct a family devotional, this module is for you.
Learn how to be confident that you may be what Paul called Timothy to be, someone who "does not need to be ashamed and who correctly handles the word of truth." (2 Timothy 2:15 NIV11)
Contact us here with enquiries: courses@aimukandireland.com
The website can be found here: https://aimukandireland.com
Please add your comments on this week's topic. We learn best when we learn in community.
Do you have a question about teaching the Bible? Is it theological, technical, practical? Send me your questions or suggestions. Here's the email: malcolm@malcolmcox.org.
If you'd like a copy of my free eBook on spiritual disciplines, "How God grows His people", sign up at my website: http://www.malcolmcox.org.
Please pass the link on, subscribe, leave a review.
"Worship the LORD with gladness; come before him with joyful songs." (Psalms 100:2 NIV11)
God bless, Malcolm