Quiet Time Coaching: Episode 118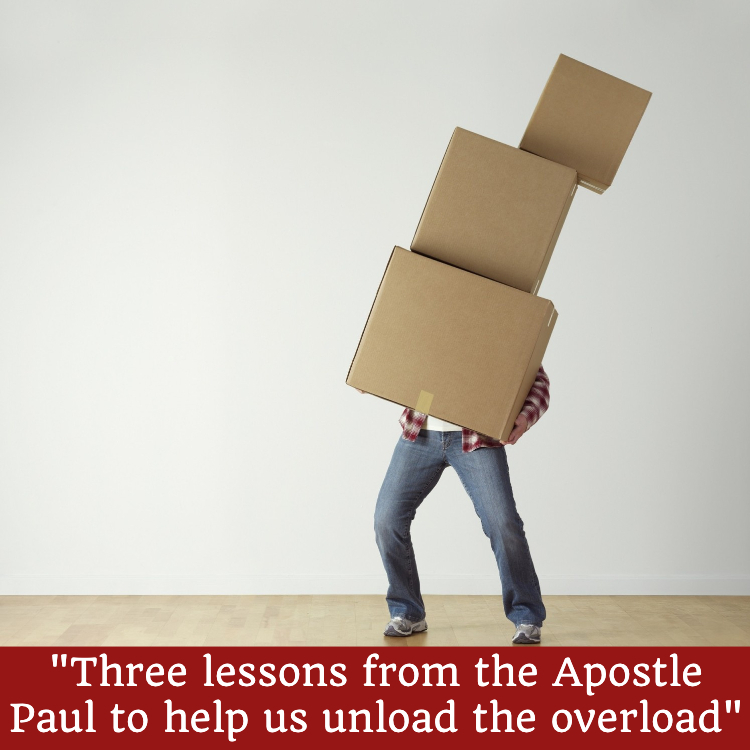 Today I bring you a reflection on renewing our inner world based on chapter 9 of the book "Unloading the Overload: Stress management for Christians" by Chris Powell and Graham Barker.
Do you ever feel overloaded? Are you feeling it right now? Is it having a positive or negative effect on your times of quiet with God? Let's look today at how renewing our inner world can make all the difference.
Perhaps the key Scripture for this principle is found in Romans chapter 12:
"Do not conform to the pattern of this world, but be transformed by the renewing of your mind. Then you will be able to test and approve what God's will is—his good, pleasing and perfect will." (Romans 12:2 NIV11)
In the context he is stressing that we not be conformed to "the pattern of this world", and this cannot simply mean our mind needs to be changed. It's about transforming the whole way we view the world from the inside out. The inner world must be changed if we are going to cope well with the challenges of the outer world.
Let's see how Paul himself dealt with this challenge by looking at what he wrote in the Epistle to the Philippians. I have three "P's" for us today.
Perspective
Paul has many problems. He is under house arrest in Rome and could well be facing the death penalty. Not only that, but there are power struggles amongst Christian leaders in Rome (Philippians 1:15). What is his attitude?
"But what does it matter? The important thing is that in every way, whether from false motives or true, Christ is preached. And because of this I rejoice." (Philippians 1:18 NIV11)
When I see Paul say, "what does it matter?" I find it hard to square that with Paul as someone with deep convictions. Why isn't he anxious about his future and the future of the Roman church? To quote from the book:
"We need to see what Paul is doing here. He is putting a different perspective on his situation. He is viewing it through the lens of the truth that God is in control and his purposes are being worked out. In that light, why does Paul need to get his toga in a knot? He is adjusting his attitude to things so that they do not overwhelm him." Page 107
We can get bent out of shape by the smallest things. People have been killed over disputes regarding a neighbour's fence, or noisy neighbours. Of course, in life there are some things which are not small. However, almost all of them, from the perspective of eternity, or even a week later, will not matter nearly as much as we imagined.
On to Paul's next thought:
2. Past
"Brothers and sisters, I do not consider myself yet to have taken hold of it. But one thing I do: Forgetting what is behind and straining toward what is ahead, I press on toward the goal to win the prize for which God has called me heavenward in Christ Jesus." (Philippians 3:13–14 NIV11)
Paul knew how to let go of the past. And what a past he had! "How come he is not overloaded with guilt for everything he has done to wreck the lives of other Christians?" p109
Despite the fact that Paul had a tragic and malevolent past towards Christians, he learned how to experience forgiveness. Not only the intellectual part of it, but the experiential part. Whilst it is true that we cannot manufacture the feeling of forgiveness, by faith we can claim it as ours because of what Jesus has done.
"Perhaps we honour God even more when we trust him even though we have not seen or felt it!" p112
3. Progress
Just before the verses with looked at, he also wrote this,
"Not that I have already obtained all this, or have already arrived at my goal, but I press on to take hold of that for which Christ Jesus took hold of me." (Philippians 3:12 NIV11)
Paul is all about progress, not perfection.
He knows he hasn't "made it". But is not overwhelmed with guilt about his imperfection. He is pressing on, not passive, but progress will do for him.
Perfectionism and Christianity do not work.
Do you berate yourself, feeling guilty and angry or depressed if you don't match up to being Jesus? This is not a problem with Jesus, the Bible nor the Holy Spirit. Nor is it really a problem with you. But it is evidence that the inner world needs to change.
If you have an irrational belief in the demand for perfectionism you will need to take it to God in prayer to argue it through with him. He will reassure you that your progress is what he is after, not your perfection. Sure, we'd all prefer to be more Christ-like than we are, and, God willing, we will be more like him in time, but our lack of current perfection is not a problem.
When next you feel overwhelmed, take some time to examine whether you are seeing things from God's perspective, whether you are holding on to guilt from the past, or whether you are trapped by perfectionism. I hope not all three! Wherever you are with the overload, our Father God is right there with us ready to offer us the peace and comfort only he can.
Question for the day: "When you are overloaded, what is your go-to option to unload it with God's help?"
---
Retreat update
There are just five places left for the spiritual disciplines retreat, "Wait for the LORD". You can find details on the dedicated page of my website.
If you have any questions, please drop me a line: malcolm@malcolmcox.org.
I'm working on the booklet which I will send out in advance. This will contain information about the area, the details of the schedule, some tips on how to make the most of the retreat and an exposition of Psalm 130.
---
Please add your comments on this week's topic. We learn best when we learn in community.
Do you have a question about teaching the Bible? Is it theological, technical, practical? Send me your questions or suggestions. Here's the email: malcolm@malcolmcox.org.
If you'd like a copy of my free eBook on spiritual disciplines, "How God grows His people", sign up at my website: http://www.malcolmcox.org.
Please pass the link on, subscribe, leave a review.
God bless, Malcolm
PS: You might also be interested in my book: "An elephant's swimming pool", a devotional look at the Gospel of John