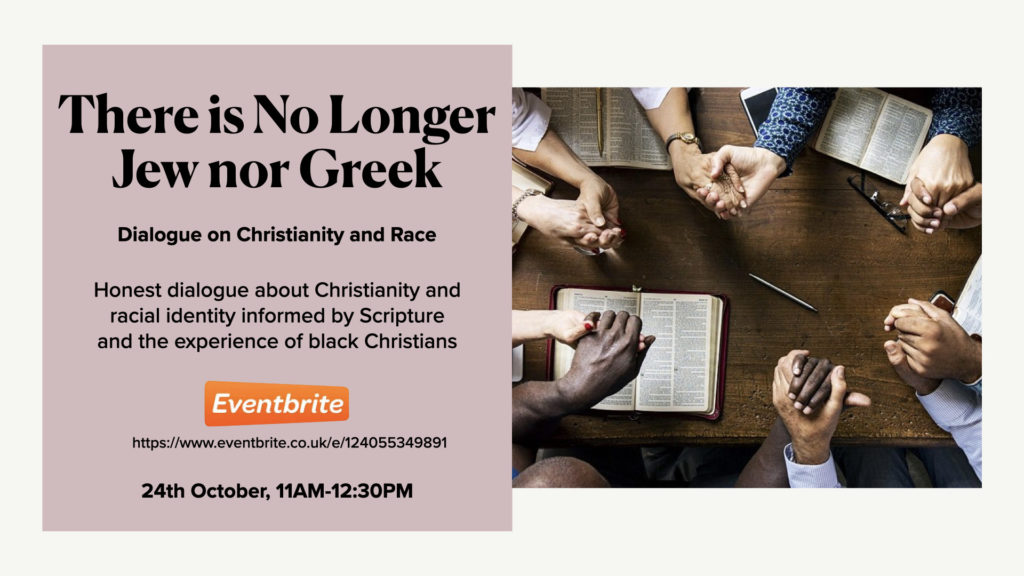 "There is No Longer Jew nor Greek: Dialogue on Christianity and Race"
Honest dialogue about Christianity and racial identity informed by Scripture and experience of black Christians
"God has put the body together, giving greater honour to the parts that lacked it, so that there should be no division in the body, but that its parts should have equal concern for each other. If one part suffers, every part suffers with it; if one part is honoured, every part rejoices with it. Now you are the body of Christ, and each one of you is a part of it." 1 Corinthians 12:24-27 NIV11
There is neither Jew nor Greek, there is neither slave nor free man, there is not male and female; for you are all one in Christ Jesus (Galatians 3:28).
In the verse quoted above, Paul attempted to capture the oneness of the people of God. This oneness emerged from the premise that believing in Jesus made believers spiritual descendants of Abraham and members of the worldwide, multi-ethnic family of God. In this family, all notions of domination and hierarchy were dismantled, and people acknowledged only the loving Lordship of the risen Jesus. This oneness, unprecedented in the ancient world, reflected the counter-cultural love of Jesus himself, who called a Zealot and a tax collector – normally sworn enemies – to live as brothers.
As such, in a world whose history is tainted by the effects of domination, imperialism, marginalisation and enforced slavery, Christians and the Christian community ought to be models in reconciliation and healing. However, the deaths of George Floyd, Breonna Taylor, Eric Garner and Trayvon Martin (to name a few) and the resurgence of Black Lives Matter protests have resurfaced deep wounds that have not healed, in the hearts of many of our black brothers and sisters. This combined with weaknesses in the Christian understanding of ethno-racial unity within and outside Christian communities has impacted the faith of many.
This session aims to bring the experiences of black Christians into conversation with Christian scripture to help facilitate honest dialogue, promote understanding and navigate the sensitive landscape of Christianity and racial identity.
Speakers include Dr Andrew Ezeilo and Sandra Ezeilo, Rachael Corson, Elleen Okotie, Mike Desouza and Dr Andy Boakye.
The format included a mix of sharing, teaching and 30 minutes for discussion in breakout rooms.
Please add your comments on this topic. We learn best when we learn in community.
Do you have a question about teaching the Bible? Is it theological, technical, practical? Send me your questions or suggestions. Here's the email: [malcolm@malcolmcox.org](mailto:malcolm@malcolmcox.org).
If you'd like a copy of my free eBook on spiritual disciplines, "How God grows His people", sign up at my website: http://[www.malcolmcox.org](http://www.malcolmcox.org/).
Please pass the link on, subscribe, leave a review.
"Worship the LORD with gladness; come before him with joyful songs." (Psalms 100:2 NIV11)
God bless, Malcolm