A sermon for the Watford church of Christ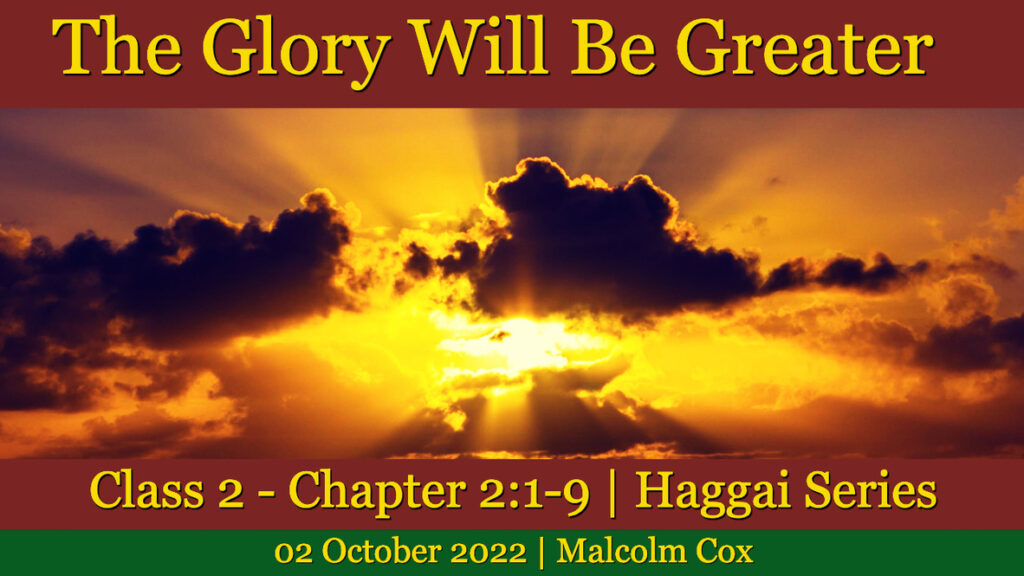 1. The Call to Reflect – Haggai 2:2
– We notice all parts of the community are addressed. Secular leadership, spiritual leadership and the 'remnant of the people'.
– No group will achieve much for God unless all parts are determined to please God and bring him honour.
– Are we all aligned in this way?

– Haggai 2:3 "'Who of you is left who saw this house in its former glory?
– Now 520, destruction 586 – 66 years previously
– Three questions, all driving at the heart of their discouragement.
– 'Who of you'; 'How does it'; 'Does it not'?
– Not all were old enough to remember, but some were, and may have been the most influential. If, when comparing the old temple with the smaller new one they were dejected, it is understandable.
– Perhaps he was one of those who was old enough to remember. It would lend weight to his question. Jewish tradition makes him old (1 Rabbi Eli Cashdan, The Twelve Prophets (Soncino Press, 1948), p. 254.).
– Had the work begun to lose momentum?
– We can be similarly effected. The new 'glory' of the church may not look as 'glorious' to the older members.
– But it does not have to. It needs to glorify God, not transport us back to a former time of glory now gone, precious, but part of the past.
– How hopeful (faithful) are you about the future of the church? How much doubt and discouragement are you sensing, or how much excitement and anticipation? Can you be honest about any doubts and fears you are experiencing? God can handle whatever you are feeling.

2. The Call to Courage
– Haggai 2:4 "But now be strong,
– 'but now' – implies the ability to make a decision, as well as the need to do so.
– 'but' is a statement of faith. It does not matter what the past was like, how you feel about it, what you think it all signifies – what matters is what decision you make here and now as confronted with the word from God.
– 'be strong' – Joshua 1:5-9. A time of a new beginning
– Used 3 times – all parts of the community need to make the same decision. Implies that if one or two segments get on board, the other or others will derail the situation.
– Implies strength is a decision
– Implies they knew what it would look like to be 'strong' in their context. I.e. the actions that would follow from the decision to 'be strong'.
– If God were to say to us 'be strong', would we know what that meant?
– 'work. For I am with you' – ties together tightly the activity and the support.

– Haggai 2:5 'This is what I covenanted with you…Do not fear.'"
– 'Spirit remains' – as in 'abides', or as in 'you might have thought I had abandoned you, but I am still with you despite your rebellion and apparent realities'?
– 'do not fear' – fear of the king reversing his decisions? Fear of standing out by finishing the temple?
– They were presumably a minority in the land.
– Fear of compromising personal comfort if prioritise building temple?
– Fear of God not reversing the economic curses if they take him at his word?
– God believes in us when we do not believe in ourselves.
– Point of Grace [song](https://www.youtube.com/watch?v=ZA3jPIHnsIc )
– How much more we can trust God's presence with us as we work for him, Jn 14:23

3. The Call to Trust
– Haggai 2:7 I will shake all nations
– 'what is desired' – is this Messianic?
– 'fill this house' – with the treasures of the Gentiles. Is this an indication of the inclusion of the Gentiles, or of the triumph of Israel over the Gentiles?
– God is saying he will rearrange the old order of things. Ultimately that come when Jesus entered the temple, cleansed it and brought the living water and powerful truth that would change the world.

– Haggai 2:9 'The glory of this present house will be greater than the glory of the former house,'"
– 'glory' here and v7 sandwich the mention that God owns the silver and gold.
– 'greater' – in God's definition of greater.
– If we keep working for God the future will be better than the present.
– 'grant peace' – Could it be the fear of reprisals has frightened the people? Maybe they are also afraid that their delays in rebuilding the temple have angered God. They know how God dealt with the desert rebellions and the idolatry of their past. Are they worried he will not forgive? The promise of peace could be a relational peace more than a political or social one.

Conclusion
– Reflect; Courage; Trust
– God always has a vision
– It becoming reality does not depend on our talent level, but on our willingness to act courageously in full trust of God

Questions:
1. Could you take some time to reflect on how the work for God is going where you are?
2. Are there any areas where fear is holding you or your group back from building something that would glorify God?
3. Do you truly believe that the future will be more glorious than the past?