7th Commandment: They won't care how much you know until they know how much you care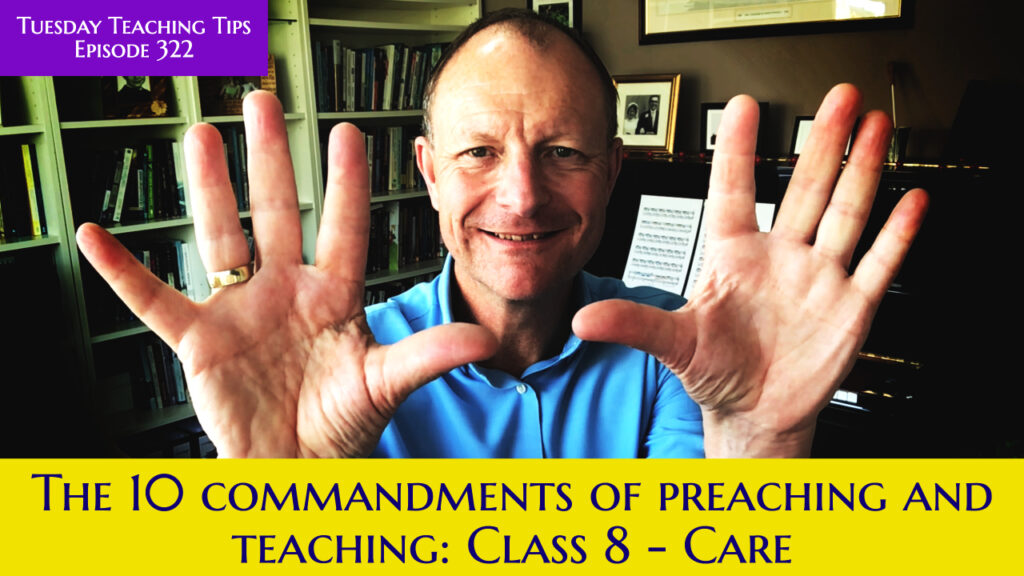 7th Commandment: They won't care how much you know until they know how much you care.
Introduction
Do you ever wonder if your teaching is effective? Do you sometimes sense your preaching might not have the impact you had hoped? If so, you are like 99% of the speakers I know. The other 1% are deluded.
"At Iconium Paul and Barnabas went as usual into the Jewish synagogue. There they spoke so effectively that a great number of Jews and Greeks believed." (Acts 14:1 NIV11)
Point of clarification
A church leader once contacted me asking for advice. They had someone in the congregation who was a good student of the Bible and an able presenter. He liked to preach and teach. He taught accurately and with conviction. However, the congregation did not warm to his speaking. The problem as it was explained to me was that this person turned up late to meetings, did not engage with the fellowship, and was not connected relationally to the rest of the congregation. Those he spoke to did not sense he cared. I won't make a judgement on that, because I don't know this person's heart. Suffice it to say that if a congregation don't sense you care, your effectiveness is greatly compromised. What we are going to talk about today is not how to make people feel like you care—that would be manipulative—but instead how are you can grow in caring and communicate that you care.
7 Tips
Pray. Pray for the people you speak to. Pray for their spiritual well-being. Pray that issues in their lives will be resolved by God's strength. Pray like Paul did. Do a Bible study of some of his prayers embedded in his letters. They will guide you in your prayers for your listeners.
Make the most of fellowship. Whenever you have a chance to speak, arrive early and stay until, as they say, the last dog dies. Talking to people before you speak helps your listeners to see you as a fellow human being – not as 'the speaker'.
Connect as a habit. Look for reasons to connect with your fellow brothers and sisters. Remember birthdays, anniversaries and other special events. Pray together in person and using technology. Pick up the phone when you have a spare moment and call somebody just for a chat.
Ask questions. As tempting as it is to tell people about yourself, it is by asking questions people feel cared for. How are people feeling? How are things at home with the kids/spouse? What's going on with elderly relatives? What's it like at work at the moment? How are they feeling about their relationship with God? What else are they interested in?
Time. You can't beat time together. Nothing replaces that. Contact is not the same as connection, and connection is nurtured by time. Do things together.
Eye-contact. When you are speaking to people, look at those people.
Vulnerable. As scary as it is, open your heart and share vulnerably when you speak. Let everyone know that you are a normal person just like them. You're not standing there and speaking because you are superior. You are simply doing so because you've been called and gifted.
Conclusion
You cannot force people to believe you care about them, but you can love them. Do that consistently and in a Christlike way, and your speaking will find a smoother channel to the spirits of your listeners.
Next week: 8th Commandment: Enthusiasm is infectious!
Consider joining AIM UK&Ireland to develop your understanding of Scripture: https://aimukandireland.com/. Our next module is Homiletics (the preparation and delivery of lessons).
Please add your comments on this week's topic. We learn best when we learn in community.
Do you have a question about teaching the Bible? Is it theological, technical, or practical? Send me your questions or suggestions. Here's the email: malcolm@malcolmcox.org.
If you'd like a copy of my free eBook on spiritual disciplines, "How God grows His people", sign up at my website: http://www.malcolmcox.org.
Please pass the link on, subscribe, and leave a review.
"Worship the LORD with gladness; come before him with joyful songs." (Psalms 100:2 NIV11)
Keep calm and carry on teaching.
God bless, Malcolm