Beatitudes Series Summary | Malcolm Cox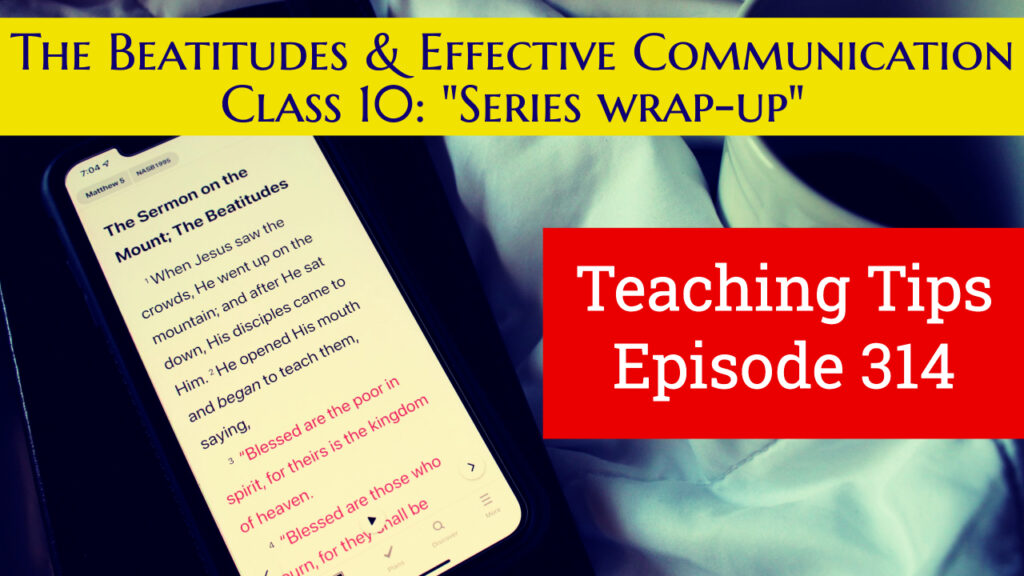 Introduction
What would it be like to preach and teach through the filter of the beatitudes? What would the impact be on us as speakers and our congregations as listeners? Today, we wrap up our series.
Let's start today with this quote from Desmond Tutu:
"The Beatitudes offer a transformative vision for humanity. They inspire us to be peacemakers, to hunger and thirst for righteousness, and to cultivate a deep sense of empathy and compassion for others."
With this in mind, let me offer two thoughts about preaching and teaching the beatitudes.
Preaching through the filter of the Beatitudes should leave our listeners feeling blessed

The beatitudes are challenging, but they are a blessing. Even those opposed because of living the beatitudes are to "Rejoice and be glad" (Matthew 5:12). Why and how is this possible? "because great is your reward in heaven," (Matthew 5:12 NIV11). When persecuted we are counted worthy (see the Apostles in Acts 5:41), and our faith is being purified (1 Peter 1:6ff), but mostly because our reward is in heaven (2 Corinthians 4:17).
The reward, of course, is not earned by enduring the persecution. Our reward is by grace just as much as our initial salvation. This means that we rejoice all the more for we are looking forward to something that we do not deserve but that is promised. Moses looked forward (Heb 11:26) and so should we (Col 3:1-2).
"The Beatitudes remind us that the pursuit of happiness is not rooted in personal gain but in a life of selflessness and service. They encourage us to lift up the marginalised, care for the brokenhearted, and strive for justice." – Martin Luther King Jr.
Our preaching and teaching, when infected by the beatitudes, will lead to the selfless service and the blessing of the weak.

Preaching through the filter of the Beatitudes will mature our congregation

The first four beatitudes see the godly person on their knees in humility before God. As a result they are close to the heart of God. This being the case they are deeply changed by God.
The second four see the godly person as a citizen of the kingdom transformed in relations with the other members of the kingdom and those beyond its borders.
These qualities are seen as 'soft' by the sceptical and worldly-minded, but they are anything but. Their practice is the toughest thing to which a man or woman can commit him or herself. Christ-like character is built by living the beatitudes.
Embracing the beatitudes takes a heart and mind change (repentance). "As Thielicke puts it, 'Anybody who enters into fellowship with Jesus must undergo a transvaluation of values.'"
"The Beatitudes challenge us to examine our priorities and embrace a countercultural way of living. They invite us to find joy and fulfilment by seeking God's kingdom above all else." C. S. Lewis
Conclusion
"Blessed are the poor in spirit, for theirs is the kingdom of heaven.
Blessed are those who mourn, for they will be comforted.
Blessed are the meek, for they will inherit the earth.
Blessed are those who hunger and thirst for righteousness, for they will be filled.
Blessed are the merciful, for they will be shown mercy.
Blessed are the pure in heart, for they will see God.
Blessed are the peacemakers, for they will be called children of God.
Blessed are those who are persecuted because of righteousness, for theirs is the kingdom of heaven."
(Matthew 5:3–10 NIV11)
If this is kingdom living, then it must be kingdom preaching and kingdom teaching.
Next week we will move on from our series on the Beatitudes, but for today I'd like to know what you think. How can we preach and teach in a way that is informed by the beatitudes?
What kinds of questions does this bring to your mind regarding preaching and teaching? Why not pray over the beatitudes, asking God to reveal how they can flavour your speaking? If God reveals anything to you, please drop me a line.
Please add your comments on this week's topic. We learn best when we learn in community.
Do you have a question about teaching the Bible? Is it theological, technical, or practical? Send me your questions or suggestions. Here's the email: malcolm@malcolmcox.org.
If you'd like a copy of my free eBook on spiritual disciplines, "How God grows His people", sign up at my website: http://www.malcolmcox.org.
Please pass the link on, subscribe, and leave a review.
"Worship the LORD with gladness; come before him with joyful songs." (Psalms 100:2 NIV11)
God bless, Malcolm
---