Blessed are the persecuted | Malcolm Cox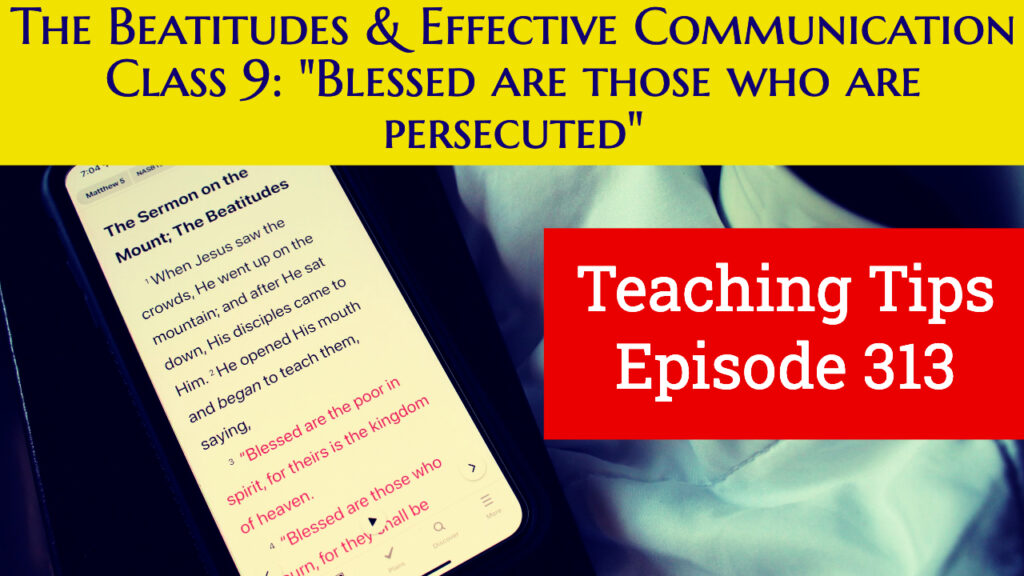 Introduction
What would it be like to preach and teach through the filter of the beatitudes? What would the impact be on us as speakers and our congregations as listeners? Today, we will look at the eighth beatitude:
"Blessed are those who are persecuted because of righteousness, for theirs is the kingdom of heaven." (Matthew 5:10 NIV11)
It's interesting that the warning about persecution follows the beatitude about peacemaking. Perhaps this is to remind us that our efforts will often not be appreciated. The issue is so important to Jesus that he does what he did not do for any of the previous beatitudes — he expands on this one:
"Blessed are you when people insult you, persecute you and falsely say all kinds of evil against you because of me. Rejoice and be glad, because great is your reward in heaven, for in the same way they persecuted the prophets who were before you." (Matthew 5:11–12 NIV11)
The Meaning in the context of the Gospel

The kingdom. The first beatitude in verse 3 promises the same reward.

"Blessed are the poor in spirit, for theirs is the kingdom of heaven." (Matthew 5:3 NIV11)
What we have here is called an 'inclusio'.
Kingdom people are marked by persecution

Being righteous is not the same as being 'good' or 'noble'. The world does not persecute the good and noble, because they would like to be like them and/or could be like them. The world persecutes the righteous person because they do not want to be like them and/or sense they cannot be like them. The righteous are different because they are…..different. Different by nature, not just by speech or actions. 1Pet. 3:13-14
Jesus anticipated persecution for his followers, and experienced it himself.
John 15:18-20
Persecution may not come from the world, but from Christian-type people. No only was Jesus persecuted by religious leaders of his day, but Paul also suffered from false brothers
, 2 Cor. 11:26
Why is this beatitude here? Because persecution is both inevitable and necessary.

'Yahweh scattered humanity at Babel, Israel through exile, and the church through persecution.' Embracing Creation, John Mark Hicks, Bobby Valentine, and Mark Wilson

The Meaning for a preacher/teacher

A preacher or teacher fully invested in this beatitude will not be afraid to live righteously even if it brings them persecution – from inside or outside the church.
In preparation

Check your motives. Persecution because of righteousness and not obnoxiousness is in view here! The cause of persecution is righteousness. Persecution that is the result of folly, lack of wisdom, over-zealous behaviour, self-righteousness etc. should not be justified by use of this verse.
Pray to live the righteousness. It is the life as much as the teaching that should get a preacher persecuted. For example, Jesus eating with the 'wrong' people caused people to turn against him.

In presentation

We serve our hearers best not when we teach them how to avoid persecution, but how to see God in that persecution.
Point people to Christ, Hebrews 12:3
Teach people to lean on God, 2 Cor 12:10
Remind people of the rewards, Mark 10:29–30
Conclusion
Don't mistake feedback for persecution. Speaking makes us vulnerable, and sometimes even constructive feedback can feel like persecution. However, most of the time the feedback is simply that — feedback and nothing more.
"It is moving and significant that the suffering church in lands where it is oppressed does not want to be like the church in the West. It looks for our prayers, not that it may have an easy time, but that it may be faithful unto death, and know the joy of utter faithfulness to Jesus. There is no joy like that."
Next week we will wrap up our series on the Beatitudes with an overview, but for today I'd like to know what you think. How can we preach and teach in a way that is informed by the eighth beatitude?
What kinds of questions does this bring to your mind regarding preaching and teaching? Why not pray over the beatitudes, asking God to reveal how they can flavour your speaking? If God reveals anything to you, please drop me a line.
Please add your comments on this week's topic. We learn best when we learn in community.
Do you have a question about teaching the Bible? Is it theological, technical, or practical? Send me your questions or suggestions. Here's the email: malcolm@malcolmcox.org.
If you'd like a copy of my free eBook on spiritual disciplines, "How God grows His people", sign up at my website: http://www.malcolmcox.org.
Please pass the link on, subscribe, and leave a review.
"Worship the LORD with gladness; come before him with joyful songs." (Psalms 100:2 NIV11)
God bless, Malcolm
---