The podcast version of my weekly newsletter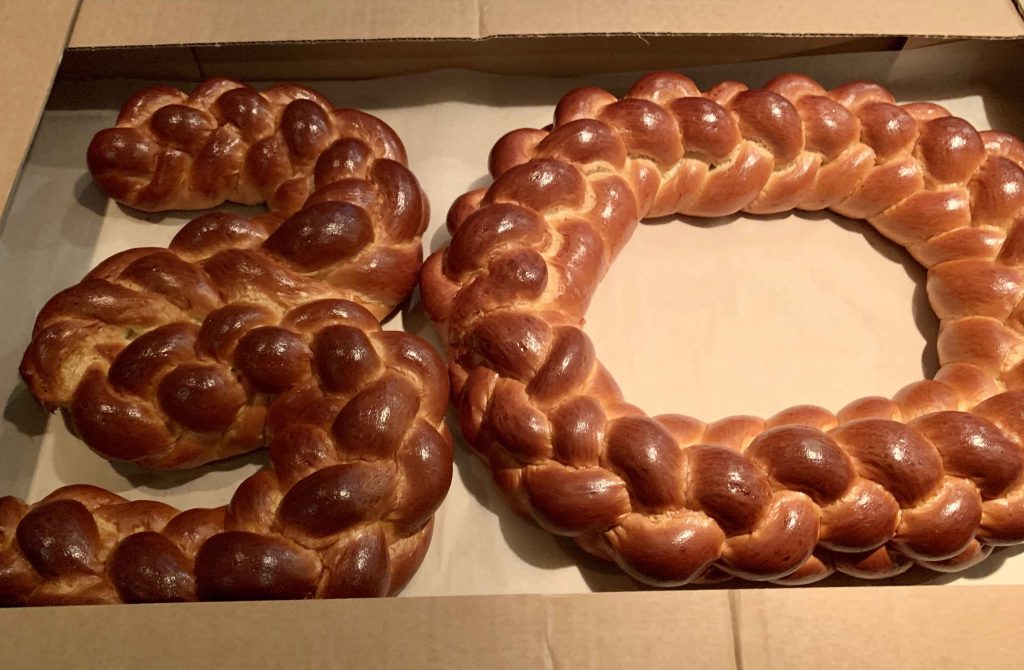 Where did the time go?
On Thursday this week we went out for a Chinese meal to celebrate my son's 30th birthday. It prompted all the usual clichés such as "where did the time go?" As you can imagine, my post on Facebook regarding the birthday garnered many comments. Some flattering, some scary and some rather cute. "Thank you" for all of them.
Our son doesn't like cake (I know – how does he cope with life?). But he does like bread. My wife works in a Jewish area of North London where they make spectacular breads. She ordered a challah bread in the shape of a three and a zero (picture above). We took it to the restaurant last night, inserted three candles, lit them and sang "Happy birthday". The unique nature of the birthday 'cake' caused many a conversation in the restaurant.
We all want to remember the right things. Penny's creativity will help us remember Fred's 30th birthday. Remembrance is on my mind because it is Remembrance Sunday this coming Sunday. Whatever our views about war and pacifism, it seems right to honour people who made sacrifices from which we benefit.
My sermon this Sunday will be on the theme of remembrance. We'll be looking at the purpose of memory. Why did God create memory? How can we best remember the right things? What is the best way to deal with problematic memories? Of course, we will not cover everything, but we will in particular focus on the communion. We are told to do one, and only one, practical physical thing in connection with discipleship and remembering Jesus. And that is to take bread and wine in remembrance of him (Luke 22:14-23).
In preparation for this lesson I have been re-reading a book which had a profound impact on me several years ago called "Remember Jesus" by Steve Motyer. Thoroughly recommended as an excellent, short, summary of the history and developing theology surrounding the Lord's supper. I know Steve personally. I couldn't call him a friend, but I have benefited from his personal wisdom and his lecturing while I was student at the London School of theology.
Please pray for me as I prepare the lesson. In particular, I want to make sure that a lesson about remembrance and memory ends up focusing us all on the heart of Jesus, not just the technical aspects of the details of the communion or how memory works.
I offer my recordings this week in the hope that they will bring you sweet remembrances of Jesus, his love and strength.
The podcast summary contains a reminder of what's been posted on my site this week. I.e. the usual TTT, SS & QTC. To watch/listen to any posts, just head over the the website.
---
Prayer request
Please keep me in your prayers as we make plans for 2020. Both the Thames Valley churches of Christ and the Watford Church of Christ are deep into planning mode for the year ahead. Please pray that we make good decisions based on what we discern the Spirit doing.
---
Thank you for reading this far, and encouraging me in my endeavours to support our times of quiet with God, our corporate worship experiences, and the effectiveness of our preaching and teaching.

If you know anyone who might enjoy these materials, please send them a link to my website and encourage them to sign up for this newsletter.

God bless, Malcolm