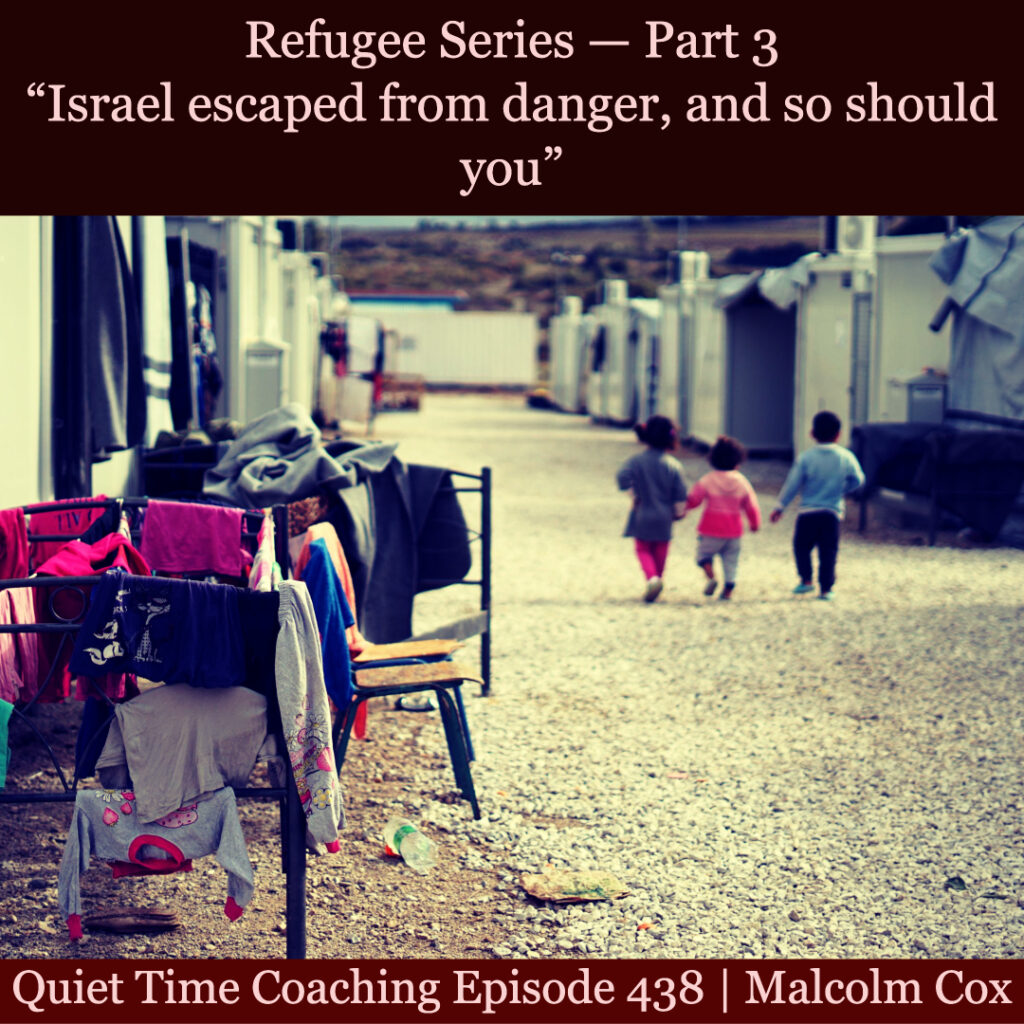 Refugees are running from something. Starvation, oppression, persecution, floods, volcanic eruptions, earthquakes, forest fires, war — the list is long. More than once God's people found themselves running away from danger. God's refugee people became expert escapologist – some of the time. However, at others they suffered from not heeding the warnings. What relevance does this have for our relationship with God?
God's people ran away from danger
We could explore Noah running from the flood or Abraham running from famine, but we will concentrate on the flight from Egypt. The exodus was an escape. In a hurry. Even their captors urged them to get on with it, "The Egyptians urged the people to hurry and leave the country. "For otherwise," they said, "we will all die!"" (Exodus 12:33 NIV11)
God rescued his people from slavery, idolatry and a context in which they were in danger of being assimilated by the prevailing culture. He carried them to safety, "You yourselves have seen what I did to Egypt, and how I carried you on eagles' wings and brought you to myself." (Exodus 19:4 NIV11)
We have been redeemed, restored and rescued. We have been carried from darkness to light. It is worth reflecting on the urgency of that escape to help us with conviction for today.
Run away — as fast as possible
Israel's track-record of avoiding spiritual danger is patchy. The exile proves that. A Christian is no less vulnerable. The price of freedom can be forgotten. Freedom can be abused, "…do not use your freedom to indulge the flesh; rather, serve one another humbly in love." (Galatians 5:13 NIV11)
One of the reasons we have regular devotional times with God is to keep our spiritual early-warning systems on alert. We need to heed what Paul said to the Corinthians, "Flee from sexual immorality. All other sins a person commits are outside the body, but whoever sins sexually, sins against their own body. Do you not know that your bodies are temples of the Holy Spirit, who is in you, whom you have received from God? You are not your own; you were bought at a price. Therefore honour God with your bodies." (1 Corinthians 6:18-20 NIV11)
Lot dawdled when he should have been running, "Look, here is a town near enough to run to, and it is small. Let me flee to it—it is very small, isn't it? Then my life will be spared."" (Genesis 19:20 NIV11)
Why not spend some time in prayer asking God to make you alert for the moments when you need to flee?
Please add your comments on this week's topic. We learn best when we learn in community.
Do you have a question about teaching the Bible? Is it theological, technical, practical? Send me your questions or suggestions. Here's the email: malcolm@malcolmcox.org.
If you'd like a copy of my free eBook on spiritual disciplines, "How God grows His people", sign up at my website: http://www.malcolmcox.org.
Please pass the link on, subscribe, leave a review.
"Worship the LORD with gladness; come before him with joyful songs." (Psalms 100:2 NIV11)
God bless, Malcolm