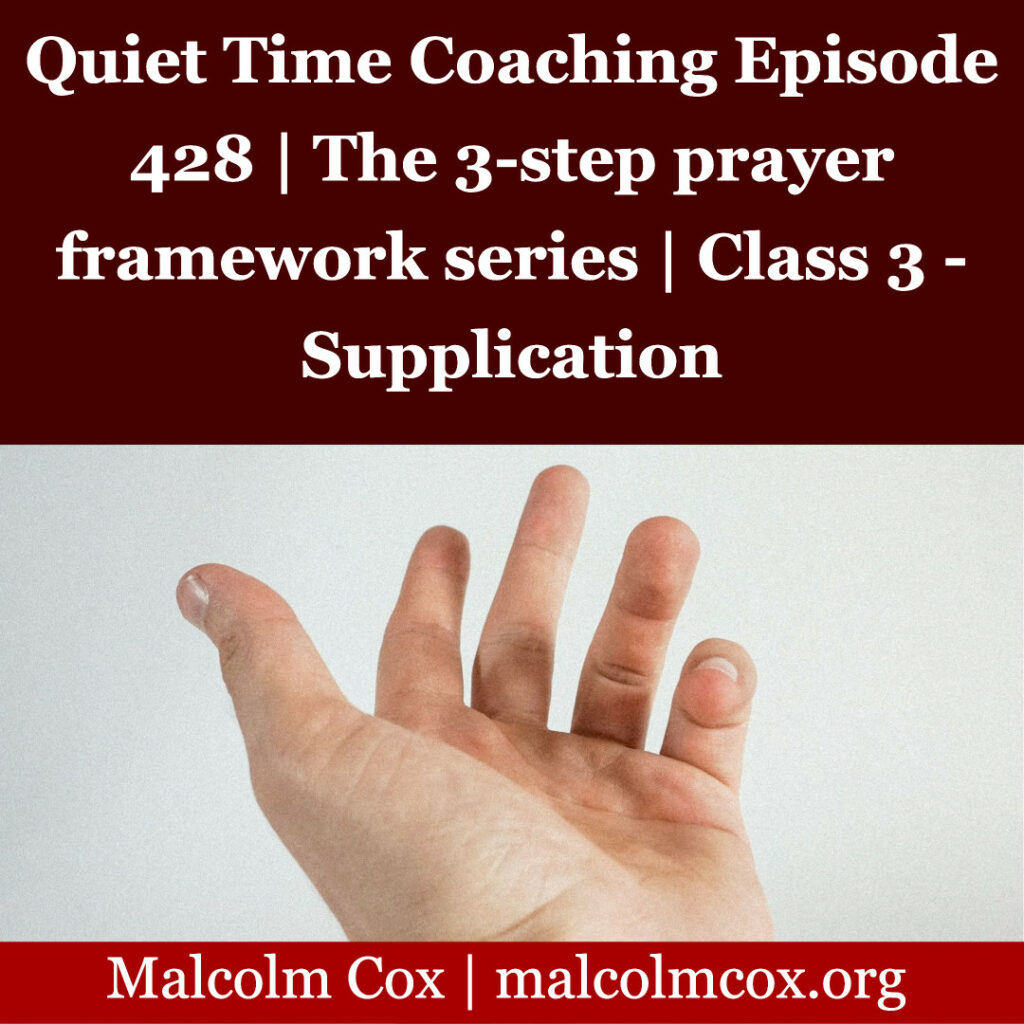 Would you like to freshen up your approach to prayer? I want to share something I have developed that has done just that. It's a three-step prayer framework I've been experimenting with for the last four weeks. Those three steps are 1. Security, 2. Submission, 3. Supplication. In the previous two weeks we have explored security and submission. We continue this week with supplication. First, however, a point of clarification.
Point of clarification
Supplication is a fancy word for 'request'. The point is not the length of the list or the total amount of words — "And when you pray, do not keep on babbling like pagans, for they think they will be heard because of their many words." (Matthew 6:7 NIV11) We are not talking about offering God our shopping list of requests, but we are talking about telling him what we need and what we perceive other people need. With these thoughts in mind, let's consider the example of Jesus.
Supplication:
Supplication is meaningful because it is built on security with God and submission to God's will. Jesus demonstrates this in his life as summarised by this verse, "During the days of Jesus' life on earth, he offered up prayers and petitions with fervent cries and tears to the one who could save him from death, and he was heard because of his reverent submission." (Hebrews 5:7 NIV11) Jesus knew God had the power to save him, "Do you think I cannot call on my Father, and he will at once put at my disposal more than twelve legions of angels?"(Matthew 26:53 NIV11), and trusted him even though it was not appropriate for the Father to supply those angels. How did Jesus manage this? Because his security with God was unshakeable and his submission to God was unbreakable.
These qualities set us up magnificently to present our requests to God. Jesus taught his followers to expect answers to prayer, "If you believe, you will receive whatever you ask for in prayer."" (Matthew 21:22 NIV11) Paul encouraged us to tell God what we need, "Do not be anxious about anything, but in every situation, by prayer and petition, with thanksgiving, present your requests to God."(Philippians 4:6 NIV11)
Conclusion
Do you tell God what you need? Are you requesting his work in the lives of people you care about?
Next time we will go on to look at putting it all together.
Please add your comments on this week's topic. We learn best when we learn in community.
Do you have a question about teaching the Bible? Is it theological, technical, practical? Send me your questions or suggestions. Here's the email: malcolm@malcolmcox.org.
If you'd like a copy of my free eBook on spiritual disciplines, "How God grows His people", sign up at my website: http://www.malcolmcox.org.
Please pass the link on, subscribe, leave a review.
"Worship the LORD with gladness; come before him with joyful songs." (Psalms 100:2 NIV11)
God bless, Malcolm