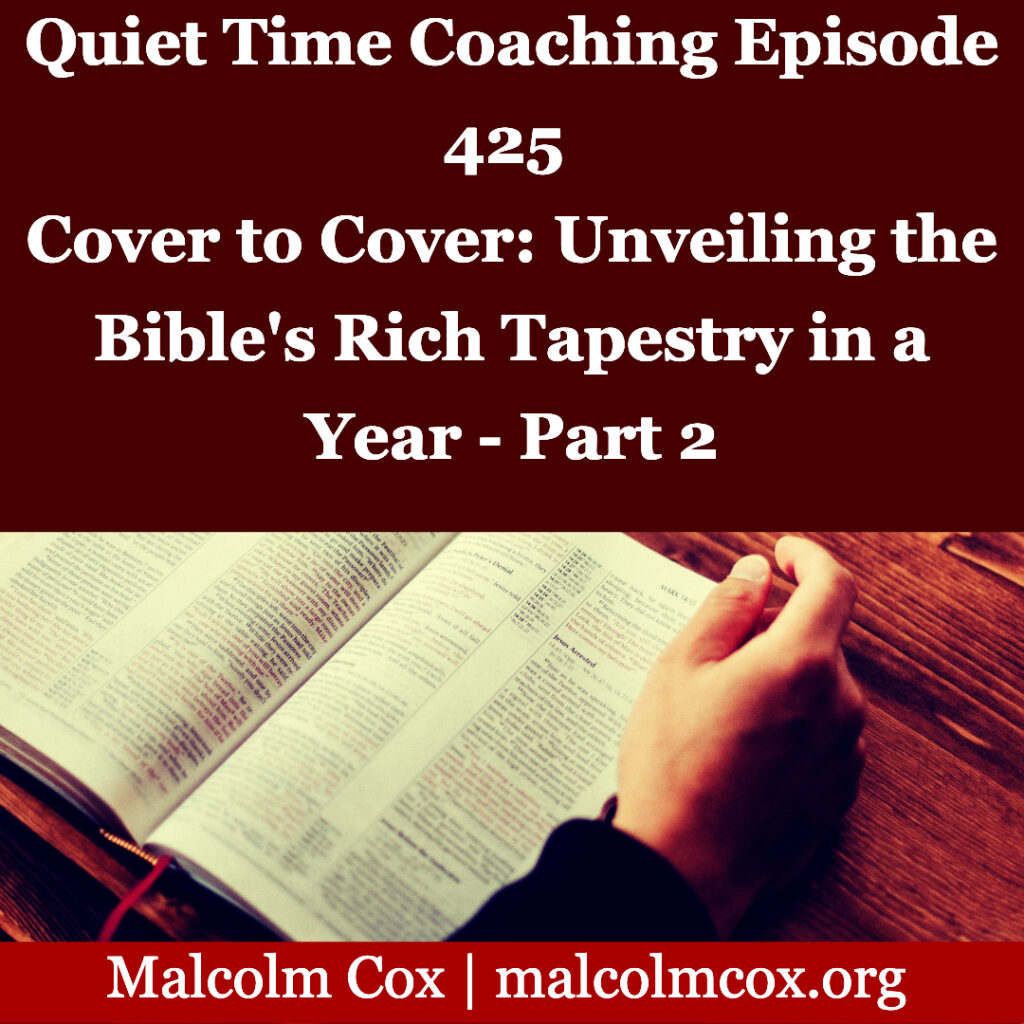 The more I study the Bible in detail, the more I realise I need a better handle on the big picture
As I mentioned in last week's episode, several things have come together recently to help me make the decision to read the entire Bible in 12 months. The two sources of inspiration for this decision are my good friend Douglas Jacoby who has been doing this for years, and the fact that studying texts in detail has required me to look at the rest of the Bible's teaching on the topics raised there.
Is this something you might consider? If you would like further motivations for reading the Bible in 12 months, here are some given to me by chat GPT! See what you make of these…
Spiritual Growth: Engaging with the Bible regularly allows individuals to deepen their spiritual understanding and connection with their faith. It provides insights into the core beliefs and teachings of their religious tradition.
Comprehensive Understanding: Reading the entire Bible in 12 months ensures that you cover both the Old and New Testaments, providing a comprehensive understanding of the sacred scriptures, their historical context, and the overall narrative of the faith.
Discipline and Commitment: Committing to read the Bible over a year requires discipline and consistency, fostering a sense of commitment and perseverance in spiritual practices.
Personal Reflection: Regular reading of the Bible prompts introspection and self-reflection. The stories, parables, and teachings can often resonate with one's own life experiences, leading to personal growth and insights.
Inspiration and Encouragement: The Bible contains numerous stories of faith, resilience, and hope, which can inspire and encourage individuals during challenging times.
Community and Discussion: Reading the Bible on a schedule can be done individually or as part of a group study. Engaging with others in discussions about the scriptures fosters a sense of community and allows for diverse perspectives and interpretations.
Cultural and Literary Knowledge: The Bible has profoundly influenced Western literature, art, and culture. By reading it in its entirety, one gains valuable insights into references and allusions found in various works of art and literature.
I hope you find these reflections helpful. Reading the Bible in 12 months is to some degree an artificial aim. However, I cherish the idea of becoming more familiar with all of Scripture. It's there for a reason, and interacting with it can only enrich my life. Let me know your thoughts.
Please add your comments on this week's topic. We learn best when we learn in community.
Do you have a question about teaching the Bible? Is it theological, technical, practical? Send me your questions or suggestions. Here's the email: malcolm@malcolmcox.org.
If you'd like a copy of my free eBook on spiritual disciplines, "How God grows His people", sign up at my website: http://www.malcolmcox.org.
Please pass the link on, subscribe, leave a review.
"Worship the LORD with gladness; come before him with joyful songs." (Psalms 100:2 NIV11)
God bless, Malcolm