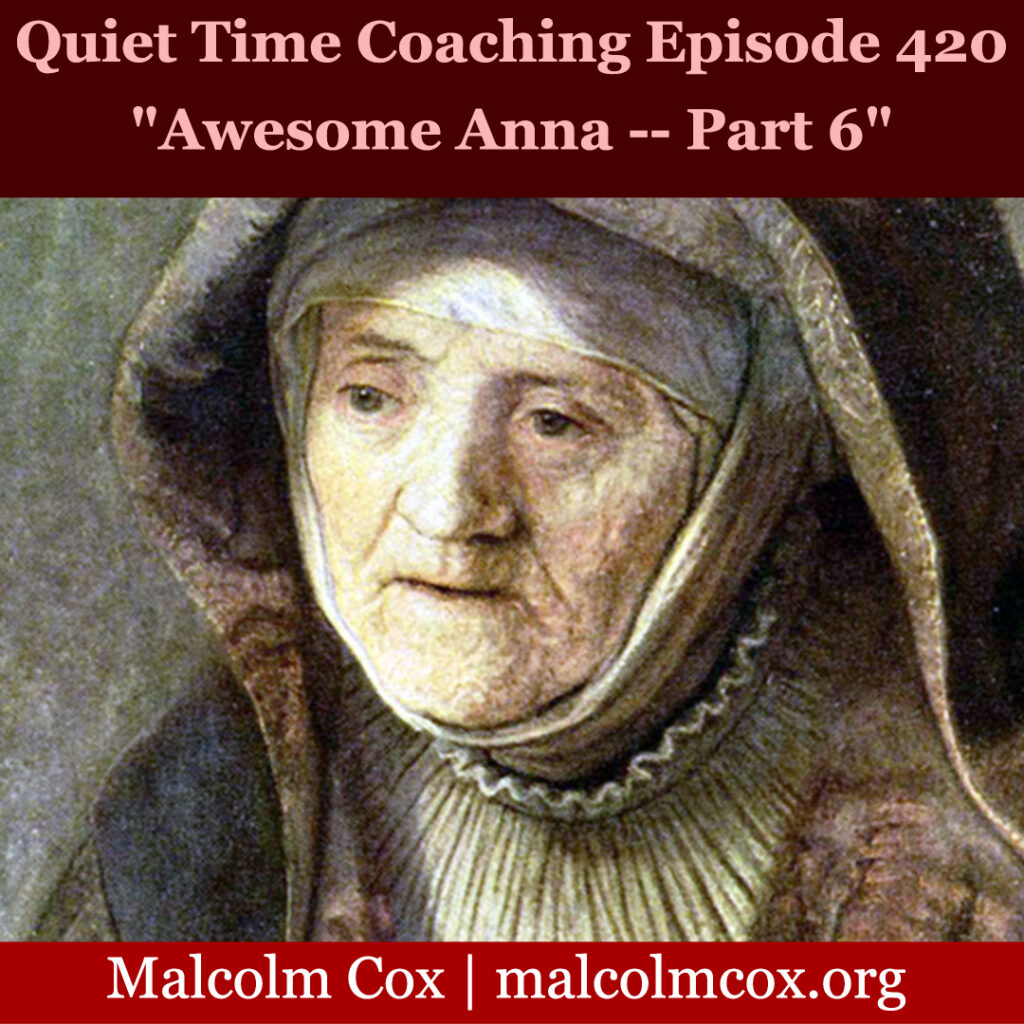 Introduction
Studying Anna for a sermon led me to some unexpected insights about her devotional life. It inspired me to put a multi-episode series together.
The Text
"There was also a prophet, Anna, the daughter of Penuel, of the tribe of Asher. She was very old; she had lived with her husband seven years after her marriage, and then was a widow until she was eighty-four. She never left the temple but worshiped night and day, fasting and praying. Coming up to them at that very moment, she gave thanks to God and spoke about the child to all who were looking forward to the redemption of Jerusalem." (Luke 2:36–38 NIV11)
How can we sum up Anna's relationship with God?
Anna recognised Jesus as Messiah and it delighted her.
Mary the mother of Jesus was the first person to have the good news announced to her. Simeon recognises Jesus as the Messiah he was promised to see. But Anna is the first person to understand fully and proclaim the good news — and she is a woman. God chose the unexpected to see and delight in his son.
Anna is the only woman in the New Testament explicitly described as a "prophetess." She is one of the many women in Jesus' life highlighted by the gospel writers. Those in his genealogy include Tamar, Bathsheba, Ruth, Rahab and Mary. Anna stands here as the first evangelist, but we also read about Mary — who we know better than Joseph — the women disciples, those at the cross and the tomb.
Anna is also one of several widows highlighted by Scripture. Jesus calls attention to the widow and her coins (Luke 21.2), references a widow as a teaching point (Luke 4.26), he raises the son of the widow (Luke 7.12), and has a widow as the hero of a parable (Luke 18.3). Ruth has an entire book of Scripture named after her.
Applications
You are a valid witness. It does not matter what other people think of you. If you have come to know Jesus as Messiah, you can tell people about him.
What will help you to have the confidence God wants you to have? In what way does Anna's devotion inspire your own?
Conclusion
As someone once said, "Anna, the prophetess of faith, stood as a testament to the power of perseverance and devotion. In her eyes, she saw the promise of redemption, and in her voice, she echoed the divine grace. Like a guiding star, she illuminated the path of those who sought truth, reminding us that in every age, there are those who carry the light of prophecy and inspire us to embrace hope."
Please add your comments on this week's topic. We learn best when we learn in community.
Do you have a question about teaching the Bible? Is it theological, technical, or practical? Send me your questions or suggestions. Here's the email: malcolm@malcolmcox.org.
If you'd like a copy of my free eBook on spiritual disciplines, "How God grows His people", sign up at my website: http://www.malcolmcox.org.
Please pass the link on, subscribe, and leave a review.
"Worship the LORD with gladness; come before him with joyful songs." (Psalms 100:2 NIV11)
God bless, Malcolm
https://www.biblicalarchaeology.org/daily/people-cultures-in-the-bible/people-in-the-bible/anna-in-the-bible/ Robin Branch