Malcolm's Major Moments, 28 September 2019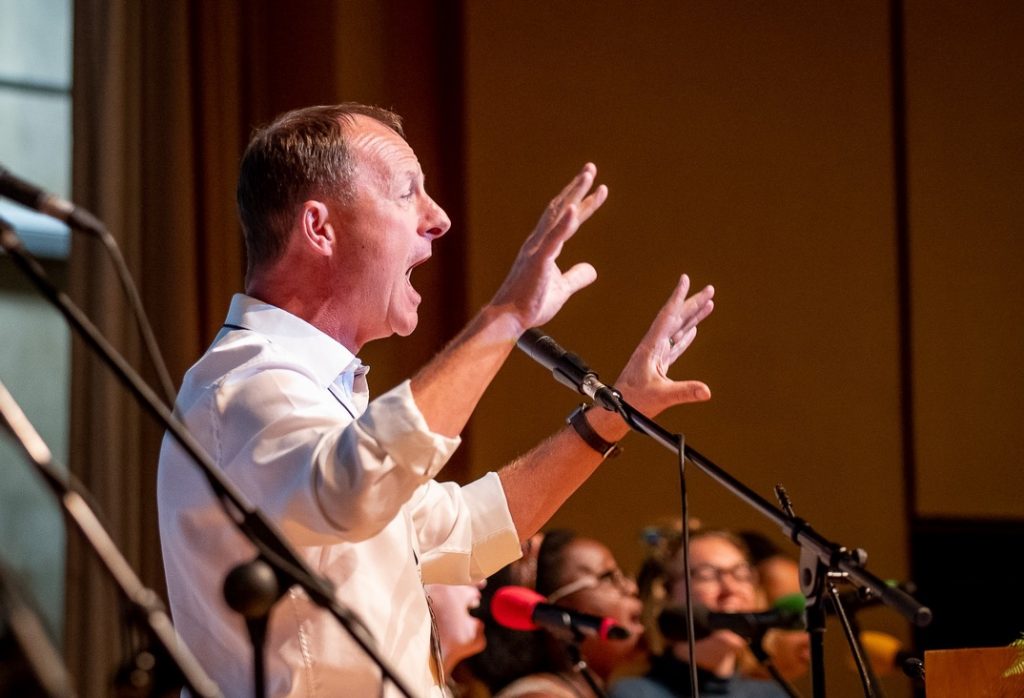 One in voice and joy
I enjoy singing when we have house church. That's probably what it was like for Jesus and his disciples – "When they had sung a hymn, they went out to the Mount of Olives." (Matthew 26:30 NIV11).
It doesn't matter how big or small the group, the quality of our worship can remain the same. However, I have to say that occasionally singing with close to a thousand people or so is something else! That's what happened this last Saturday and Sunday at our UK and Ireland conference in central London.
One of the great joys in leading others in worshipful singing is the ability to see everybody. To see them singing. To see them moving. To see their smiles! It was my privilege to lead a couple of songs on the Saturday of the conference. It really was a privilege. The energy, the zeal, the overflowing joy was palpable.
Perhaps the reason this is so inspiring is because it gives us a glimpse of what it must be like in that other realm which will be joined to ours one day:
"Then I looked and heard the voice of many angels, numbering thousands upon thousands, and ten thousand times ten thousand. They encircled the throne and the living creatures and the elders. In a loud voice they were saying:
"Worthy is the Lamb, who was slain,
to receive power and wealth and wisdom and strength
and honour and glory and praise!" Then I heard every creature in heaven and on earth and under the earth and on the sea, and all that is in them, saying:
"To him who sits on the throne and to the Lamb
be praise and honour and glory and power,
for ever and ever!"" (Revelation 5:11–13 NIV11)
It's not that one context for worship is better than another. Each has its place. But, it must be a healthy thing for a Christian who is habitually in a large group to occasionally participate in small group worship. And it surely adds something to our faith if we are in a small group to occasionally participate in a large crowd offering praise to God.
Have you had the opportunity, or can you find a way to worship with a larger or smaller group than is normal for you? Seek it out. You will find it a blessing.
I offer my recordings this week in the hope that they will keep you connected with Jesus and effective at proclaiming his love and truth.
The podcast summary contains a reminder of what's been posted on my site this week. I.e. the usual TTT, SS & QTC. To watch/listen to any posts, just head over the the website.
---
Prayer request
This week's prayer request is that by this time next week I will be able to fix a date for the spiritual disciplines group retreat. I have found what I think is a good venue (more in the section on that in the newsletter). Now I need confirmation of interest and then I will make a booking for March next year. Of course, if this is not God's will then I also need to hear that.
---
Thank you for reading this far, and encouraging me in my endeavours to support our times of quiet with God, our corporate worship experiences, and the effectiveness of our preaching and teaching.

If you know anyone who might enjoy these materials, please send them a link to my website and encourage them to sign up for this newsletter.

God bless, Malcolm