What we are reading: Episode 47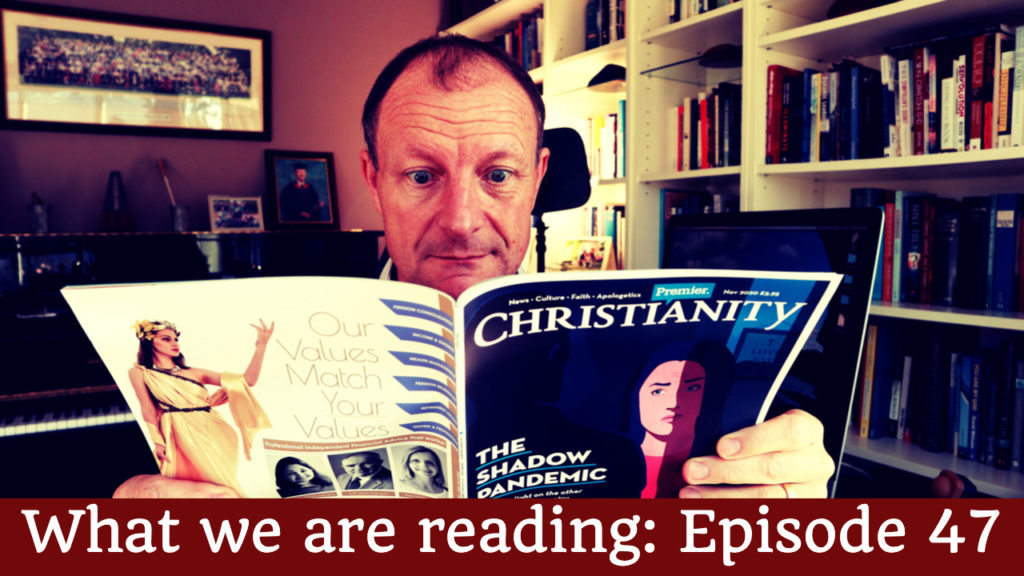 In amongst the books, physical, kindle and audio, one should not forget magazines. Which magazines are you reading, and why? Let me share with you today my current magazine reading.

Currently I have four on the go – subscriptions to publications I find useful and interesting. In the past I've had more, but these days I'm limiting myself to four because then I get through them rather than allow them to stack up and gather dust!

Here they are:

https://www.biblicalarchaeology.org/magazines/

https://www.christianitytoday.com

https://www.premierchristianity.com

https://churchesofchrist.co.uk/christian-worker-newsletter/
---
1. Christianity Today

I have been reading CT longer than any other magasine, ever since Douglas Jacoby recommended it to me back in the 90s. Founded by Billy Graham in the 1950s, it contains a blend of scholarly articles, contemporary Christian commentary on social and political issues, reviews of books and other media, and some devotional material.

The outlook is Americocentric, but a global perspective is kept in mind. It is avowedly evangelical in perspective, but contains articles from other theological streams. Each edition has one major theme.

What does it do for me?

It provides me with an overview of Christian thinking in the country which, arguably, has the greatest influence on Christendom today. It is said that what happens in the USA will creep across the pond to Europe at some point. It certainly seems that this applies to trends within Christendom as much as anything else.

My thinking is stimulated by articles written on topics I have not considered, and challenged by perspectives different to my own. I need this. Sometimes I don't like it. But CT prevents me from inhabiting an artificial bubble of prior assumptions and hermetically sealed doctrines.
---
2. Premier Christianity magazine

I started reading this magazine sometime in the 2000s. I wanted to get a better picture of the picture of Christendom is a whole within the UK.

Like CT it is decidedly evangelical. Many other similarities exist between these two magazines, although the emphasis in Premier is more on the devotional and discipleship side of Christianity.

What does it do for me?

It gives me an overall picture of the trends of Christendom within this country. It challenges my thinking by providing different spiritual and theological viewpoints. The personal testimonies remind me God moves in mysterious ways! The reviews of media make me buy more books. Not that I need much encouragement!

I feel more connected with those setting the trends for Christendom within this country. Some of those trends are questionable as to their spiritual health, but others enable me to see the way that my discipleship can be more healthily connected to the contemporary needs of my fellow citizens.
---
3. Biblical Archaeology Review

If I remember correctly, this is another recommendation from my friend Douglas Jacoby. It's a very different beast from the magazines mentioned above.

BAR contains some scholarly articles, reports on digs, and commentary on what has been discovered. You'll also find some book reviews.

What does it do for me?

The value of this magazine is in helping me to understand the biblical period better via it's detritus. I find my faith strengthened. Whilst it is true that archaeology will never prove the Bible is the Word of God, it does confirm its accuracy and reliability.

As someone stated, and I forget who now, the more digging that is done provides more positive evidence for the reliability of the Bible. If the Bible was a fabrication, the more evidence that was uncovered, the more likely it would be that something contradictory to the Bible would be found. The exact opposite is the case.

You may find some claims disturbing. Not all the articles are written by believers, and even amongst some of those who hold to a belief in God, some are decidedly liberal in their interpretation of Scripture. However, this is not necessarily a bad thing. How can we be sure we are right, or wrong, unless challenged by alternative views?
---
4. The Christian Worker

The Christian worker is a magazine produced for what are sometimes called the mainline or mainstream churches of Christ in the UK.

The magazine includes good news from churches around the country, reports on needs and progress with the mission abroad, obituaries, news of upcoming events, some reflective comments, occasional book reviews, news from the British Bible School and some deeper theological articles.

What does it do for me?

Why do I read it? Partly to give me a picture on what's going on with our 'cousins' in the mainstream churches of Christ. And to remind myself there are many people striving to do the best for God with, essentially, the same doctrines as myself. It is a bulwark against arrogance.

It has also helped to foster some personal connections with members of the churches of Christ. I hope and pray that these might bear fruit for both myself and them. I do not know where that will go, but I trust that with God's help we can find ways to strengthen one another's faith for the benefit of this country, the glory of God and expansion of the kingdom.
---
Other magazines

Until recently I was reading Worship Musician magazine. It is wonderful, but I've had to make a difficult decision to drop it for now because of other commitments. I would consider it almost compulsory reading for anyone who has responsibility for leading a worship team.

https://www.worshipmusician.com
---
Other media

I have not mentioned the email newsletters I read and podcasts I listen to. Those will have to wait for another edition of "What we are reading".
---
Other Uses

One of the many benefits of reading these magazines is the ability to scan in articles, pull out and store quotes, find ideas for Teaching Tips and other broadcasts, illustrations for sermons and much more.

I use the 'scannable' app for scanning physical materials, and save highlighted sections of text from digital resources in Notion.
---
Your thoughts…please?

Do you read any of these magazines? What do you think of them? What do they do for you? Which magazines are you reading? Please share the value they bring to you and let us benefit from your experience.

Please add your comments on this week's topic. We learn best when we learn in community.

Do you have a question about teaching the Bible? Is it theological, technical, practical? Send me your questions or suggestions. Here's the email: malcolm@malcolmcox.org.

If you'd like a copy of my free eBook on spiritual disciplines, "How God grows His people", sign up at my website: http://www.malcolmcox.org.

Please pass the link on, subscribe, leave a review.

"Worship the LORD with gladness; come before him with joyful songs." (Psalms 100:2 NIV11)

God bless, Malcolm