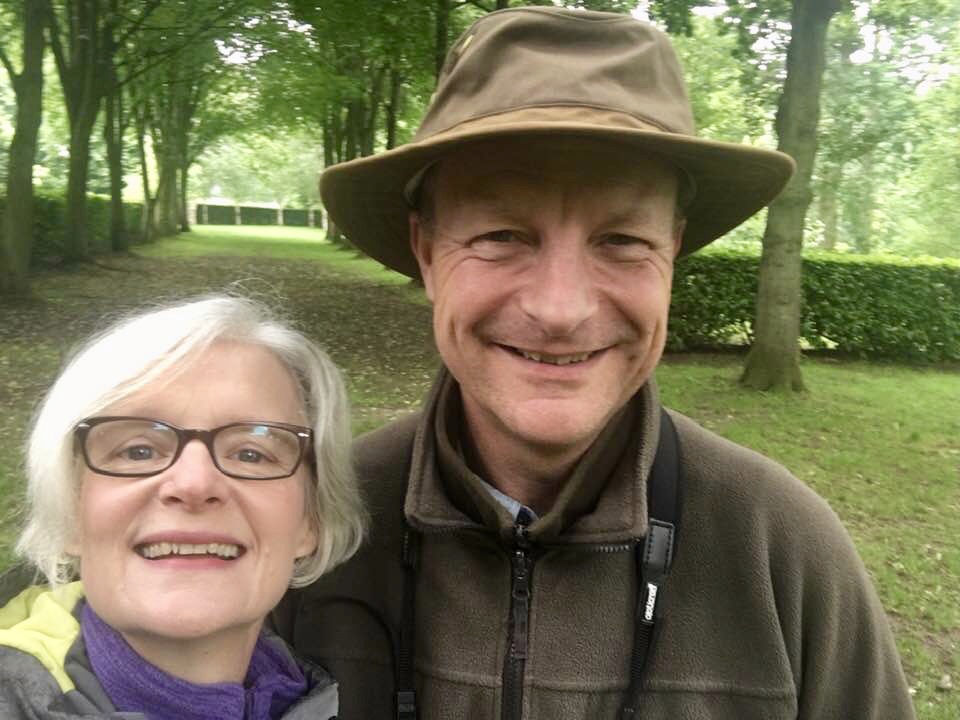 This last Wednesday was Penny's birthday. We both had a day off and went out for a nice long stroll at the Dunstable Downs (plus cake!). We parked and began our walk near something called the "Tree Cathedral". 
Here is the description from the National trust website:
"Whipsnade Tree Cathedral was the vision of Edmund Blyth, who served in the infantry in World War I and suffered the loss of dear friends Arthur Bailey and John Bennett, who died in the March retreat of 1918. Edmund wanted to create a lasting legacy for his comrades-in-arms who were no longer with him and so began the idea of a unique First World War commemoration. Situated on the edge of Whipsnade Village green, the Tree Cathedral is composed of different varieties of trees and shrubs laid out to the plan of a cathedral, with a nave, transepts, chancel, cloisters and chapels. The idea of a Cathedral constructed with trees and plants is original and it's one of Bedfordshire's unique hidden gems."
I've been there many times for special extended prayers. On this occasion, Penny and I sat on a bench in the 'nave' of the cathedral and prayed for a while thanking God for another year together and the beauty of nature all around us. Edmund Blyth had the vision to construct this 'cathedral' out of trees, hedges and shrubs. It is beautiful, and a fitting memorial to his friends. But we don't need something manufactured to catch a vision of the goodness of God. We just need to open our eyes to his goodness all around us. Genesis reminds us that God is all about making what is good:
"The land produced vegetation: plants bearing seed according to their kinds and trees bearing fruit with seed in it according to their kinds. And God saw that it was good." (Genesis 1:12 NIV11)
Has this been a "good" week for you? I think it has. Perhaps it's been difficult, even tragic. But, God is working something good in our lives if we could only but see it. Occasionally the darkness, the mist, the confusion hides God's purposes for us for a time. But, he is all about what is good, and can only do what is good for us – and we will see it as such eventually.
What's important is that we hold onto a vision of God as good, even when it doesn't feel like it or look like it. This week I read a challenging and inspiring small book. Here's a quote from it:
"The vision that really matters is the vision of how good God is and how blessed I am to be his child. This vision, of an already existing reality, sees the goodness and competence of God. Then out of the goodness of that vision grows a desire to do something for God, to make his kingdom real…. All human work is meant to be rooted in what God is doing….The only safe way to lead a team is to be rooted in this God vision. It's not a vision of what might happen someday. It's a vision of what already is. It's a vision of God and the goodness of God. If I can live in that vision, then I will seek to do good things with God, and I won't be clutching onto outcomes in a life-or-death manner." Ortberg, John. Overcoming Your Shadow Mission (Leadership Library) (pp. 91-93). Zondervan. Kindle Edition.
One of the reasons we engage in the spiritual disciplines, including prayer and reading God's word, is to help us hold onto the conviction of God's goodness in the present, not just the hereafter. The joy is not only in knowing where we're going, but in knowing that we have a companion on the journey. And that companion is our great God who only has the best in mind for us.
I wish you a wonderful week of walking in God's goodness.
God bless, Malcolm
Please add your comments on this week's topic. We learn best when we learn in community.
Do you have a question about teaching the Bible? Is it theological, technical, practical? Send me your questions or suggestions. Here's the email: malcolm@malcolmcox.org.
If you'd like a copy of my free eBook on spiritual disciplines, "How God grows His people", sign up at my website: http://www.malcolmcox.org.
Please pass the link on, subscribe, leave a review.
PS: You might also be interested in my book: "An elephant's swimming pool", a devotional look at the Gospel of John