The impact of the resurrection – Part 1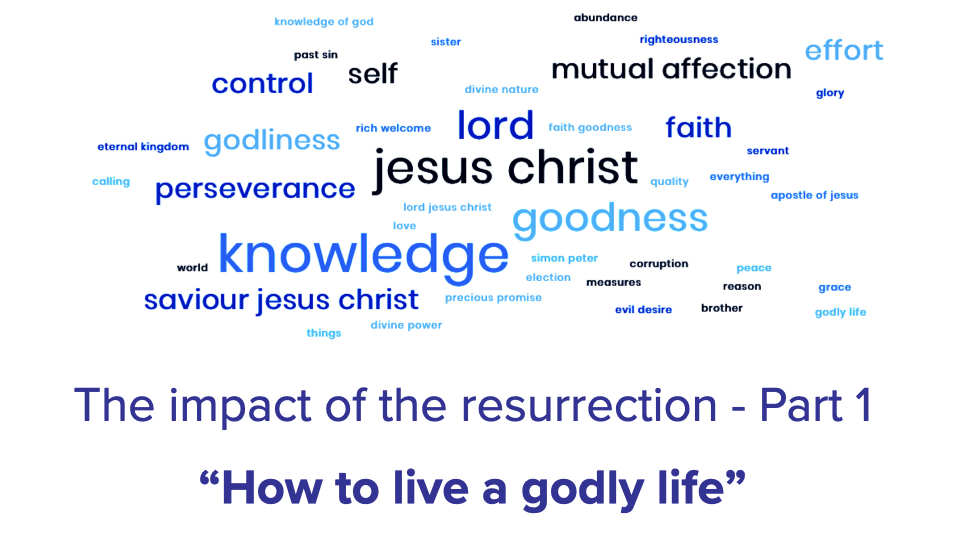 A sermon for the Watford Church of Christ
Main Point: Christians are called to a godly/new/resurrection life via Divine power and grace
Introduction
Why we are looking at this?
Post-Easter – consequences of resurrection
"We were therefore buried with him through baptism into death in order that, just as Christ was raised from the dead through the glory of the Father, we too may live a new life. For if we have been united with him in a death like his, we will certainly also be united with him in a resurrection like his. For we know that our old self was crucified with him so that the body ruled by sin might be done away with, that we should no longer be slaves to sin— because anyone who has died has been set free from sin. Now if we died with Christ, we believe that we will also live with him. For we know that since Christ was raised from the dead, he cannot die again; death no longer has mastery over him. The death he died, he died to sin once for all; but the life he lives, he lives to God." (Romans 6:4–10 NIV11)
Context of 2 Peter
Peter near end – "I think it is right to refresh your memory as long as I live in the tent of this body, because I know that I will soon put it aside, as our Lord Jesus Christ has made clear to me." (2 Peter 1:13–14 NIV11)
Jesus is coming back, therefore how we live (the new life) does matter

False teachers – 2.1ff
"But there were also false prophets among the people, just as there will be false teachers among you. They will secretly introduce destructive heresies, even denying the sovereign Lord who bought them—bringing swift destruction on themselves. Many will follow their depraved conduct and will bring the way of truth into disrepute. In their greed these teachers will exploit you with fabricated stories. Their condemnation has long been hanging over them, and their destruction has not been sleeping." (2 Peter 2:1–3 NIV11) Motivated by greed

Scoffers
"Above all, you must understand that in the last days scoffers will come, scoffing and following their own evil desires. They will say, "Where is this 'coming' he promised? Ever since our ancestors died, everything goes on as it has since the beginning of creation."" (2 Peter 3:3–4 NIV11)

Relevance of this passage for us

We are not called to a 'good' life, but a 'godly' (new) life, 3.11-12. Maturity is the doorway to eternity – add to our faith, increasing measure . More than just being busy!
We are enabled to live this (new) life by the manifestation of the divine power into our lives – grace is ours, i.e. true freedom
I.e. the power is not ours (v3), but God's working in and through us – our part is to cooperate, willingly, with effort

Today: How to have a godly life

1. Divine Power, v3
When you think of divine power – what comes to mind?
Resurrection power
"who through the Spirit of holiness was appointed the Son of God in power by his resurrection from the dead: Jesus Christ our Lord." (Romans 1:4 NIV11)
Jesus is present with us – in person and in power
"For we did not follow cleverly devised stories when we told you about the coming of our Lord Jesus Christ in power, but we were eyewitnesses of his majesty. He received honor and glory from God the Father when the voice came to him from the Majestic Glory, saying, "This is my Son, whom I love; with him I am well pleased." We ourselves heard this voice that came from heaven when we were with him on the sacred mountain." (2 Peter 1:16–18 NIV11)

"But you will receive power when the Holy Spirit comes on you; and you will be my witnesses in Jerusalem, and in all Judea and Samaria, and to the ends of the earth."" (Acts 1:8 NIV11)

"God has raised this Jesus to life, and we are all witnesses of it. Exalted to the right hand of God, he has received from the Father the promised Holy Spirit and has poured out what you now see and hear" (Acts 2:32–33 NIV11)
His divine power and presence gives us…….
2. Everything we need
Do we really believe this?
"The LORD is my shepherd, I lack nothing." (Psalm 23:1 NIV11)

"I know what it is to be in need, and I know what it is to have plenty. I have learned the secret of being content in any and every situation, whether well fed or hungry, whether living in plenty or in want. I can do all this through him who gives me strength." (Philippians 4:12–13 NIV11)

"my God will meet all your needs according to the riches of his glory in Christ Jesus." (Philippians 4:19 NIV11)
Therefore we can do all God has called us to do.
The Christian life is hard at times, but never involves a demand to do what is not possible
If we really believed we had all we needed, what difference would it make to our lives?
His presence and power is enough for us to live ……
3. A godly life
What does a godly life look like?A Christ-like lifeLoving others as selfServing not being servedGrowing into this is key – comes through the struggles like those of Jesus
"I want to know Christ—yes, to know the power of his resurrection and participation in his sufferings, becoming like him in his death," (Philippians 3:10 NIV11)
A godly life is ours through a relationship with Jesus….
4. Through our knowledge of him
"But grow in the grace and knowledge of our Lord and Saviour Jesus Christ. To him be glory both now and forever! Amen." (2 Peter 3:18 NIV11)
What does knowledge of God/Jesus mean?Knowing him draws us to him
"And I will ask the Father, and he will give you another advocate to help you and be with you forever— the Spirit of truth. The world cannot accept him, because it neither sees him nor knows him. But you know him, for he lives with you and will be in you. I will not leave you as orphans; I will come to you. Before long, the world will not see me anymore, but you will see me. Because I live, you also will live." (John 14:16–19 NIV11)
We know Jesus because he lives in usOur responsibility is to know Christ and his gloryGod's responsibility is to give us everything we need for life and godliness – real lifeThis gift of knowing Jesus is our because we have been……
5. Called by his own glory and goodness
What does it mean to be 'called'?Called by him
"And we know that in all things God works for the good of those who love him, who have been called according to his purpose. For those God foreknew he also predestined to be conformed to the image of his Son, that he might be the firstborn among many brothers and sisters. And those he predestined, he also called; those he called, he also justified; those he justified, he also glorified." (Romans 8:28–30 NIV11)
i.e. initiative is God's – grace
Which inspires our gratitude for what Jesus has done
Conclusion
A godly life is possible because empowered by the Spirit
A godly life looks like one becoming more and more like Jesus
Suggestions to develop/fully inhabit a godly life….

Meditate and pray over these scriptures
Talk about how can live this godly life with your friends
"He has saved us and called us to a holy life—not because of anything we have done but because of his own purpose and grace. This grace was given us in Christ Jesus before the beginning of time, but it has now been revealed through the appearing of our Saviour, Christ Jesus, who has destroyed death and has brought life and immortality to light through the gospel." (2 Timothy 1:9–10 NIV11)
Please add your comments on this week's topic. We learn best when we learn in community. Do you have a question about teaching the Bible? Is it theological, technical, practical? Send me your questions or suggestions. Here's the email: [malcolm@malcolmcox.org](mailto:malcolm@malcolmcox.org). If you'd like a copy of my free eBook on spiritual disciplines, "How God grows His people", sign up at my website: http://[www.malcolmcox.org](http://www.malcolmcox.org/). Please pass the link on, subscribe, leave a review. "Worship the LORD with gladness; come before him with joyful songs." (Psalms 100:2 NIV11)
God bless, Malcolm