Newsletter 24 April 2020, Episode 43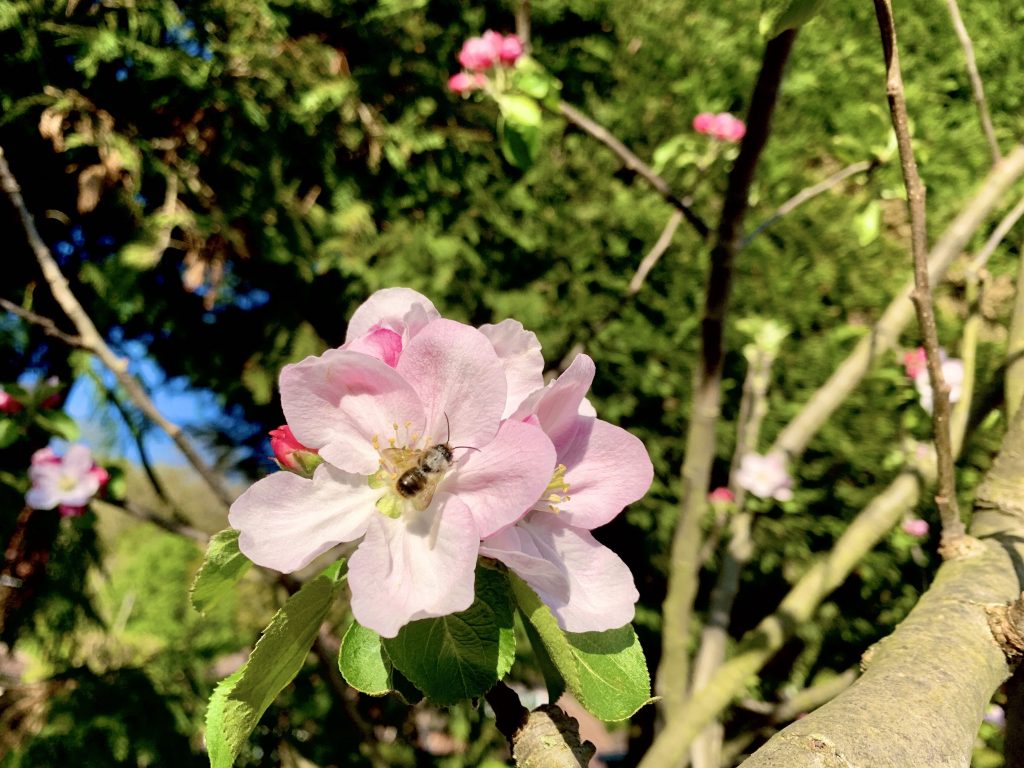 I snapped this buzzy fella in our garden on Tuesday. I found him doing what he needed to do on the Bramley apple tree in our garden. He's pollenating his heart out.
My days are busier than ever. The Covid 19 virus has speeded up, complicated and multiplied my work. In all this busyness, am I doing the right things? Not just the things that keep me busy, give me swift satisfaction and keep people happy, but the things that matter most.
As Paul wrote: "It is fine to be zealous, provided the purpose is good," (Galatians 4:18 NIV11) I may be taking the phrase slightly out of context, but the principles applies. Is the purpose good, really good – in fact the right priority?
I had a conversation with a friend today. He and I discussed this very topic. I have some decisions to make regarding a project. How involved should I be? At what level? He reminded me that a critical element of my effectiveness, is having enough margin to assess what my priorities are.
In all your busyness at the moment, are you taking time to step back long enough to consider if you are involved in the matters that really matter? Are the most important people in your life getting the attention they need? Are you focusing on your unique contribution to the kingdom of God?
I've been neglecting my "sabbath days". As a result, although I've been busy, I feel I've lost some of my vision. On Monday, I'm going to go off early, take a notebook and a flask of coffee, have a good long prayer walk, sit down somewhere, and consider life from a different angle. It's time to assess my priorities and look forward into the month of May with a clearer and hopefully cleaner view of my priorities.
If you can, make some time, some uninterrupted undistracted time to let God speak into your heart and clarify, and refine and inspire your priorities.
God bless, and stay safe, Malcolm