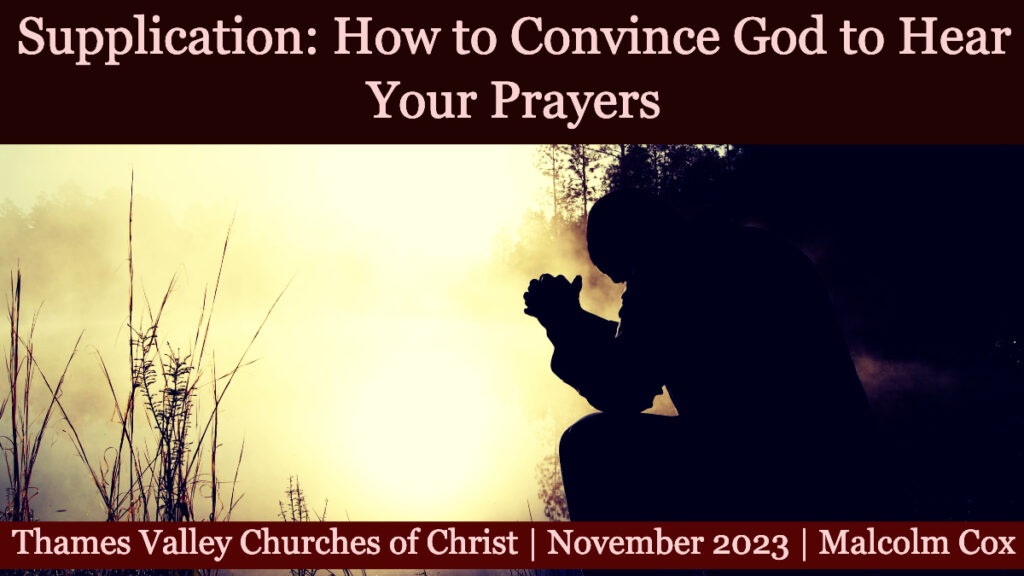 Class 3 – Supplication: How to Convince God to hear Your Prayers
In this short series we are exploring how our security in the Father enables our willing submission to him and what difference that makes to our prayers. In the first episode we talked about the way in which we hear our Father's voice. We considered the example of Jesus, and took inspiration from his ability to hear his Father's voice in passages like: "This is my Son, whom I love; with him I am well pleased." (Matthew 3:17 NIV11)
In the second episode we tackled the topic of submission. Although submission is challenging to practice, it is so much easier when we are convinced of our heavenly Father's unconditional love for us. Jesus was the ultimate super-submissive son, setting us an example by wrestling in Gethsemane and going to the cross — not because he felt like it, but because it was the will of his Father. Jesus humbly surrendered to the Father's plan, saying, "not as I will, but as you will." His submission demonstrated the depth of His trust in God's wisdom and divine purpose.
What does this mean for our own prayer-life? Today we will explore the meaning of this text:
"In the days of his flesh, Jesus offered up prayers and supplications, with loud cries and tears, to the one who was able to save him from death, and he was heard because of his reverent submission. Although he was a Son, he learned obedience through what he suffered; and having been made perfect, he became the source of eternal salvation for all who obey him, having been designated by God a high priest according to the order of Melchizedek." (Hebrews 5:7-10 NRSV)
Point of clarification
You will notice that the NRSV translation uses the word 'supplication'. What does that mean? The Greek word is ἱκετηρία, meaning 'request'. We find it in other passages such as Philippians 4:6–7 and 1 Timothy 2:1. Supplication is a fancy word for 'request'.
Could requesting things from God be dangerous? Might we stray into a selfish focus to our prayers? Could praying become the presentation of our shopping list to God? That is possible, but does not need to be the case. If we have first grasped our security in God and moved to a place of willing submission to his will we will be praying because we trust he cares and has our best interests at heart – whatever the outcome. We are talking about telling God what we need and what we perceive other people need. With these thoughts in mind, let's consider the example of Jesus.
Jesus and Supplication
Supplication is meaningful because it is built on security with God and submission to God's will. Jesus demonstrates this in his life as summarised by this verse, "In the days of his flesh, Jesus offered up prayers and supplications, with loud cries and tears, to the one who was able to save him from death, and he was heard because of his reverent submission."
(Hebrews 5:7 NRSV). Jesus knew God had the power to save him, "Do you think I cannot call on my Father, and he will at once put at my disposal more than twelve legions of angels?"(Matthew 26:53 NIV11), and trusted him even though it was not appropriate for the Father to supply those angels. How did Jesus manage this? Because his security with God was unshakeable and his submission to God was unbreakable. I believe the way his prayer was heard was in that God gave him the strength to endure his will for Jesus — to go to the cross.
Security and submission set us up magnificently to present our requests to God. Jesus taught his followers to expect answers to prayer, "If you believe, you will receive whatever you ask for in prayer."" (Matthew 21:22 NIV11) Paul encouraged us to tell God what we need, "Do not be anxious about anything, but in every situation, by prayer and petition, with thanksgiving, present your requests to God."(Philippians 4:6 NIV11)
Conclusion
To state it again — the security and submission of Jesus made his supplications effective. Do you wonder why your prayers are not answered? Perhaps, only perhaps but it is worth reflecting on this, it is because you are lacking in submission to God's will.
Questions for reflection
Do you tell God what you need?
Are you requesting his work in the lives of people you care about?
What holds you back from making your supplications to God?
Next time we will wrap up the series and put it all together — security, submission and supplication.
Please add your comments on this week's topic. We learn best when we learn in community.
Do you have a question about teaching the Bible? Is it theological, technical, practical? Send me your questions or suggestions. Here's the email: malcolm@malcolmcox.org.
Please pass the link on, subscribe, leave a review.
God bless, Malcolm