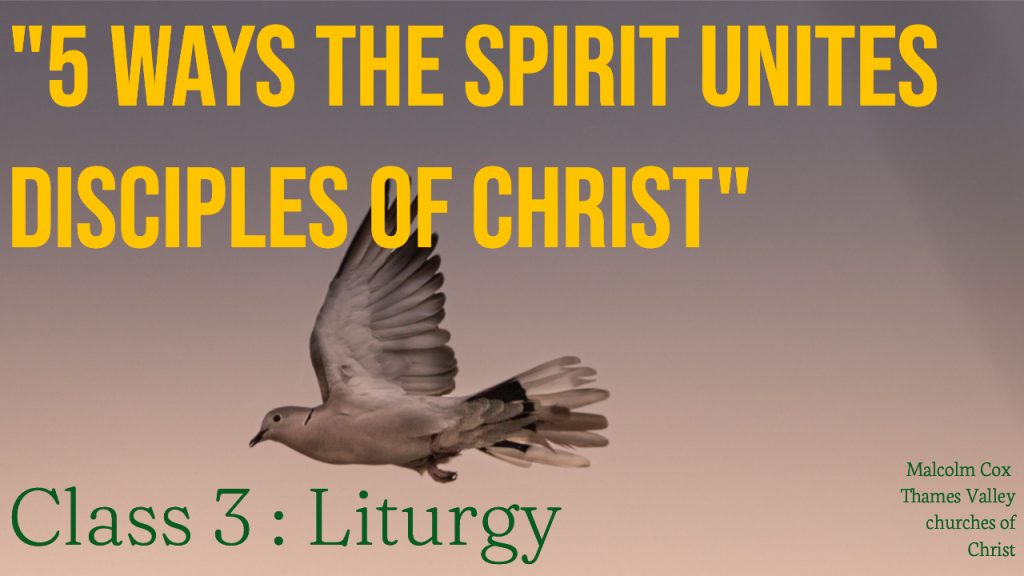 Class 3 – The Spirit Unites Disciples by Liturgy
Five Ways The Holy Spirit Unites Disciples of Christ
Class 3 – The Spirit Unites Disciples Because He is Present When We Gather to Worship
"As a prisoner for the Lord, then, I urge you to live a life worthy of the calling you have received. Be completely humble and gentle; be patient, bearing with one another in love. Make every effort to keep the unity of the Spirit through the bond of peace. There is one body and one Spirit, just as you were called to one hope when you were called; one Lord, one faith, one baptism; one God and Father of all, who is over all and through all and in all." (Ephesians 4:1–6 NIV11)
Last week – transformation: we "are being transformed into his image with ever-increasing glory, which comes from the Lord, who is the Spirit." (2Corinthians 3:17–18 NIV11)
Main Point For Today: The Spirit unites us by being present when we gather to worship and working in us and for us in that collective worship
What is 'liturgy'?

"Liturgy came to designate the church's official (or unofficial) public and corporate ritual of worship, including the Eucharist (or Communion), baptism and other sacred acts. Certain ecclesiastical traditions (such as Roman Catholic, Eastern Orthodox, Anglican) follow a set pattern of worship (the liturgy), whereas many Protestant churches prefer a less structured style. This gives rise to the distinction sometimes made between "liturgical" and "nonliturgical" churches." Grenz, Stanley J., David Guretzki, and Cherith Fee Nordling, eds. Pocket Dictionary of Theological Terms. Accordance electronic edition, version 1.3. Downers Grove: InterVarsity Press, 1999.

Our unity is improved and developed and deepened as we worship together with and in the Spirit. The Spirit is the one who enables this.
We worship in and by the Spirit

"God is spirit, and his worshipers must worship in the Spirit and in truth."" (John 4.24 NIV11)
"For it is we who are the circumcision, we who serve (worship) God by his Spirit, who boast in Christ Jesus, and who put no confidence in the flesh— though I myself have reasons for such confidence." (Philippians 3.3–4 NIV11)

"Because you are his sons, God sent the Spirit of his Son into our hearts, the Spirit who calls out, "Abba , Father."" (Galatians 4:6 NIV11)
The Spirit is present when we worship

"Let the message of Christ dwell among you richly as you teach and admonish one another with all wisdom through psalms, hymns, and songs from the Spirit, singing to God with gratitude in your hearts." (Colossians 3.16 NIV11)
"After they prayed, the place where they were meeting was shaken. And they were all filled with the Holy Spirit and spoke the word of God boldly." (Acts 4.31 NIV11)
"In the same way, the Spirit helps us in our weakness. We do not know what we ought to pray for, but the Spirit himself intercedes for us through wordless groans." (Romans 8.26 NIV11)

Church services are Spirit events

We don't have to do things exactly the same way (not like some fixed liturgy), but what we do when we pray, take the Lord supper, sing together, fellowship and learn from God's word, are all spirit enabled activities.
Because the spirit is in each one of us, and the spirit is relational, connecting all of us.
This is true in an individual congregation, but it must also be true congregation to congregation across the globe and time.
We gather before the throne – together
The gathering is more important than the form.
Questions
In what way does it help your unity with fellow-believers to know that we worship in and by the Spirit?
In what way could you enhance a recognition that the Spirit is present and enabling your worship when you gather?
What is your part in enabling the Spirit to work in and through your collective worship?
Summary
The Spirit unites us by being present in our times of collective worship, and making them effective in bringing us the joy of the spirit and bringing God the glory he deserves.
"May the grace of the Lord Jesus Christ, and the love of God, and the fellowship of the Holy Spirit be with you all." (2Corinthians 13.14 NIV11)
Next time
Practising the Kingdom of God: The way the Spirit unifies us as we minister to others
Please add your comments on this week's topic. We learn best when we learn in community.
Do you have a question about teaching the Bible? Is it theological, technical, practical? Send me your questions or suggestions. Here's the email: malcolm@malcolmcox.org.
If you'd like a copy of my free eBook on spiritual disciplines, "How God grows His people", sign up at my website: http://www.malcolmcox.org.
Please pass the link on, subscribe, leave a review.
"Worship the LORD with gladness; come before him with joyful songs." (Psalms 100:2 NIV11)
God bless, Malcolm