What we are reading, episode 43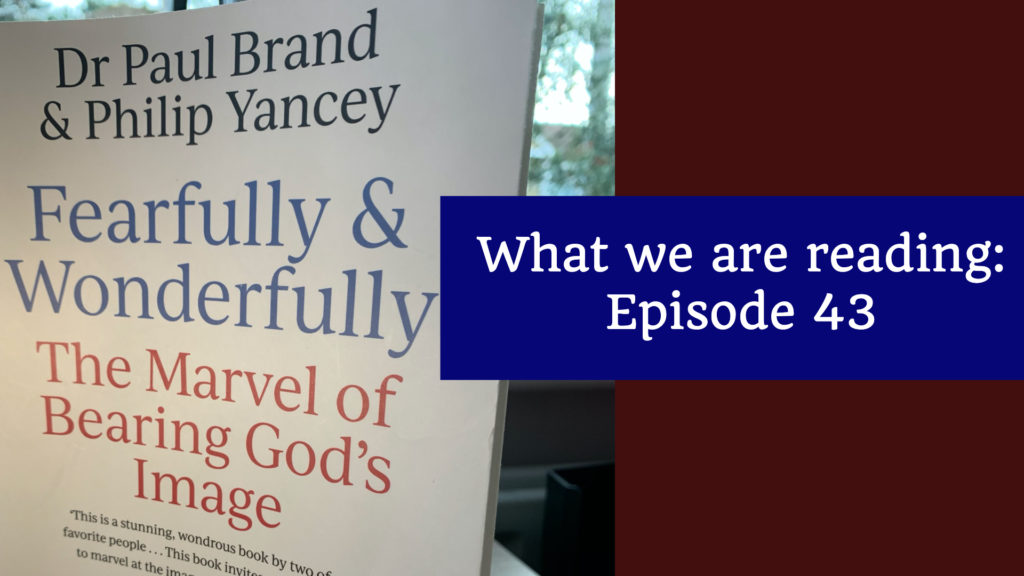 This week I bring you some thoughts from the wonderful book, "Fearfully and Wonderfully" by Dr Paul Brand and Philip Yancey. 
Dr Brand was a pioneering surgeon working with leprosy patients. He draws many parallels between his work and the nature of the body of Christ, the church. The book is a mixture of thoughtful reflections on these parallels, and stories from his work – especially in India. 
I'll not comment much more in this blog, but save the more detailed sharing for the video/podcast. However, I will say this. The personal sacrificial involved in serving the lowest of the low is in itself tremendously inspiring. When that is combined with reflecting on the life of Jesus and his desire for the healing of all people (and things), it brought a lump to my throat several times over.
Married to a doctor as I am, the medical language found a ready home, but you do not need to be medically literate to understand Dr Brand's descriptions. You might, however, need a strong stomach.
Why does this book matter? It matters because it takes a compassionate sledgehammer to the all-too-desirable lie that Christianity is about feelings, ideas, philosophy, theories and strategies. When Dr Brand touches the untouchables knowing he is at risk of contracting leprosy himself, we are reminded that faith is not safe.  When he labours to heal, we are reminded of the heart of Jesus. When the impact of his loving actions are recognised by others we are reminded that the light of the gospel spreads.
Speaking of Jesus, Dr Brand writes, "[He] only affected a small area of the world… In his lifetime he had no impact on the Celts or the Chinese or the Aztecs. Rather, he set in motion a mission which was to spread throughout the world, responding to human needs everywhere." p16
Perhaps one of the most surprising themes of the book is the value of pain. He writes, "Pain, so often viewed as an enemy, is actually the sensation most dedicated to keep it as healthy. If I had the power to choose one gift for my leprosy patients, I would choose the gift of pain."  p191
In a world enamored of the aspiration to eliminate pain, this is a helpful and healthy corrective.
"Why did Christ keep his scars? He could have had a perfect body, or no body, when he returned to splendour in heaven. Instead he kept a remembrance of his visit to us, and for a keepsake of his time here, he chose scars. The pain of humanity became the pain of God." p262
The final paragraph of the book sums up its central theme:
"After World War II German students volunteered to help rebuild a cathedral in England, one of many casualties of the Luftwaffe bombings. As the work progressed, debate broke out on how best to restore a large statue of Jesus with his arms outstretched and bearing the familiar inscription, 'Come unto me'. Careful patching could repair all damage to the statute except for Christ's hands, which had been destroyed by bomb fragments. Should they attempt the delicate task of reshaping those hands? The workers reached a decision that still stands today. The statue of Jesus has no hands, and the inscription now reads, 'Christ has no hands but ours'. p267
I thoroughly recommend this book for anybody looking for fresh and unique inspiration to live the lifestyle of Jesus Christ.
—
Please add your comments on this week's topic. We learn best when we learn in community.
Do you have a question about teaching the Bible? Is it theological, technical, practical? Send me your questions or suggestions. Here's the email: (mailto:malcolm@malcolmcox.org).
If you'd like a copy of my free eBook on spiritual disciplines, "How God grows His people", sign up at my website.
Please pass the link on, subscribe, leave a review.
"Worship the LORD with gladness; come before him with joyful songs." (Psalms 100:2 NIV11)
God bless, Malcolm
PS: You might also be interested in my book: "An elephant's swimming pool", a devotional look at the Gospel of John