Mental Health; Emotional Well Being; Spirituality – Interview with Jim Pickett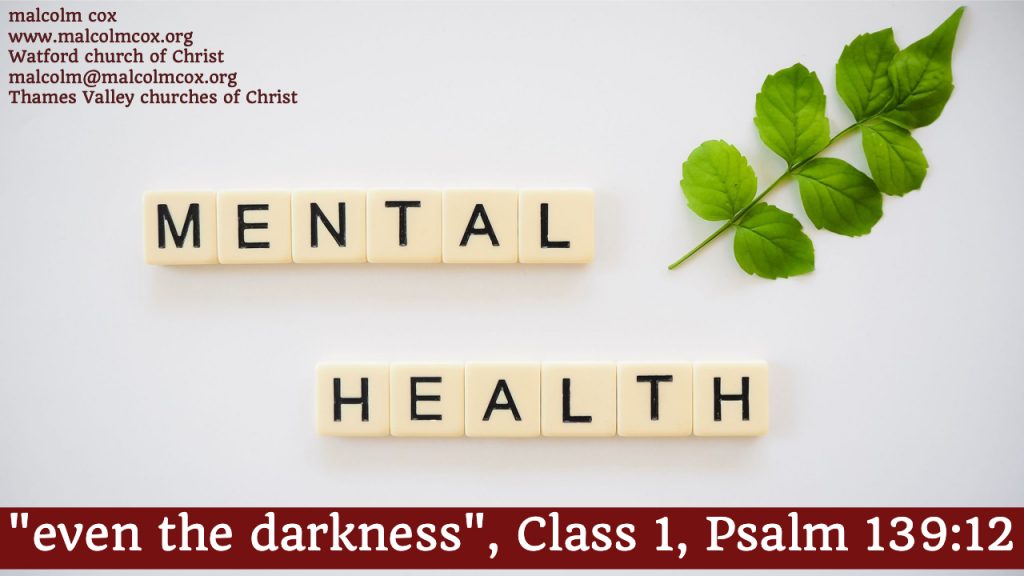 "If I say, "Surely the darkness will hide me and the light become night around me," even the darkness will not be dark to you; the night will shine like the day, for darkness is as light to you."

Psalm 139,11–12 NIV11
How should Christians respond to emotional and mental health challenges? What do we do when the emotional darkness threatens to block out God's light?
In this class Jim Pickett provides some answers and guiding principles. Jim is a US Army veteran and currently completing his Masters in counselling. He is also an old and valued friend.
If you watch this class you will learn how to respond to your own challenges, and also those of friends both in the church and outside.
A longer version of this interview is also available. Resources for further reading, watching and listening are available on my website: https://www.malcolmcox.org/mental-health-emotional-well-being-spirituality/
Please add your comments on this week's topic. We learn best when we learn in community.
Do you have a question about teaching the Bible? Is it theological, technical, practical? Send me your questions or suggestions. Here's the email: malcolm@malcolmcox.org.
If you'd like a copy of my free eBook on spiritual disciplines, "How God grows His people", sign up at my website: http://www.malcolmcox.org.
Please pass the link on, subscribe, leave a review.
"Worship the LORD with gladness; come before him with joyful songs." (Psalms 100:2 NIV11)
God bless, Malcolm